As a parent, you're told to watch out for colic, but how much do you really know about this problem that affects 1 in 4 babies? The lovely team from Colic Calm® have broken it down for you, from the symptoms and cause to how to cope with a colicky baby.
When your baby cries and fusses for hours on end, it can be frustrating and exhausting. You want to soothe your colicky baby, but nothing seems to work. Though it may seem like your world is in disarray for a time, there is hope.

To help you through the colic stage, we at Colic Calm have put together a guide to help you better understand and cope with colic. These tips and tricks are sure to soothe your little one (and you!).
What is Colic?
Colic is defined as excessive crying or fussiness in the late afternoon. Generally, colic symptoms begin at 2 weeks of age and last until 12 weeks (utilize our colic duration calculator to get an idea of when your baby's colic might end naturally).

To diagnose a baby with colic, pediatricians use the "Rule of 3's" or Wessel's criteria. The Rule of 3's criteria states that, in order to be considered colicky, a baby must cry inconsolably for 3 hours a day, 3 times a week, for at least 3 weeks. About 1 in 4 babies around the world meet these criteria and are considered colicky babies.
What are the symptoms of Colic?
There are a variety of symptoms associated with colic. Clenching the fists, arching the back, and tensing the abdomen are a few. Colic symptoms tend to appear and disappear suddenly. Below is a chart of nine common colic symptoms and their frequency amongst a poll from thousands of parents with colicky babies:
What causes Colic?
Truthfully, modern medicine has very little information about the cause of colic. Though there is no certain cause of colic, doctors believe it to be caused by digestive spasms, over-sensitivity to stimulation, gas or hormones. Others speculate that nutrient issues, such as food sensitivities and milk allergies, are to blame. Most commonly, colic is believed to be caused by trapped gas. 74% of parents we polled said that their baby showed signs of gas (abdominal bloating or a hard stomach).
Colicky vs High Needs Babies
It may be difficult to tell if your baby is crying due to colic or if your baby is simply a high-needs infant. While colicky babies experience the Rule of 3's, high-needs babies begin demonstrating their temperament at birth. The high-needs temperament will increase in intensity over time. The chart below may help to determine if your baby is colicky or simply has high needs: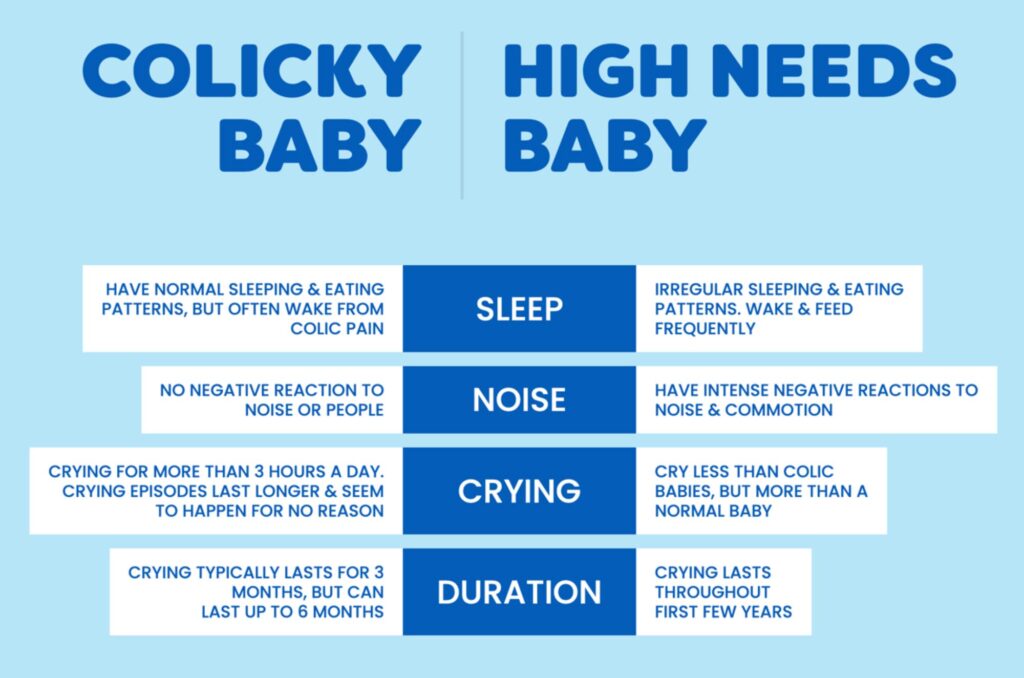 Coping with Colic
Though dealing with colic can be devastating, there are ways to cope. Below is an infographic that includes the following tips and tricks to cope with colic:
Identify triggers – Colic can be triggered by overfeeding, the wrong formula, medicines passed through breastmilk or the diet of the mother. Try to identify what is triggering your baby's colic through trial and error, and then avoid it when possible. Keeping a journal of when your baby eats and the corresponding symptoms can be very helpful.
Use gripe water – Colic Calm, a #1 selling medicine, is an alternative to gripe water for infant gas and colic. Be sure to have a bottle of Colic Calm on hand to be prepared when the colic symptoms strike.
Try sound and motion – Sound and motion can work wonders for your baby. Simply play calm music while rocking your baby to see if it calms him or her.
Keep sleep consistent – Make sure that your little one is sleeping around the same time every day. Creating a calm sleep environment also helps.
Remain calm – Your baby will mimic your mood. Be sure to care for yourself so that you can remain calm when the witching hours strike.

You're Not at Fault
Sometimes when you can't find anything to soothe your baby, you may be tempted to blame yourself. In these times, try to remember that around 25% of babies experience colic. Colic is a fairly common problem amongst infants, and you did not do anything to exacerbate the issue.
It can also be very helpful to seek out a supportive friend group. You can join a mom's group to be able to relate to other people who are likely going through the same trials and joys. Since one in four babies experience colic, the chance of meeting another mama with a colicky baby is high.
Although having a colicky baby can seem to isolate you at times, you are not alone. There are countless others who are experiencing the same struggles as you. It's also important to remember that colic is not a long-term problem. Hang in there, mama! In just a few weeks, the colic will subside, and life will get better.
LIKE WHAT YOU READ?
Join CakeMama Club & get 10% OFF your first order!
Plus you'll get tips + tricks for pregnancy, postpartum & breastfeeding, get member-only offers, earn CakeCoins every time you shop + more. Learn more