Being pregnant and having a baby, especially your first, is like no other experience you will ever go through.
It is hands down one of the most special moments of your life and something (most mums) will want to remember forever.
I say this lightly as pregnancy can be very rough for some so I don't blame you if you have blocked out the majority of your experience.
Although pregnancy is very beautiful, it can do insane things to your body so it's no wonder you want to look cute and show off that bump! You have endured the hard parts, it's time to show off the good parts, mama.
We wanted to give you the inside scoop on how and when to buy maternity clothes, as your body is constantly changing during pregnancy and you may have no idea where or when to look.
Now, we understand, every expecting mum is different just like every person is different. You may be a mum who loves to rock leggings on the regular, a mum who loves to dress to the nines as much as possible, or maybe you are just somewhere in the middle.
Whatever your preference, the most important thing is that you feel comfortable and beautiful in your skin because you are growing a human being inside of you! You are basically a superhero.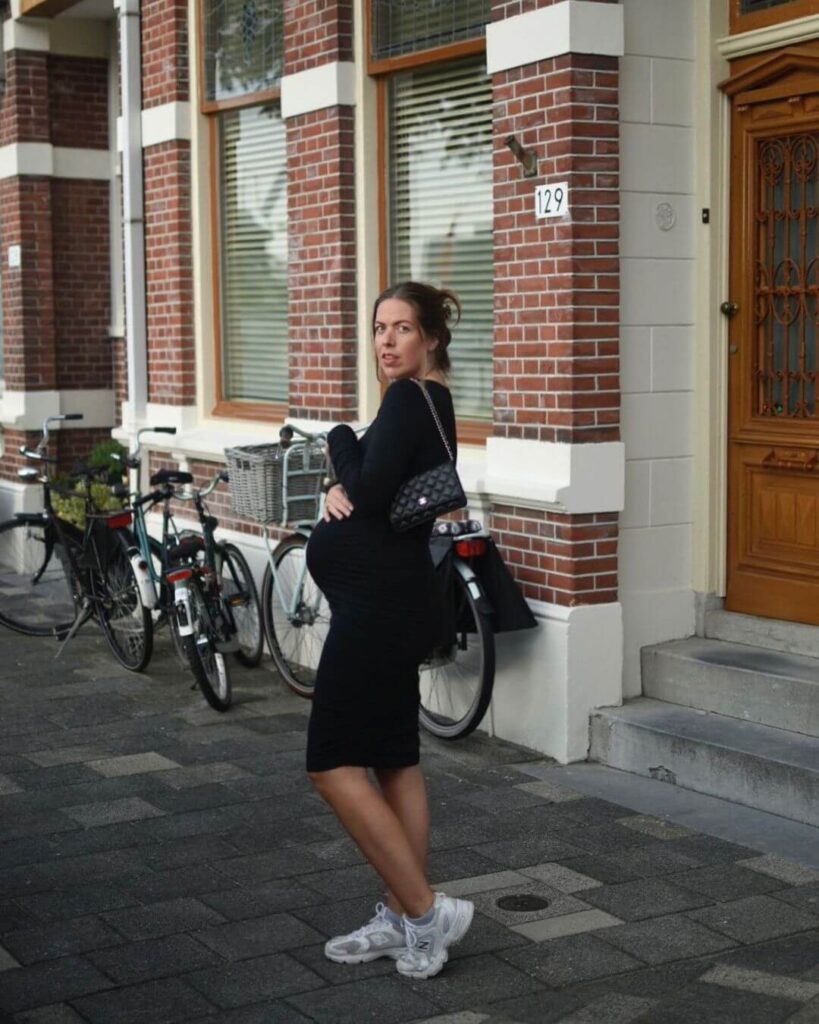 Do I really need maternity clothing?
First things first, how necessary are maternity clothes? And my answer to that is very!
Trust me, you may fit into those Levi jeans for the first 3 months but once that belly starts to pop, so will that button!
I know when you first hear maternity clothes you think of dreary, plain, unflattering clothing but maternity clothing has come leaps and bounds from what our parents or grandparents had on offer.
You can find some beautiful pieces or simply a nice pair of jeans that will accommodate your growing bump from start to finish, and honestly, you may never want to go back after you try maternity clothing. It is truly the most comfortable clothing you will ever buy.
If you are after a cute, summer dress then look no further. Our Trifle Reversible Maternity Dress is two dresses in one! And is the perfect summer look to show off your bump.
Or maybe you are after a comfortable yet cute pair of jeans you can wear daily. Don't worry, we have you covered. Our Destroyed Maternity Jean 32" are the perfect pair of jeans that will last throughout your entire pregnancy journey and ones in the future.
When to buy maternity clothes
Okay so you just found out you're pregnant. You are ecstatic and ready to go buy everything baby related that you have seen from all of your favourite Instagramers.
Stop.
We highly recommend waiting until you cannot fit into your existing clothes. This is because when you're pregnant, every woman's body changes differently and of course, so do the hormones.
You may love something in the beginning of your pregnancy and then realise 4 or 5 months down the track that it is way too short or it won't quite fit, I wish I got a size up or maybe you just simply don't like it anymore.
Maternity clothing tips
We understand looking good and feeling comfortable are probably your top priorities when it comes to maternity clothing, which is why we have compiled 6 handy tips.
1. Shop your own closet first
Before you go on the hunt for a beautiful maternity dress or the perfect pair of stretchy jeans, take a look at your own closet and see what clothes you have that will be able to withstand your growing belly.
For example, you may have a few loose-fitting maxi dresses hanging at the back of your closet that you forgot about or some nice, flowy shirts that are perfect for the occasion.
Shopping your closet will surprise you, trust me! Building on pieces you already have is not only much more inexpensive but it is also very sustainable and eco-friendly.
It's a win-win if you ask me.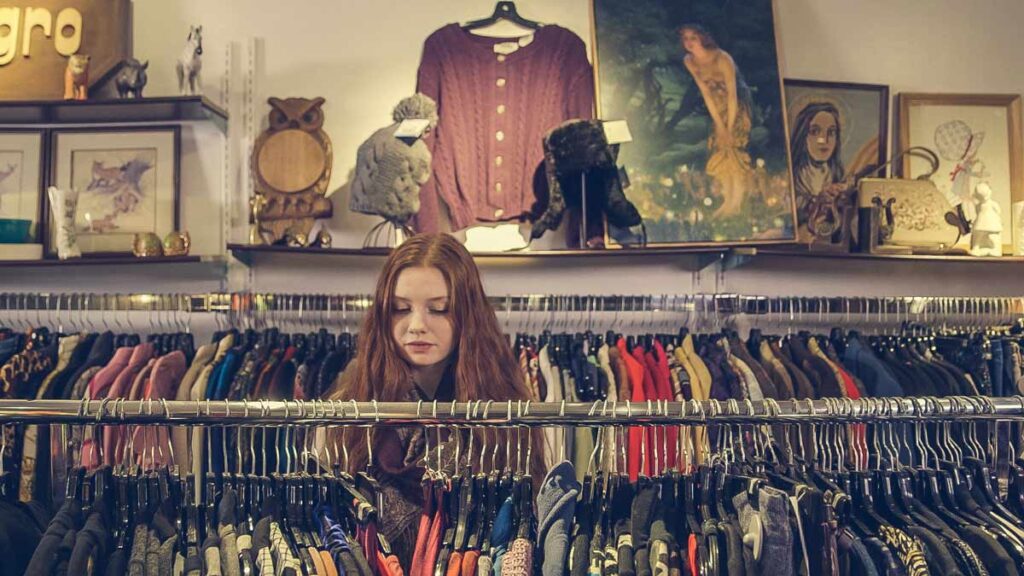 2. Buy used
Most parents are trying to save their money for more important aspects such as their child's entire future!
We suggest going down to a few of your favourite local thrift stores and having a good look through the racks. You will be surprised by how much you find and how good of a condition they are in (since they are only worn for a few months at a time).
3. What are you going to be doing? What's the function?
If you are going to continue to work in an office right up until your due date, you might not need 4 pairs of pregnancy jeans. Work out what you will be doing for the next 10-11 months and purchase accordingly.
If you know you are going to a wedding around the 7 month mark then splash out and buy a cute maternity dress that shows off that belly. Or maybe you are right into your fitness, there are an abundance of cute, comfortable leggings that will do the trick. 
If you are aiming to save money, and we imagine most expecting parents are, then you don't need to buy an entirely new wardrobe.
We suggest buying a few key pieces or even 2-3 of the same pieces that you know you can wear on the daily, in pretty much any setting.
And to be honest, people will be more focused on that bump of yours than the same pair of jeans you have been wearing for the past 3 days.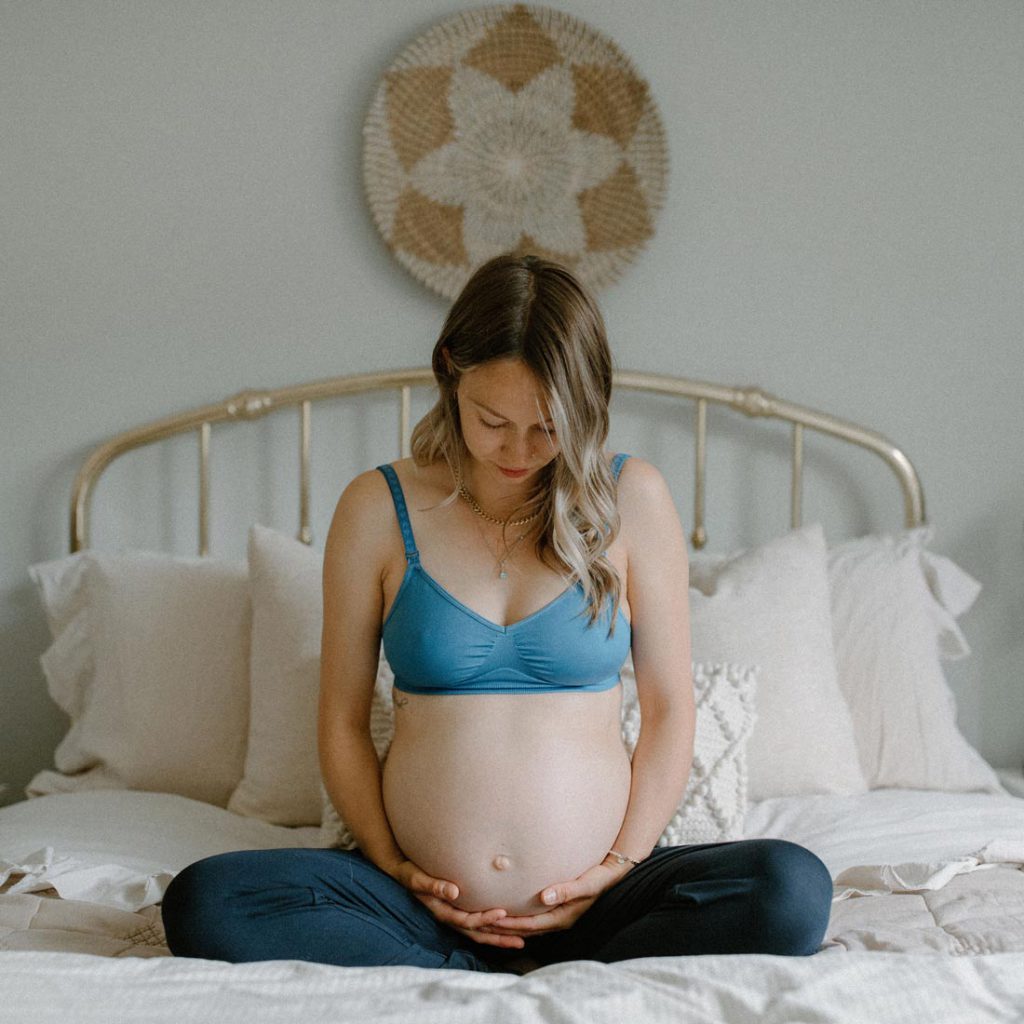 4. What sort of pregnancy underwear?
This is where it gets a little bit tricky but we've taken the guesswork out to help you stay supported and comfortable.
0-3 months pregnant: Choose a soft, stretchy and supportive non-wired bra for this stage as your breasts can increase up to 3 cups sizes and can be rather painful.
3-8 months pregnant: Any well designed nursing bra will be fine for you at this stage from flexible wires to soft cup bras with 6 hooks and eyes for greater support and extension as not much growth occurs but your ribcage will be expanding.
8-9 months pregnant: Your ribcage will be at its widest so if you are buying a bra, buy the band size smaller (and cup size bigger) as your ribcage will dramatically reduce after you've had your baby.
0-4 weeks post pregnancy/breastfeeding: Your breasts will be at their maximum size, weight and tenderness due to the milk production required. Your seamless bra will also come in handy here from your first 3 months of pregnancy.
We'd recommend: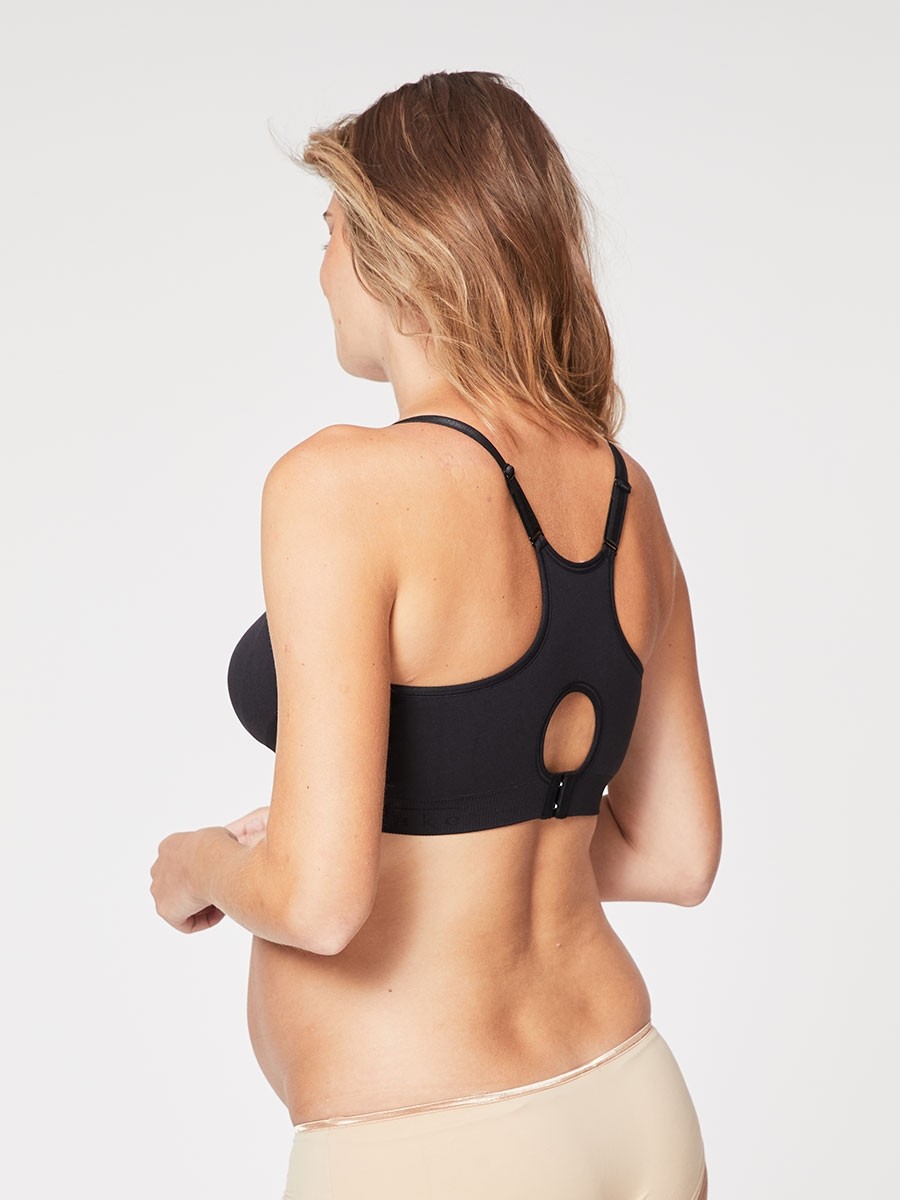 Cake Maternity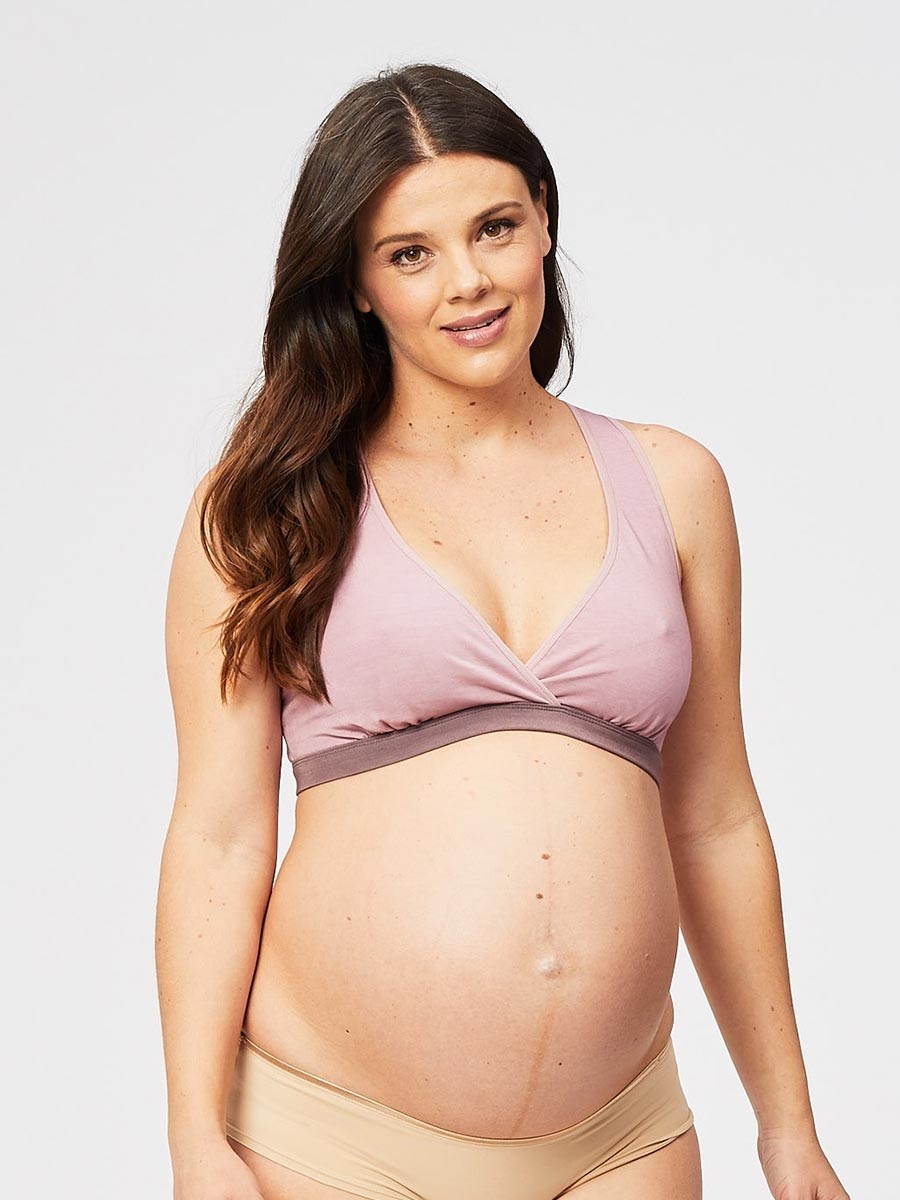 Cake Maternity
5. Keep it simple
Of course there will be moments where you want to dress to the nines and show off your growing belly, and we wouldn't expect any less.
But, for the other times, keeping it relatively simple is a great way to go when buying maternity clothes.
Now, you will always hear people preaching "just buy the essentials" but this couldn't be more true. Sticking to the basics and getting a good pair or two of jeans, some comfy leggings, some basic, flowy shirts and a few singlets are things you can either dress up or down.
Purchasing a few, expensive items that can easily dress up a pair of jeans and a shirt is a great way to achieve the more professional look while also remaining comfortable.
On the other hand, wearing a simple shirt and a pair of comfy leggings is the perfect casual look and will also accentuate that belly.
6. What sort of shoes?
Oh the joys of footwear during pregnancy.
If you are anything like me, your feet swelled to an unrecognisable size which made finding the right shoes extremely difficult.
Picking the right footwear to complement your outfits while also being comfortable isn't always an easy task but is definitely a must!
We recommend picking shoes that feel comfortable such as open-toed shoes, as these allow space for your feet to expand in those final few months of pregnancy.
On the other hand, finding a good pair of sneakers but opting for a size up from your normal is a great way to get good use out of them for the majority of your pregnancy journey.
Please do not try and wear stilettos or 6-inch heels. Once and a while this is fine but more than anything, they are a hazard. Not only do they hurt your feet but they could also cause a fall which is the last thing you want as a pregnant woman.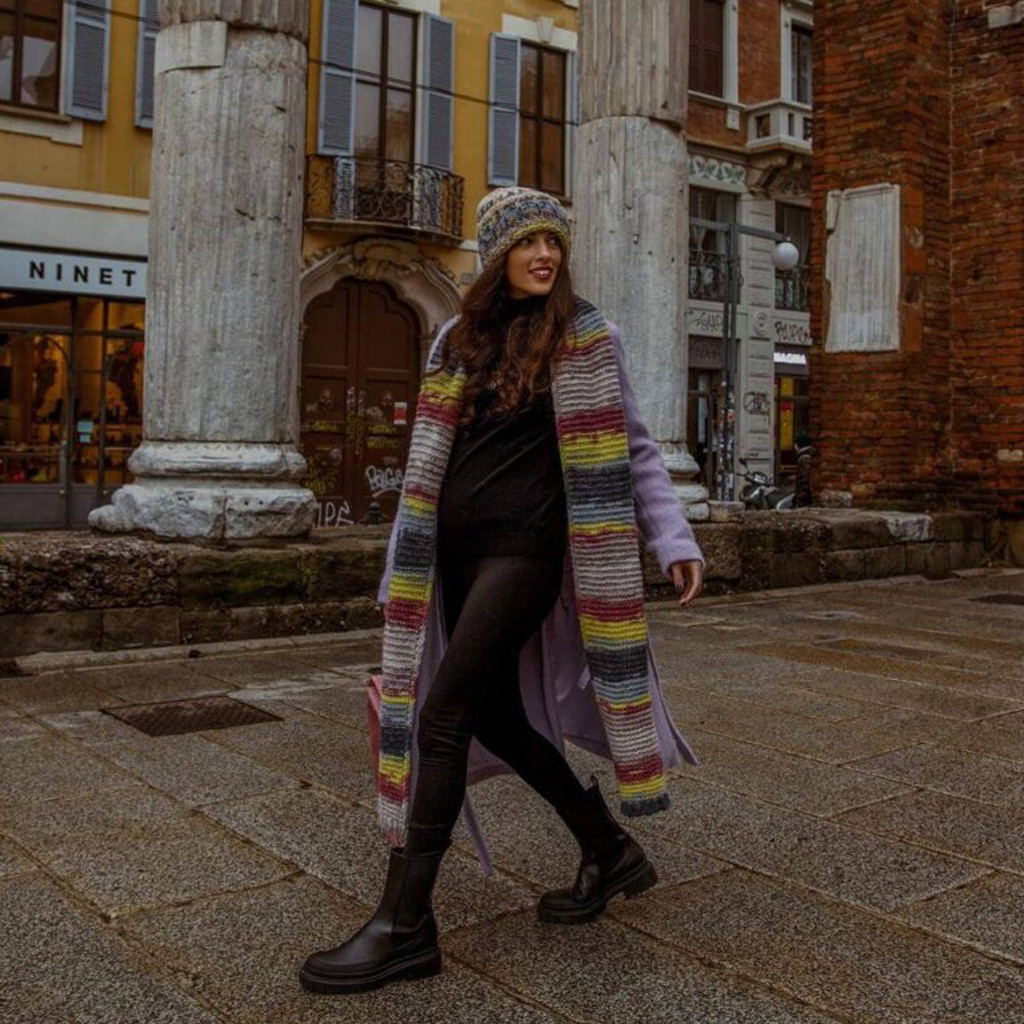 When it comes to maternity clothing, everybody is different. Whether you want to dress to the nines for the duration of those 9 months or you want to dress casual and comfy. Remember, it is completely up to you.
Fortunately, when you are pregnant, your clothing is the last thing people care about. People are much more inclined to talk about baby names or when the baby is due instead of the leggings you have worn for the past week. The most important thing is that you enjoy your pregnancy journey as much as possible and take it all in as it goes by in a flash.
LIKE WHAT YOU READ?
Join CakeMama Club & get 10% OFF your first order!
Plus you'll get tips + tricks for pregnancy, postpartum & breastfeeding, get member-only offers, earn CakeCoins every time you shop + more. Learn more