Getting a good night's sleep is not always easier for new mothers, as a newborn baby's sleeping patterns can be unpredictable. Regular disruption from sleep is not uncommon, so wearing comfortable/functional sleepwear is a good start and can help to make those nights feeds a little easier.
Cake Maternity designs and manufactures a range of sleepwear that has been constructed especially for pregnant and nursing mothers. The generous fits mean that the garments will not clean or restrict when on. The styling is beautiful and can be worn with a robe during the day for those new mothers who are still to establish a daily routine.

Fabrics
Natural fabrics
All our maternity sleepwear is made from natural, breathable fabrics. Modal and cotton blends are some of our favourites.
Modal is a soft, luxurious fabric that feels incredibly comfortable and lightweight to wear. The fabric drapes over the body and helps to keep you cool, unlike other synthetic garments on the market place.
We also like to use a cotton modal blend. This fabric is also made from natural fibres and has the similar benefits to modal. Cotton modal will allow the skin to breath and keep you cool during the night. It is also soft and very easy to wear and is a popular choice by many as it is durable and easily washed and cared for.
Nylon blends
At Cake Maternity we choose not to use nylon and synthetic blends in our sleepwear. Whilst these fabrics can often be less expensive they can be hot, irritating, cause the body to itch, clingy and very uncomfortable to wear.
A pregnant and breastfeeding women's body is much more irritable and factors such as fabrications that would not normally irritate her, can be heightened during this time.
We recognise that a new mothers sleep is precious and limited. Getting quality shut eye is largely dependent on your level of comfort.
Related: Body Changes During Pregnancy
Purchasing one quality piece of nightwear that is super comfortable is a much better investment than purchasing two cheaper options that could cause you to toss and turn in the night.
Sleepwear options
The Cake Maternity sleepwear range consists of nursing camisoles, matching PJ pants, robes, chemises and tank tops. All garments have built in shelves for added support, drop down cups for feeding and have been designed to flatter a pregnant and postpartum belly.
When deciding what to purchase, consider your lifestyle and preference of styling. Some women like to wear Chemises (nighties) while others prefer to wear PJ pants and tank tops. You will get more wear out of a style that you feel comfortable in. So avoid impulsive purchases and think carefully about your needs.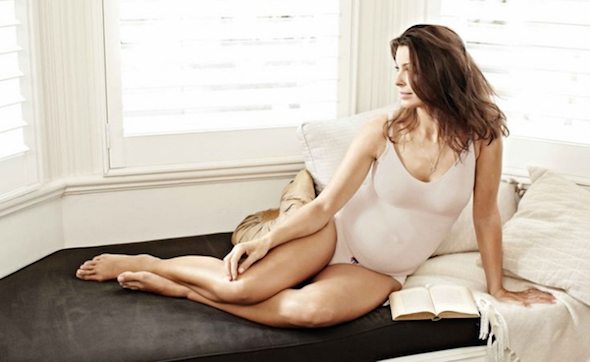 Features to look for
Consider the fabrications
Go for natural fabrics rather than synthetic blends. Natural fabrics will help to keep you cool and will feel much more comfortable on.
Built in shelf
Whilst pregnant and breastfeeding you will notice a significant increase in the size and weight of your breasts. Choose sleepwear that has a built in shelf. This will help to provide your breasts with some much-needed support.
TIP: Wear a sleep bra for added support under your sleepwear.
Drop down cups for feeding
Drop down cups are a handy feature for women who want to breastfeed. Feeding clips are easily clipped down to expose the breast for easy no full feeding.
Adjustable shoulder straps
Adjustable should straps are useful. The weight of the breasts can sometimes stretch the elastication. Having adjustments means the straps can be loosened or tightened accordingly.
Styling
Look for styles that are generous in the cut. Fabrics should drape without restriction.
Figure hugging styles should have ruching or gathered sides to allow for a growing belly if pregnant.
Pants should be cut to sit below the belly.
Sleep bras
Some women will enjoy the added support and security that a sleep bra will provide you while you sleep.
Look for a style that is made from a soft, preferably natural stretch fabric. One that is wire free and fit securely around the rib cage and over and across the bust. A loos fit will not provide you with the support needed.
TIP: Sleep bras are fantastic to wear immediately post birth when breastfeeding starts. Nursing pads can be placed inside the bra to help capture any leakage that may occur during feeding times.
Care instructions
If looked after a piece of Cake Maternity nightwear will last and nurture you through your pregnancy and beyond.
Always wash your sleepwear in cold water. Avoid warm or hot water, as they will shrink the fibres in the fabric, resulting in a poor fit and less durability.
Avoid dryers and hang to drip dry away from direct sunlight to help ensure the garment retains its vibrant colour.
Don't miss: 17 Ways To Sleep Your Way To A Healthier Pregnancy, And A Faster Delivery
Like this post? Follow Cake Maternity on Facebook to get the latest updates!