During pregnancy, a woman's body undergoes the most dramatic change in a short amount of time in her entire life. The first signs that you are pregnant can be sore and swollen breasts and these changes continue all the way through your breastfeeding journey. These changes may vary for each trimester, each pregnancy and woman.
To make sure you are wearing the best maternity and nursing bra for each stage, read on…
Recommended Bras for Every Stage of Pregnancy
0 to 3 Months Pregnant
(Transitional period)
Pregnancy hormones lead to glandular development. During this time your breasts will grow dramatically in size. Some women will experience an increase of up to 3 cup sizes.
Many women don't think that because they're not showing yet, they don't need to be in anything close to a maternity bra at this stage, but this is the ideal bra time to invest in a good quality seamless bra. Your breasts will thank you for it.
Select a non-wired, stretchy, seamless maternity bra that grows with you.
Seamless bras are constructed in sizes XS-XXL, and will contain a number of different cup sizes within them (refer to the sizing chart for guidance on the size you require when purchasing from a new brand).
The same fitting rules apply when buying a seamless bra:
Your breasts should be fully encased inside the bra and should not be spilling out the top or sides.
There should be no excess fabric in the cups.
The under band should fit firmly.
The straps should be secure and not dig into the shoulders.
Recommended styles: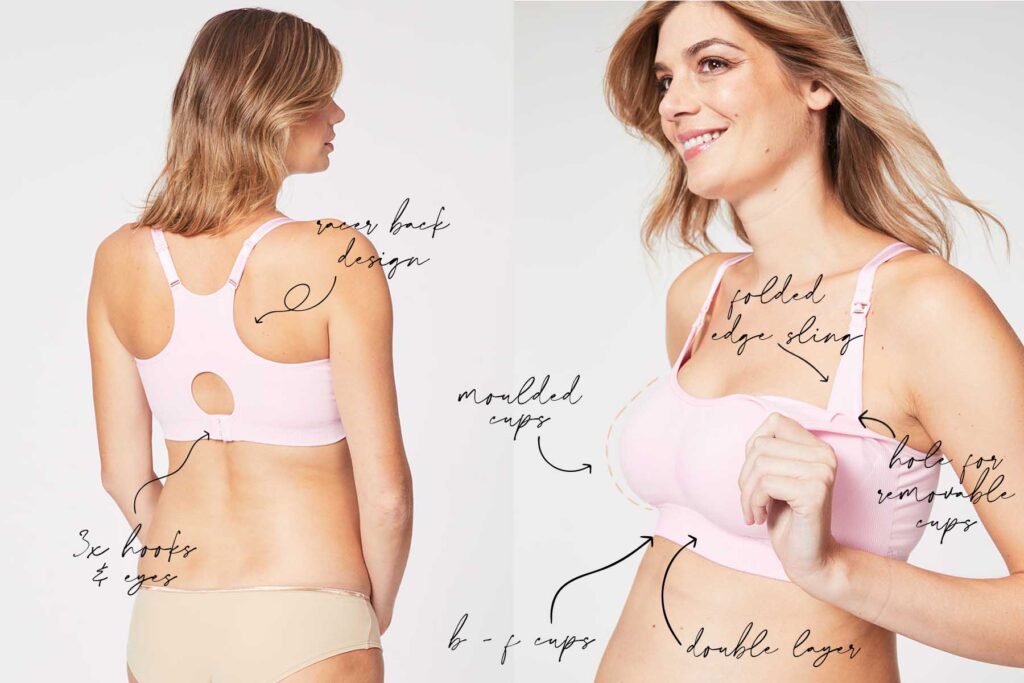 Racerback design — great for sleeping/yoga
Moulded cups for depth
Folded edge side sling
3 x hooks and eyes
Soft and comfortable
B-F cups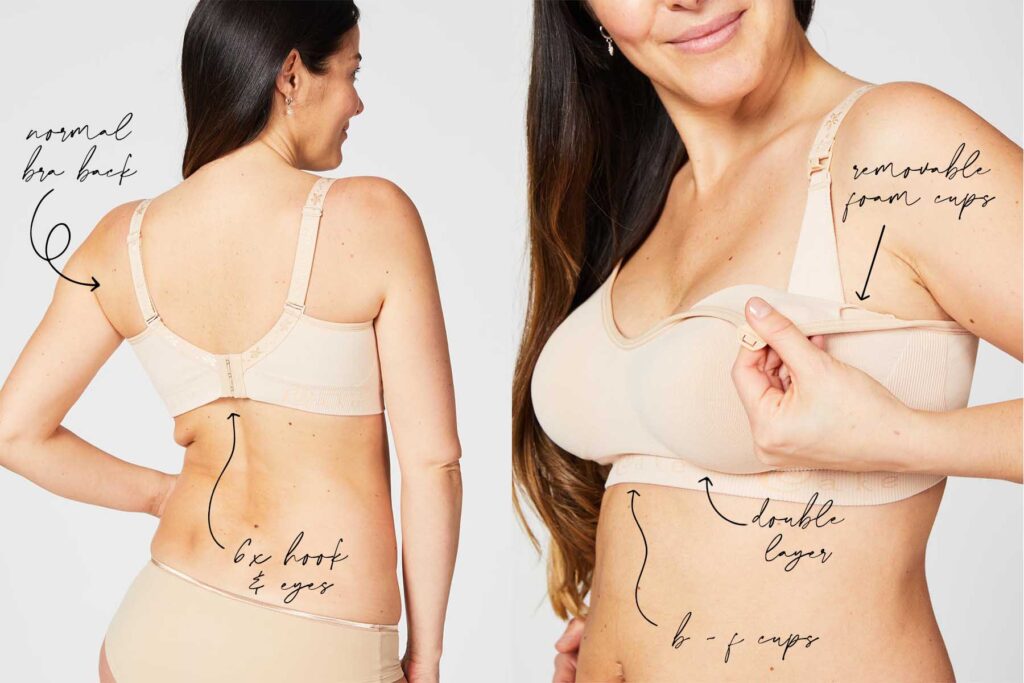 Double layer
Normal bra back closure
Removable foam cups
6 x hook and eyes
Soft and comfortable
B-F cups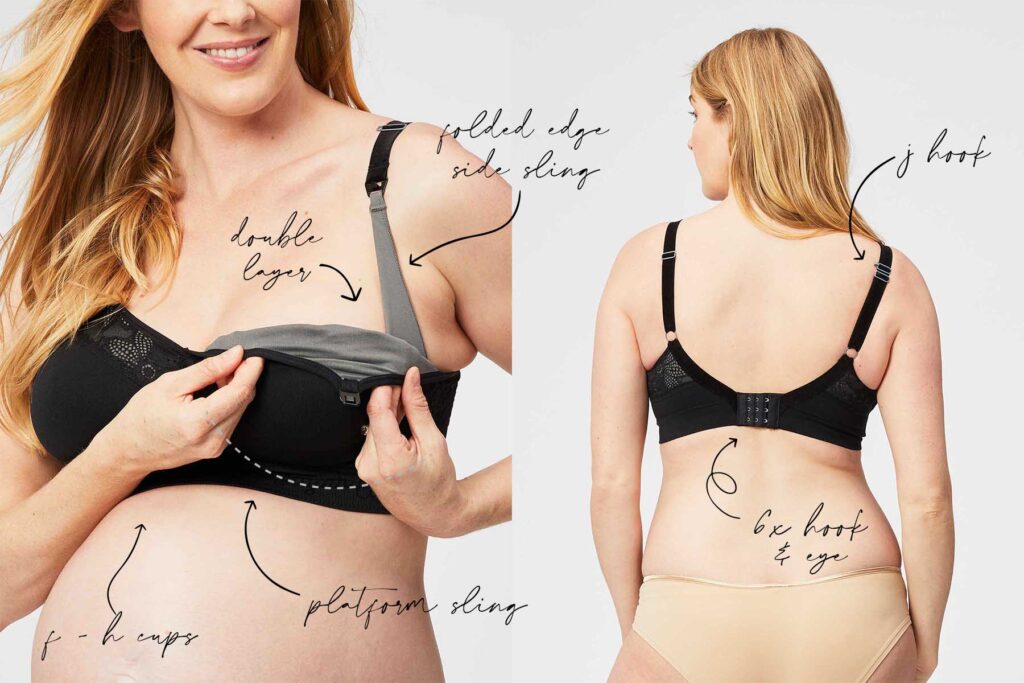 Double layer
Folded edge side sling
Folded edge platform sling aka something to rest your heavy breasts on
Especially designed for F cup and up
6 x hook and eye
Racerback converting j hook
Beautiful lace
Great for under t-shirts
3 to 9 Months Pregnant
By this time your breasts should have stabilised in size and your breast growth will slow. Your ribcage will start to expand, as will your belly.
Wearing a cup specific bra is recommended, as it will provide the wearer with a better fit and support.
Select a flexible-wire and/or contour bra with 6 hooks and eyes, for greater support and extension.
Invest in a bra that is strong and durable.
Choose a bra that has a good lower cup support structure built in and one that has top cup stretch to allow for small amounts of fluctuation and growth.
It is our recommendation to go and get fitted by a professional bra fitter to ensure you get the correct size, as your size will be very different to before you were pregnant.
There are many different styles of pregnancy bras available in the market. It is important that you choose a style of bra that will work with your lifestyle and your taste.
Styles available: Flexible wired, non-wired, sports, T-shirt, padded, spacer, seamless, fuller bust, petite and soft cup bras.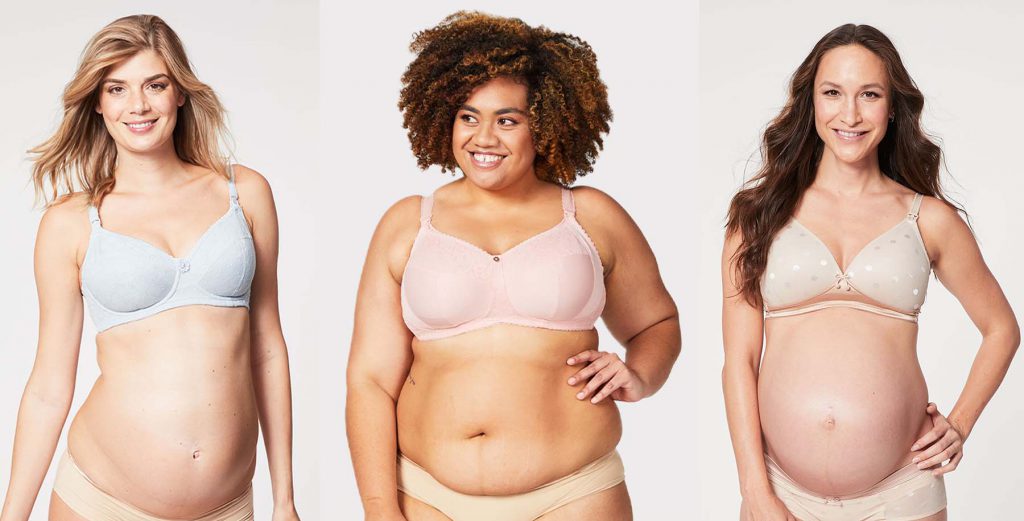 Recommended styles:
For non-wired lovers: Mousse, Tea, Lotus, and Milk.
For lovers of flexible-wired bras: Croissant, Waffles, Parfait and Zest.
Immediately Postpartum
Your breasts will go through another period of rapid growth immediately post birth. Your breasts will swell and change size rapidly as they regulate their milk supply.
Use a non-wired, stretchy seamless maternity bra that will grow with you.
It is recommended to wear your seamless transition bras again during this time. They will provide you with that much needed comfort and support as your body learns to regulate its milk supply.
Avoid the temptation of wearing a cupped sized bra. They may be too restrictive for a fluctuating bust. Compressing the breast in a bra when it is becoming engorged could lead to all sorts of breast problems, including mastitis. On the other hand, if you are wearing a bra that is too big, you won't be supported when you need it most.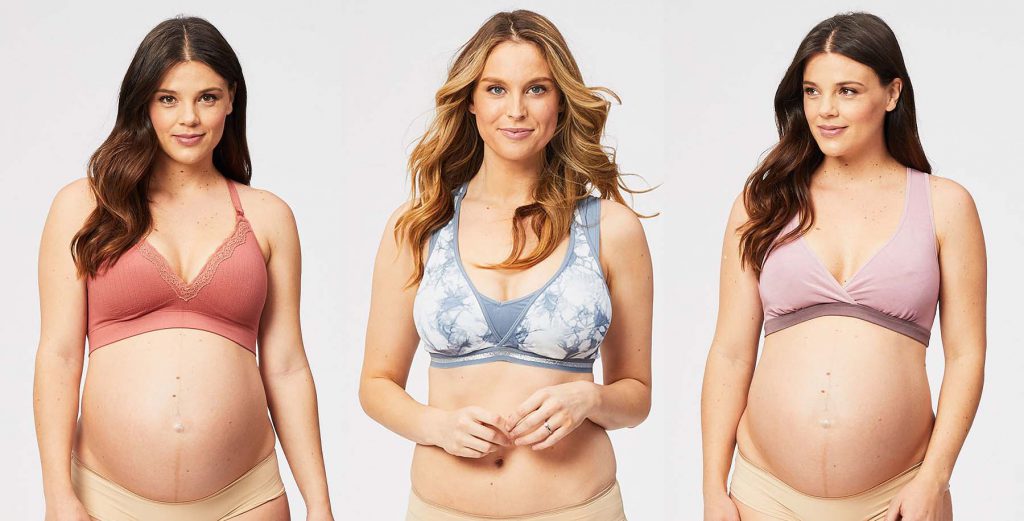 Recommended styles:
Cotton Candy, Rock Candy, Lotus, Milk, Tutti Frutti and Popping Candy (for fuller busts).
6+ Weeks Postpartum
By this time, your breasts should have stabilised as your body has learned to stabilise its milk supply. Your cup size will now be stable, aside from fluctuations throughout the day.
Most women will find that their breasts will return to the size they were at approximately 8 months pregnant.
Wear your choice of flexible-wire, contour or fuller bust nursing bras, with plenty of top cup stretch.
Wearing a cupped sized bra is recommended at this time, as it will provide your heavy milk laden breasts with that much needed support and lift.
Choose a quality bra that is made from good, durable fabrics and contains high quality accessories.
Avoid the temptation of purchasing cheap bras. The fabrics are usually of a lower quality and the accessories are not as strong. After a few washes they may not support you in the same way they did when you first purchased them. The old saying is true 'you get what you pay for'!
The well-known designers of quality maternity bras generally use better quality fabrics and accessories that are designed to last and wash well.
We recommend 3 bras for breastfeeding as you may want to wear them all day — actually we recommend this for 24 hour support. This means one to wear, one in the wash and one in the drawer (or most likely in the washing basket).
When fitting your bra, ensure that your breasts are fully encased inside the cup and not spilling out the top or sides, there should be minimal excess fabric in the cups, the under band should fit firm and horizontally across your back and the straps should be secure and not dig into the shoulders.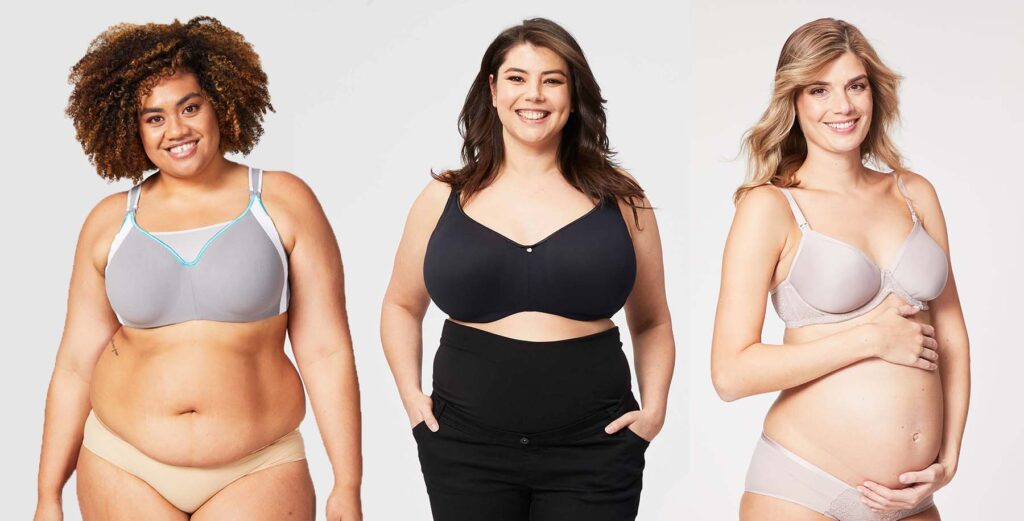 Recommended styles:
Croissant, Tea, Waffles, Mousse, Parfait, Zest.
At Cake, we use high quality Oeko-Tex 100 Certified fabrics and accessories. Our carefully considered designs ensure you get maximum support, fit, function, versatility and durability from each bra.
—
Disclaimer: Cake does not provide medical advice, diagnosis, or treatment. Any information published on this website or by this brand is not intended as a substitute for medical advice, and you should not take any action before consulting with a healthcare professional.
LIKE WHAT YOU READ?
Join CakeMama Club & get 10% OFF your first order!
Plus you'll get tips + tricks for pregnancy, postpartum & breastfeeding, get member-only offers, earn CakeCoins every time you shop + more. Learn more