Packing your hospital bag is an exciting time because it means the arrival of your new baby is fast approaching.
But if you are a first time mum you are probably wondering what to pack in your hospital birth bag, hospital bag essentials and where you can find a hospital bag checklist.
All very important questions that we have answered here today.
We have summarised what you will need for yourself, your baby and your birthing partner (don't forget about them!) so you can focus on the task at hand – delivering your baby.
When to pack a hospital bag
We recommend packing your bag at the beginning of the 3rd trimester and placing it in the car or by the door. This way if bub decides to come around the mountain early, all your essentials will be carefully packed and you won't have a mad rush before you head to hospital.
Hospital bag checklist for mum
Everyone has their own personal needs, but the below is a guideline to help you get started.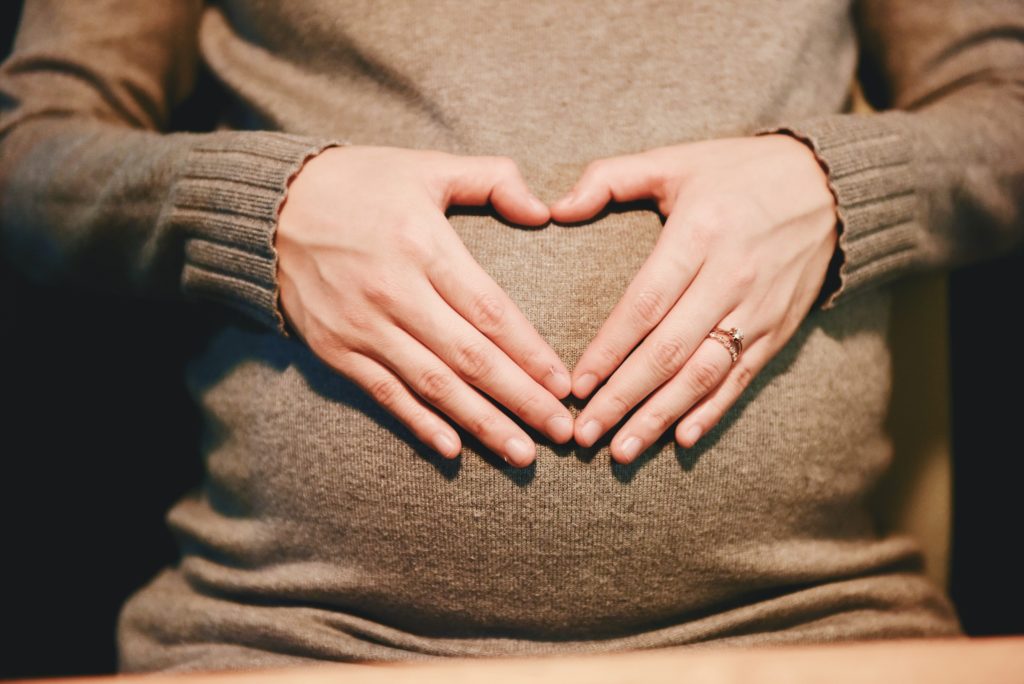 If you have a birth plan, be sure to bring it with you. This way the nurses, doctors and/or midwives will get an understanding of your expectations and the type of birth you would ideally like to have.
If you are planning on breastfeeding, make sure you include your breastfeeding plan for the midwives and lactation consultants, too.
It is always important to remember that your birth plan is the best case scenario. Sometimes a difficult or sudden delivery can mean that a carefully planned birth is not always realistic, and that the medical staff will need to take charge and do what is best for you and your baby.
Pack your bag with your partner or have them check it afterwards. This will ensure they know where everything is when you need it.
1. Birthing clothes – this is a personal choice. Some women choose to wear a birthing gown supplied by the hospital, while others prefer to be au naturale. An old T-shirt is a popular choice, but there is no right or wrong answer. Choose something that makes you the most comfortable.
Keep in mind that whatever you choose is likely to be put in the rubbish afterwards, so investing in an expensive outfit is not necessarily the best option.

2. PJs, robe and slippers for after the birth – choose comfortable PJs that are made from soft, natural fibres. They will feel cool and breathable, and you are less likely to get irritated.
Choose PJs that are non-restrictive and drape nicely over the belly, with easy access to your breast for nursing. Consider packing a second pair, as post-birth can have its challenges.

3. Nursing bras – pack at least three nursing bras, specifically seamless nursing bras. Immediately after birth your breasts will be swollen and sore, so these will support without restriction.
A seamless bra will provide you with that much needed support and will stretch and contract with your body as your breasts learn to regulate their milk supply. Check out our selection of hospital bras for maximum comfort while birthing bub.
It is also perfect for sleep, as it can be worn under your PJs for added support and will help to keep nursing pads in place.

4. Breast pads – pack a number of sets of nursing pads. Once your milk comes in you will experience a lot of leakage as your breasts learn to regulate their supply.
Washable nursing pads are a great choice as they are super absorbent and will help avoid irritation and infection.

5. Sanitary pads – take a large supply of maternity pads. The hospital will provide you with some, but it's always good to have some spares on hand.

6. Cotton knickers – choose a non-restrictive style that will sit under your belly, feel comfortable all day and night, and provide good coverage.

Cotton knickers are a practical solution during this period as they will help the skin to breathe and will be comfortable to wear during the healing stages post birth. Make sure they have a good amount of stretch and you'll be happy to throw them out afterwards if need be.

7. Toiletry bag with all the essentials – toothpaste and toothbrush, deodorant, flannel, soap, shampoo and moisturizer. Avoid perfume and overly scented products as it may disorientate your baby while nursing.

8. Makeup if you wear it (or can be bothered).

9. Lip balm to help keep your lips moist during labour.

10. Nipple balm – you may not require this yet, or at all, but it's worth having in case.

11. Hairbrush and hair ties.

12. Easily consumed snacks – candy, chocolate, muesli bars and small pieces of dried fruit are great as they provide an instant energy boost.

13. Water or juice with a straw – you could freeze some juice boxes and grab these on your way out. Avoid orange juice as this can upset your stomach.

14. Music and earphones – check out our blog post on playlist for labor and delivery if you need some inspiration.

15. A change of clothes to go home in – make sure you are not planning on fitting back into your pre-pregnancy clothing straight away.

Tip: Choose your favourite pregnancy outfit that is dark on the lower half as you may experience bleeding for several days. Ensure it is super comfy and loose around the middle in case you have a cesarean.

16. A positive mindset – these don't take up too much room, but you won't want to leave home without one.

Optional hospital bag checklist items for mum:

17. Your own pillow – If you have a thing about your own pillow, then grab yours, otherwise the hospital will have plenty.

18. Massage oil – if you would like your partner to massage you during labor or after the birth.

19. Activities – you may not have any spare time, or you may have plenty. Bring magazines, books, iPad/laptop with movies or TV shows, knitting or games.

20. TENS pain relief machine – you can hire these.

21. Water spray bottle – this can help you cool down during labour.

22. Notepad and pen if you need to write a list or record a dream.

23. Eye mask and earplugs if you need help sleeping in a noisy ward. You may not have any difficulty, though, considering the marathon you've just endured.

Hospital bag essentials for the birth partner

It is important that your partner also be prepared. Labor can be long and they will need their supplies to keep them going too.
Unlike you and baby, the main stars of the show. All the hospital will provide your partner with is an awkward chair and an uncomfortable sleeping position for the nights that follow.
(Not that they will get much rest anyway).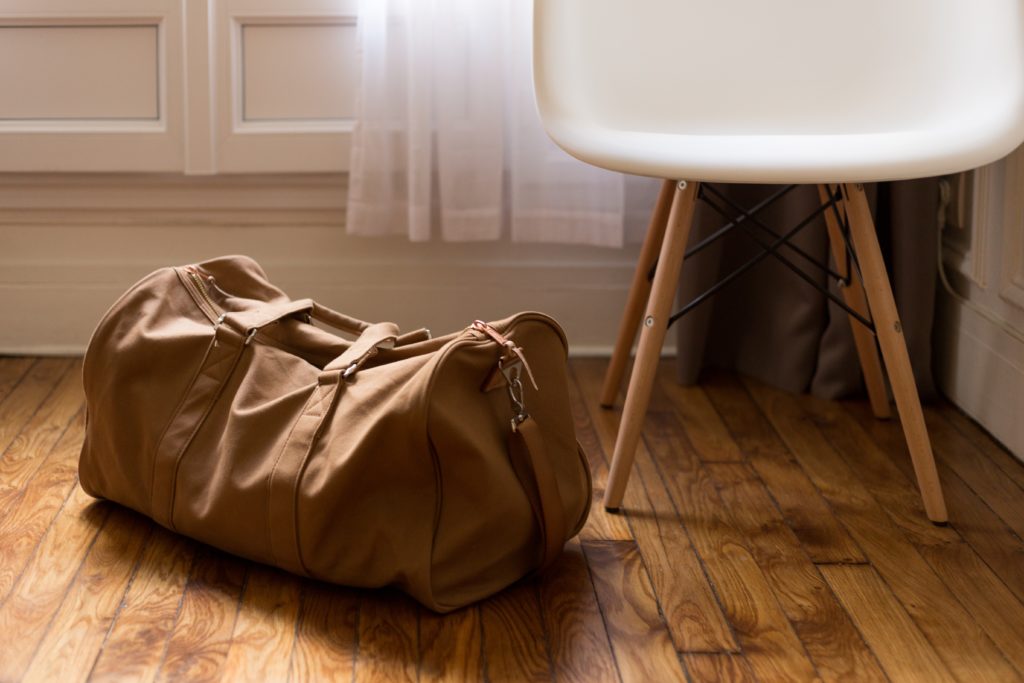 They will need:

1. A spare change of clothes and underwear should the labor be long and there be a need for a shower.

2. A gym towel that is super absorbent, small and compact for after said shower.

3. Board shorts if they plan on getting in a birthing pool.

4. Toothbrush – they may need caffeine to keep up with your birthing stamina and coffee breath in the final stages is a bad idea.

5. Mints or chewing gum.

6. Comfortable shoes – they will be on their feet most of the time.

7. Camera to capture important memories.

8. Mobile phone to keep the family updated.

Tip: A pre-made list of who you're going to contact once the baby arrives can be a lifesaver. It's easy to forget some important people in the excitement.

9. Chargers for phone and/or camera. You never know when you're going to go hospital and your phone might be on 10%.

10. Stopwatch to help time contractions. Smartphones have this as a feature or you can add a specific contractions app.

11. Snacks and drinks to ensure they also have energy and are well hydrated.

They may not have time for a proper meal in 24 hours or more, so make sure they are healthy snacks low in sugar and high in protein.
Avoid stinky foods (no tuna) or snacks that require any heating or preparation.
If you're super prepared you could freeze some muffins, yoghurt cups or your favorite protein smoothie (x2 of course) with banana, mango or berries; ready to grab on your way out the door.

12. Spare change for the vending machine – for coffee or extra snacks as required.

13. Handkerchief or hand towels – for mopping up their own sweat or helping you with yours.

14. Pain relief as headaches for your partner are a real deal too.

Are there any other children in the family already? Make sure you've thought about whether they will be present for the birth or visiting afterwards. Some families like to have a gift ready for them from the baby to make them feel extra special.

Hospital bag must-haves for the baby

Purchasing a good quality nappy bag is a great investment. It will serve you well during the first 3 to 4 years of your baby's life and will easily accommodate all the essentials. Are you having twins? Then you will need to double the quantities below: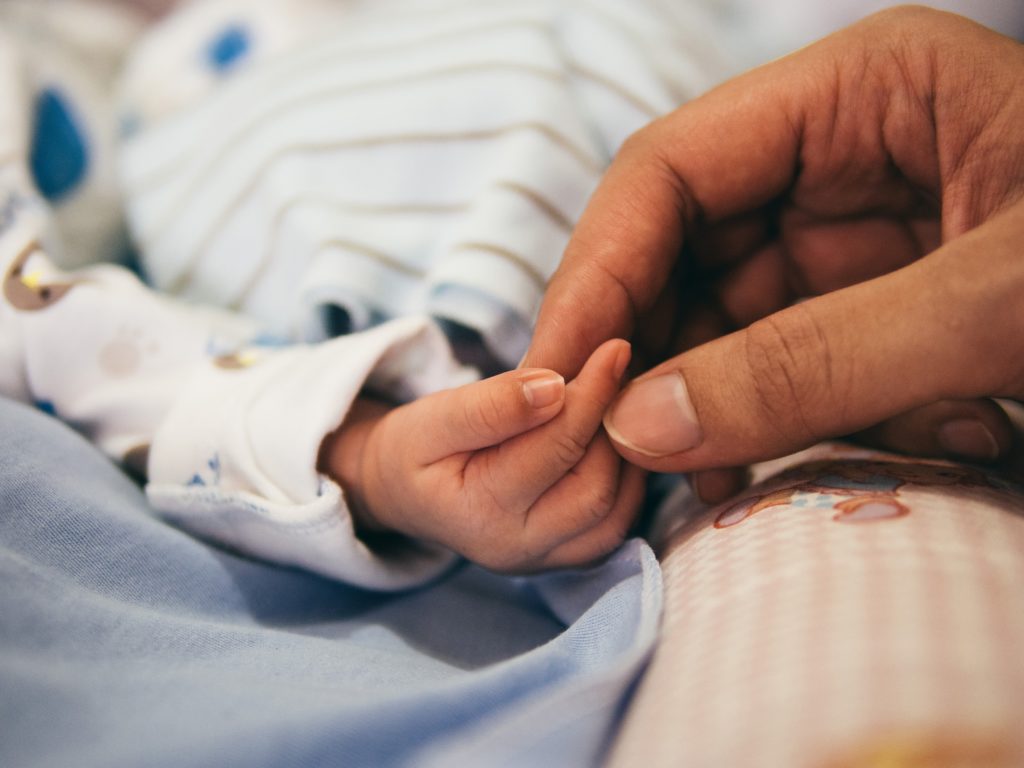 1. New born nappies – make sure you pack plenty.

2. A soft muslin cloth or cotton wool for cleaning baby after nappy changes, as wet wipes are not recommended for the first 2 to 3 weeks.

3. Singlet suits.

4. Full sleepsuits with feet and mittens – hospitals can be cold and your baby is used to the warmth inside you.

5. Mittens if not incorporated into sleepsuits. Babies can easily scratch themselves.

6. Socks – heat escapes quickly though your baby's feet.

7. Hat, beanie or toque.

8. Change of clothes to take baby home in – what do you want them to be wearing in the photos?

9. Warm baby blanket.

10. Muslin for wrapping baby in.

11. Pacifier should you choose to use one.

12. Car seat – this should already be fitted by a professional in your car at the beginning of trimester 3.
So there it is. These are just some of the most popular hospital bag essentials.
But just remember, if you miss some items listed above or in the midst of the craziness that is labour, forget to pack a hospital bag. Don't stress!
The hospital will most likely have all the essentials or you can send your partner home to fetch the rest.
If you think we've missed anything in our checklist, drop a comment below. We would love to hear from you.
Happy packing, mama!
Don't miss: Signs of Labor
Like this post? Follow Cake Maternity on Facebook to get the latest updates!
LIKE WHAT YOU READ?
Join CakeMama Club & get 10% OFF your first order!
Plus you'll get tips + tricks for pregnancy, postpartum & breastfeeding, get member-only offers, earn CakeCoins every time you shop + more. Learn more