Maternity clothing has come a long way in recent years with many new brands entering the market and specializing in maternity style.
We've got you covered from easy breakfast to date night, from work wear to casual Fridays, from juggle-the-kids to everyday task wear. If you're a mum or mum-to-be, life is hectic enough without having to think about washing, ironing and how you are going to get that effortless look of having it all together whilst being super dappa too.
To take the guesswork out, we (Cake Maternity) have done our research and here's our complete capsule range that you've been asking (begging) for.
Not only does it look good, the pieces will mix and match and are so super versatile. The fabrics are all ecological and feel amazing to wear; that you'll not want to take them off.
They are easy to care for (toss them in the machine) and do not require ironing (yes, we are listening). The slinky and stretchy fabrics mean they are suited to multiple body types, for during pregnancy and concealing postpartum loves.
They are perfectly styled with a range of maternity and nursing tops, pants, skirts, dresses and leggings in soft luxurious fabrics, offer for a flattering fit and drape.
Made from natural fibres, they allow for the skin to breathe. These styles are classical but sophisticated in design to be mix matches, without costing a fortune.
Fabrics: All fabrics have a natural element to them, whether this is cotton, bamboo, viscose or rayon (made from cellulose or bamboo) blended perfectly with elastane for the stretch and recovery that you would expect from a garment that will definitely need to stretch (hello belly and lady lumps).
This special blended fibre (Tanboocel) also has bacteriostatic activity which means it stops bacteria from reproducing. This means you feel fresher and less pongy throughout the day.
It is also breathable, has undeniable softness, smoothness and brightness. This means it's completely wearable and has a beautiful lustre that doesn't usually occur with natural matte fibres.
Care: All garments are machine washable and easy to hang in the shade to dry. They don't require ironing and are also dryable on low in the tumble dryer. You're welcome.
Sizes: Sizes are XS – XL and will accommodate a small bust or a larger bust too. Something for everyone.
Styles: All the colours of the entire range go together. We know how much baby brain affects us during pregnancy and especially when breastfeeding, so we've taken the guesswork out for you.
You will happily be able to throw on whatever you like from the range and yes, you will look great. Never fear.
Most of the styles will carry on from pregnancy to breastfeeding and you will be able to wear them to conceal postpartum curves too.
These are specifically designed for your belly and comfort.
Your capsule wardrobe:
Your maternity wardrobe does not need to be vast nor do you need to spend a lot of money. Simply purchase a few key staple pieces that can be mixed and matched with existing pieces from your wardrobe.
A good pair of jeans
A quality pair of jeans is a good investment and will be worn time and time again.
They are versatile and can be dressed up or down depending on the occasion. Avoid scrimping on jeans and take the time to find a pair of jeans that not only feel comfortable but also flatter your figure.
Note: There are many different styles of jeans available, skinny, wide leg, flare and boyfriend to name a few.
Be mindful of the top band on the jeans when purchasing. Some women like to wear their jeans below the belly, while others prefer a supportive stretchy band to come up over the belly. Try both options and choose the style that feels most comfortable for you.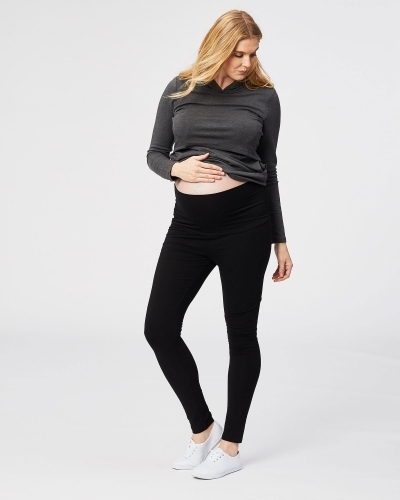 Leggings
Leggings use to only worn to the gym, however they have become a girl's best friend and are often worn during the day for a more comfortable option.
Patterned more elaborate styles can be worn on their own for a more casual look or simple black ones can be layers under a skirt or dress for a fun alternative.
Shop around and remember you get what you pay for.
Note: Do check when trying them on in the changing room that the fabric is not transparent around areas where the fabric has had to stretch more.
Better quality fabrics tend not to do this and will cost a little more money. It is worth the investment as they will ultimately be more durable after many washes.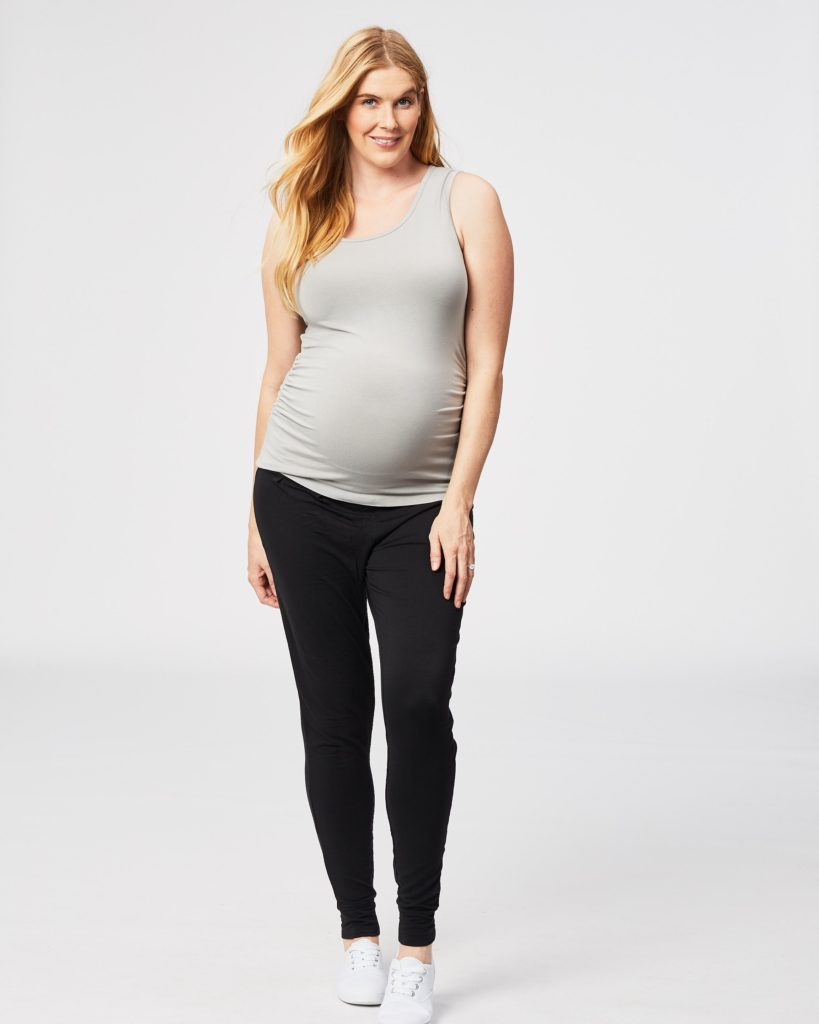 Tank tops
Invest in a number of tank tops in a variety of colors. Stick with neutral block colors, as they are likely to be mixed and matched easier with existing accessories in your wardrobe.
Note: Look for a tank top that is made from a soft natural fabric such as cotton or bamboo. This will help to keep you cool as these fabrics allow your skin to breath. Synthetic fabrics not only feel uncomfortable to touch, but could make you feel hot and irritable.
Note: The fabric also needs to have some stretch in it, to accommodate your growing belly. Look for a style that has roughing up the sides as this will help to add shape and flatter your figure.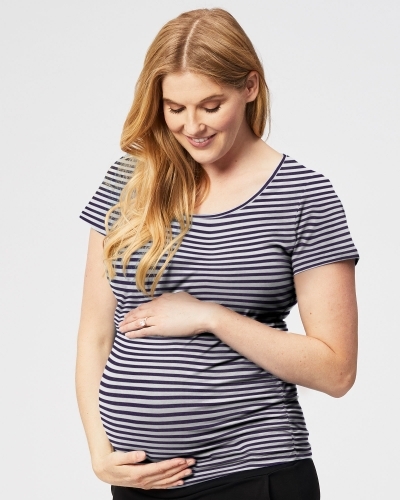 Maternity tee
The Basic body hugging maternity tee is the perfect basic and essential maternity tee. This will grow with your belly and last the distance for your pregnancy. It will also be great for wearing afterwards to conceal your postpartum belly with perfectly positioned gathers.
Maternity dress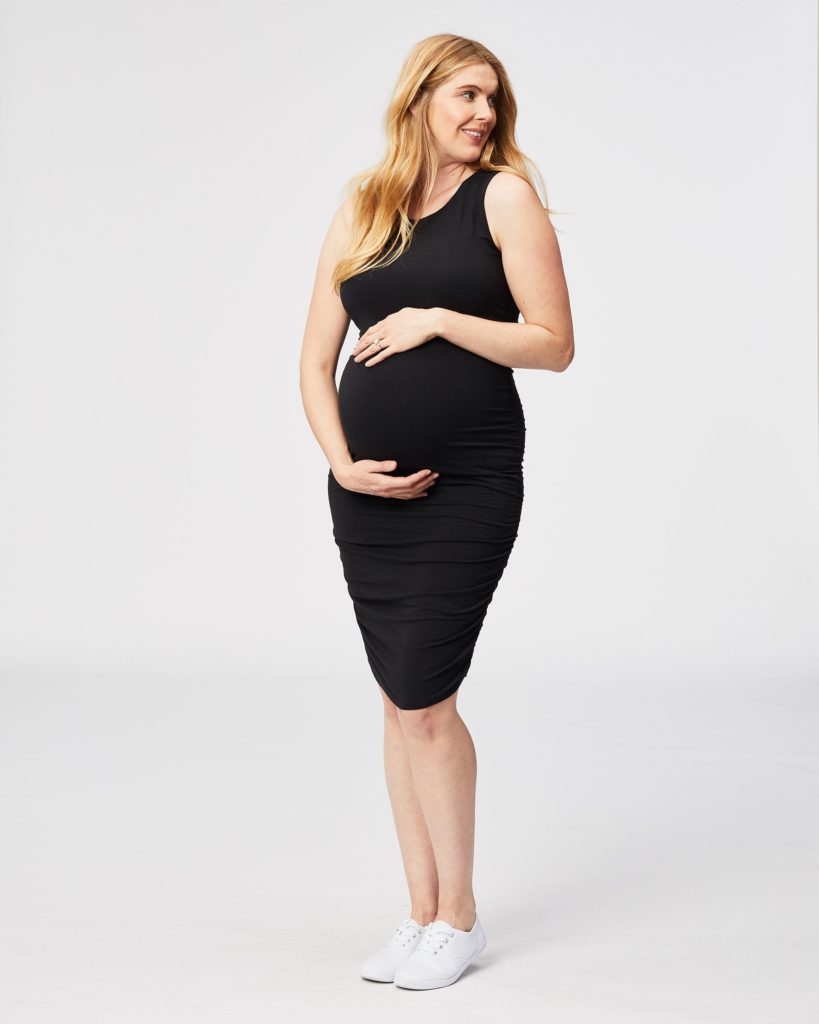 Bodycon sleeveless maternity dress

With gathers in all the right places, this one is perfect for the growing belly and bottom (yes, we know your hips widen too). The neckline is perfectly scooped with wide tank width shoulders so you're able to wear any bra you like underneath.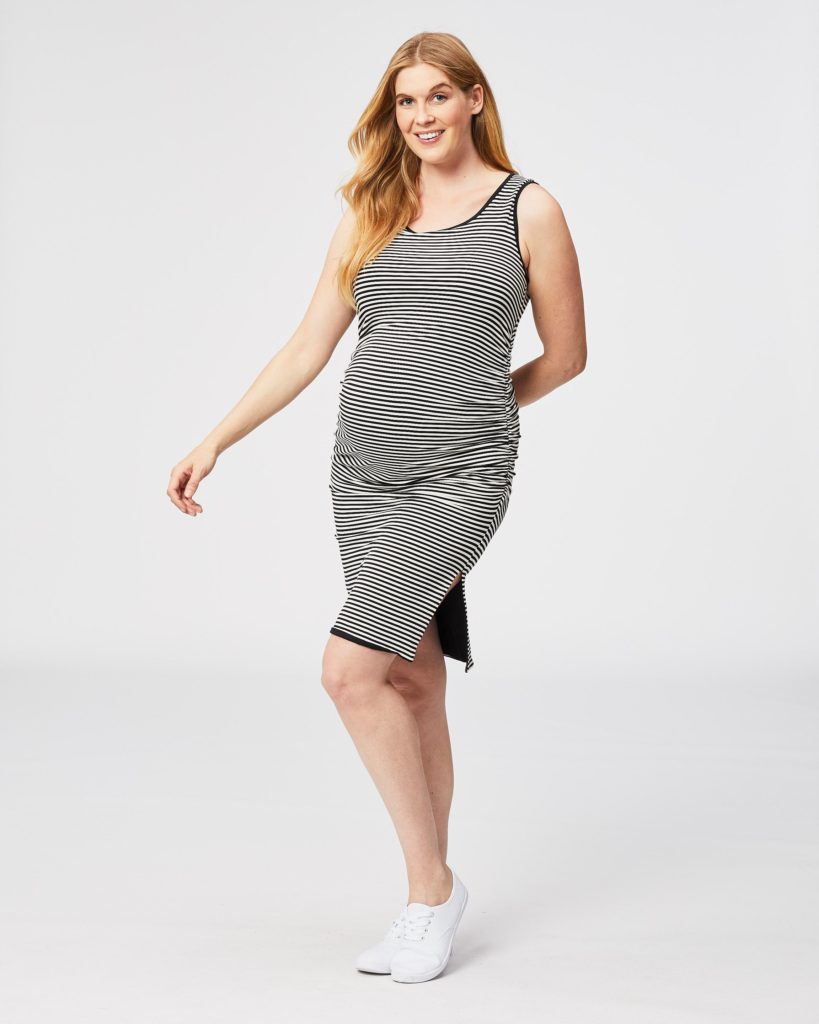 Reversible maternity dress (hello yes motherhood)

Did someone say baby vomit? No worries – reverse it. Sorry to be so blunt.
This one is double layered and is the same shape as the bodycon dress but with the added bonus of being reversible. When worn with the stripe on the inside, there is a sneaky show of it at the cheeky side splits.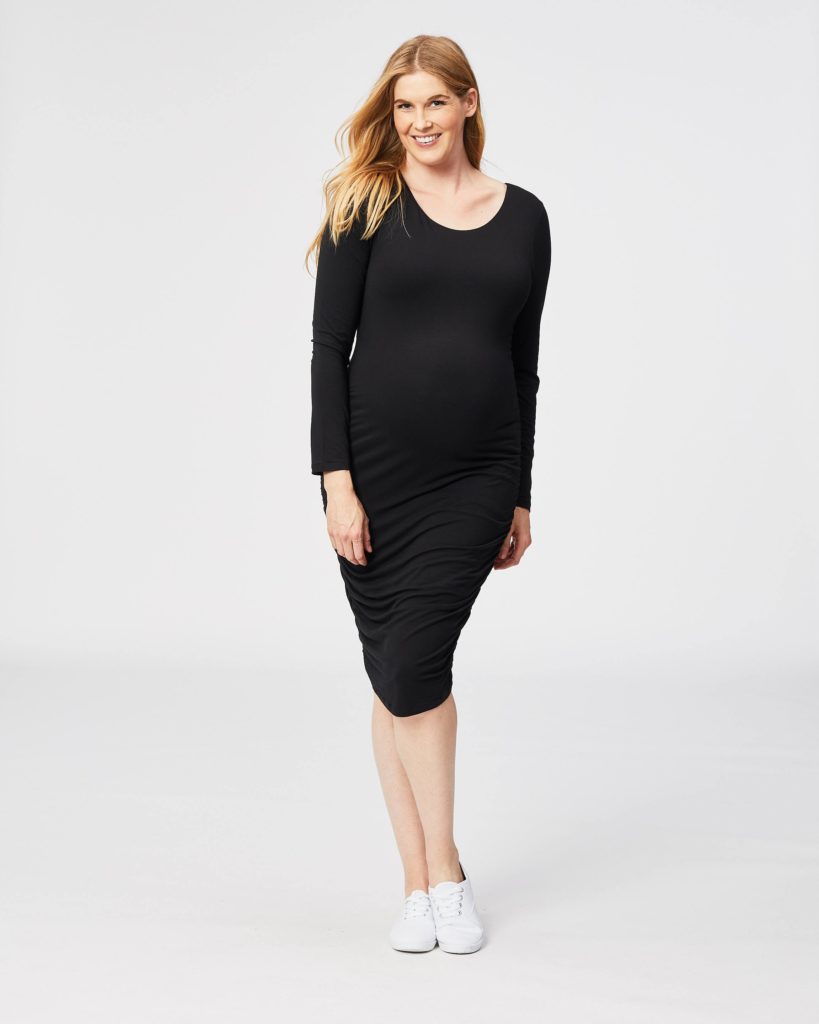 It's fall, so let's go for the long sleeve dress. Brilliant.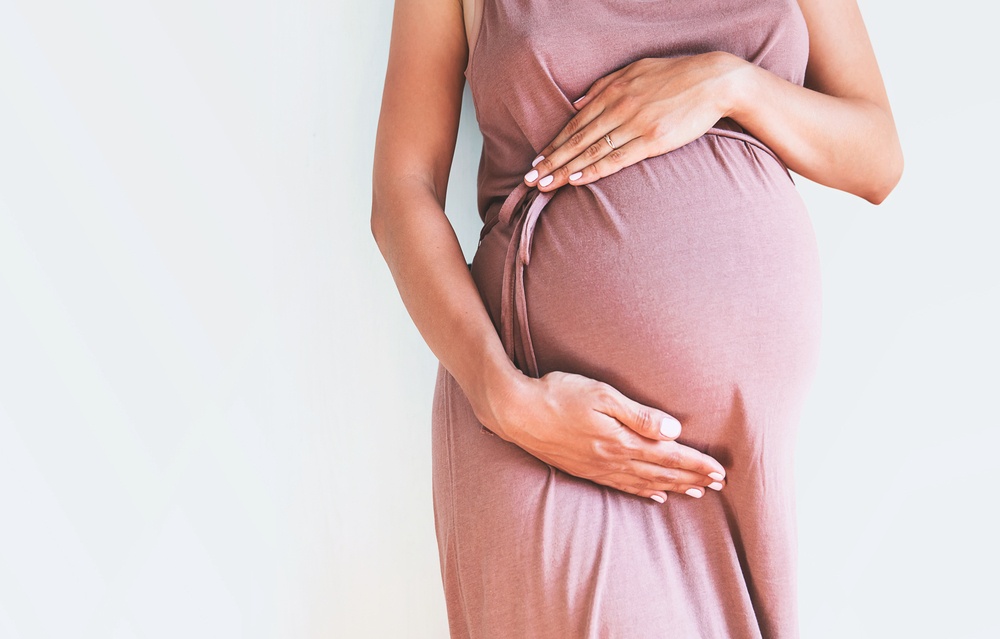 Maxi dress or skirt
Now is the time to embrace the maxi dress. This free flowing style is non restrictive and will feel fabulous on.
Note: Baby doll styles are wonderful as they contain structure at the top of the dress that acts like a bust support shelf.
Added layers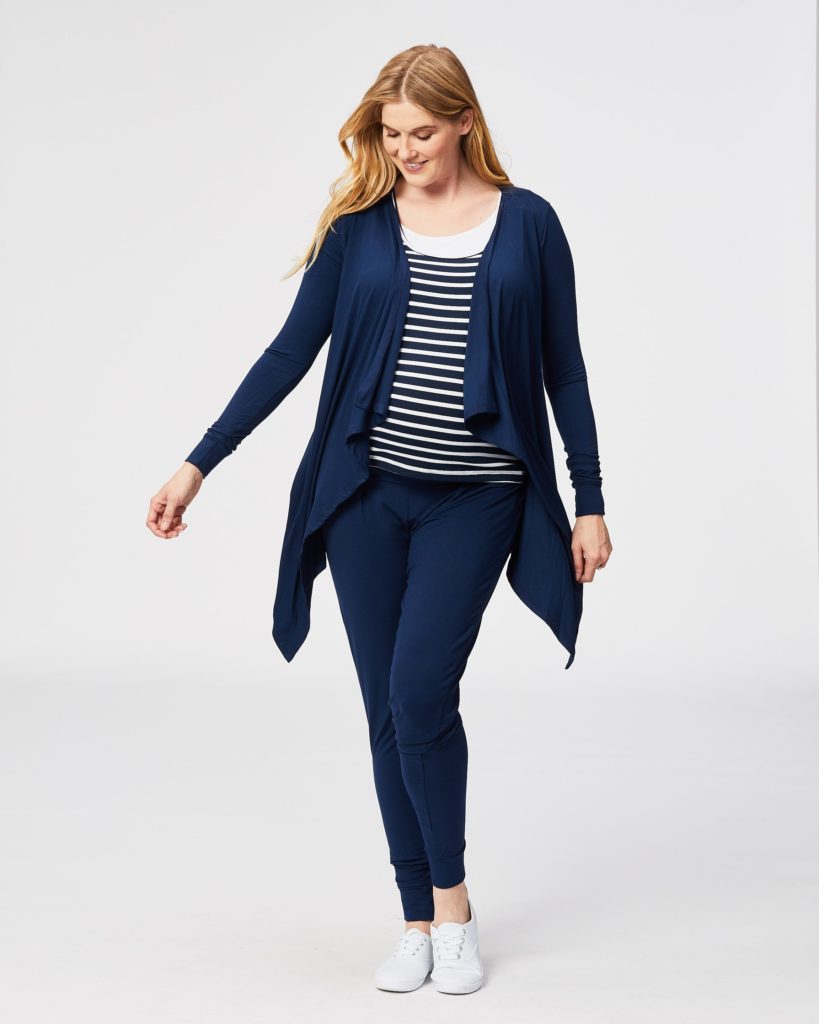 The ultimate wrap cardigan is so versatile. This one has long sleeves that can be pushed up to your elbow (and yes, they stay there) for a 3/4 sleeve look, or worn long and low over your hands without appearing to be an emo.
The front is waterfall style – this means the length of hem cascades and is able to be worn a number of ways. It can be left open and draping.
If tied at the waist, it become a bolero type cardigan. It can also be tied very loosely on the sides, this looks great with jeans.
It can be crossed over and the ends tied at the back – this looks great with a plunge bra. Or finally it can be worn belted with a skinny belt, wide belt or tied belt.
If there is one essential item – then this one is the most versatile.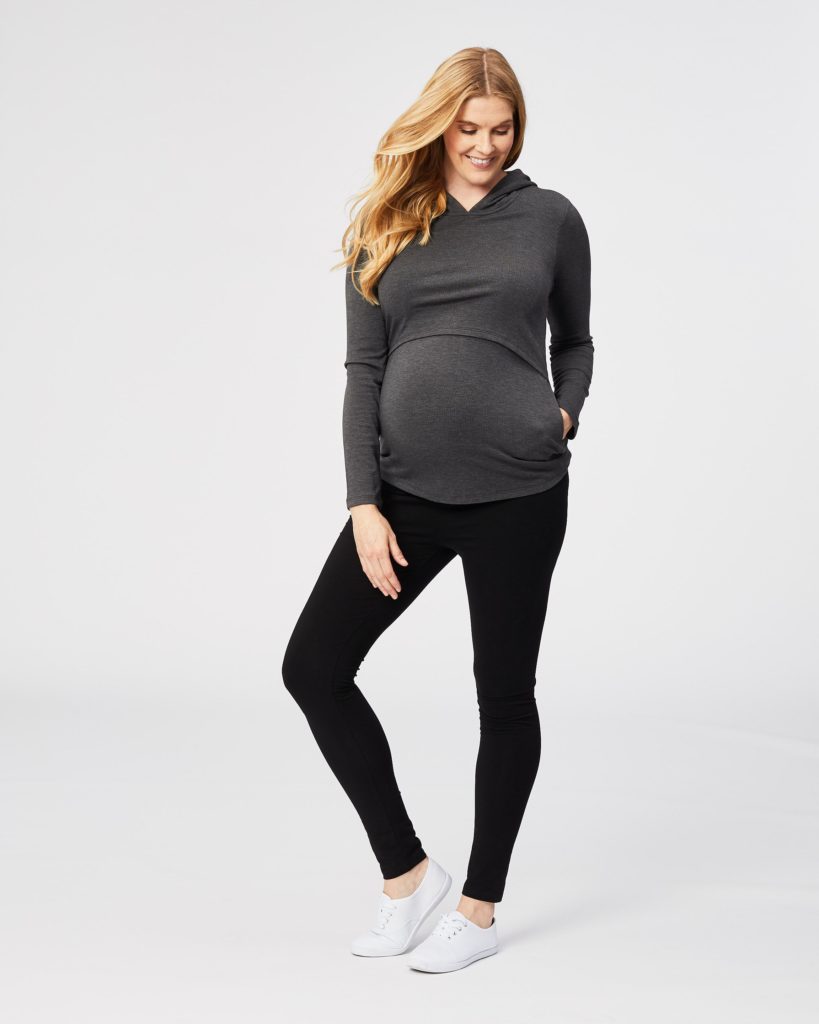 Maternity Nursing winter hoodie (can be worn solo too):

This one is great for dressing up or down, casual or informal lux, brunch or shopping, exercise or relaxing; this one is brilliant.

It also has the added bonus of nursing, so you don't have to undress to feed your baby. Super cool pockets too.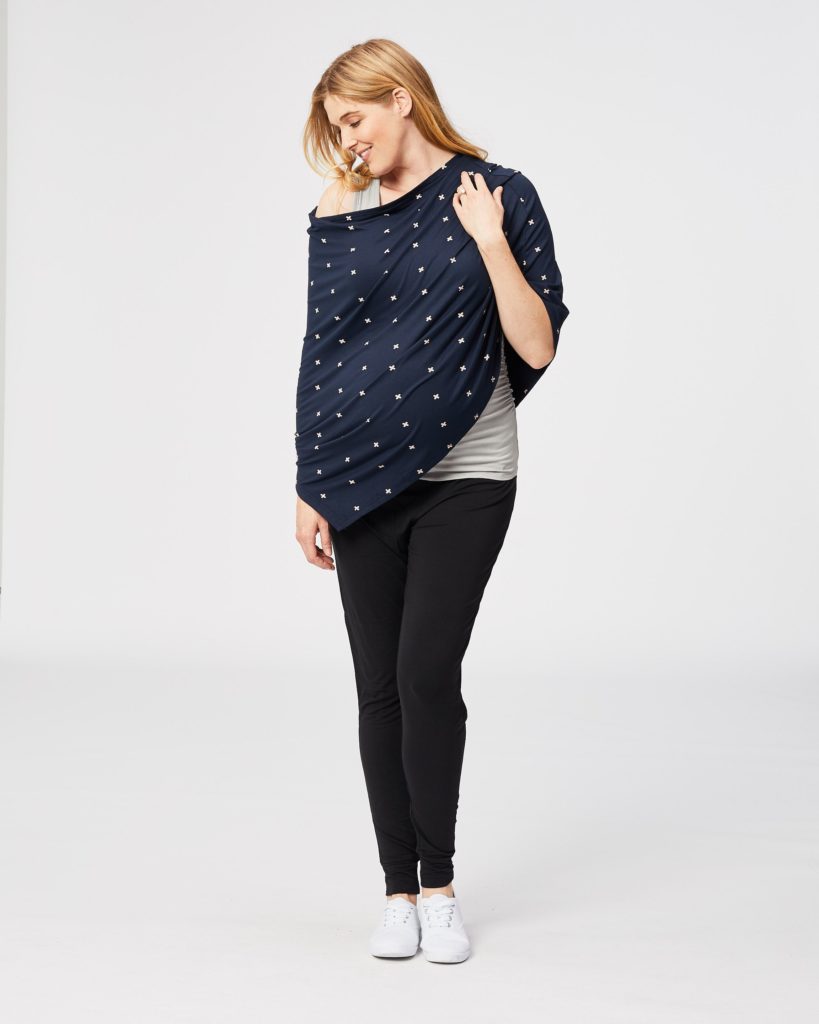 Nursing poncho (also for nursing, your pram, can also be worn as a skirt)
This lightweight poncho is ideal for nursing if you want to be modest or it's a little bit windy or chilly for your baby to be exposed (or you).
It's also great to wear as a poncho with jeans and tank. Dress it up or down.
If the sun is blaring on your pram, then this is perfect for a pram cover. The neckline is also suited to be worn as a skirt if you're so inclined.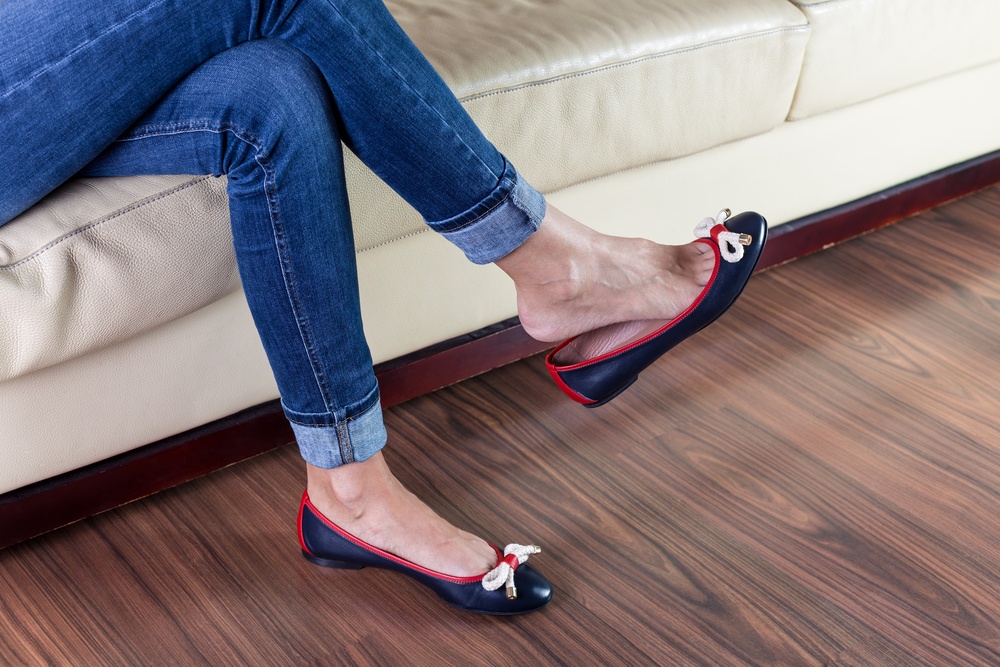 Shoes
You legs and feet will be carrying a much heavier load over the next 9 months.
Avoid wearing heels during pregnancy and generally opt for flats. Flat shoes will help to distribute your weight evenly putting less strain and pressure on your feet.
Note: Avoid shoes with lots of straps. As your feet swell they can become restrictive and very uncomfortable to wear.
Rules of purchase
When making a purchase there are a few simple rules you should follow to help ensure your purchases are relevant.
Never compromise on comfort
Avoid impulsive buys
Buy neutrals that can be dressed up
Avoid loud/large prints
Buy quality over quantity
Consider future growth when making a purchase
Avoid synthetic fabrics were possible
Stretchy fabrics will be your new best friend
Flats over heels
Don't compromise your style
How can I jazz up my maternity outfit?
Have fun with your newfound figure and enjoy the time and experience. Adding accessories and can help to define your style and bring a boring outfit to life.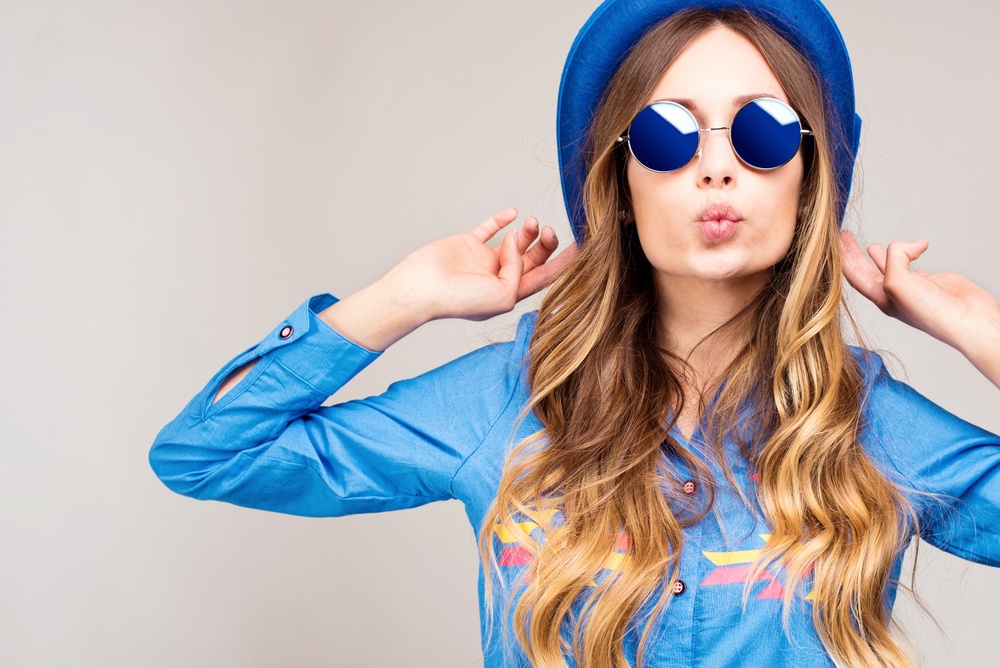 Accessories to consider:
Choose jackets or coats with texture, sparkle and fur
Layer tank tops and shirts for interest
Wear bold flashy jewelry
Experiment with color and choose fun shoes rather than the normal black and brown options
Have fun with hats
Get a fabulous new hairstyle
Different pregnancy shapes and how to dress them
There is no right or wrong way to carry. Our genetics are different and the way we carry is largely dependent on them.
Note: Eat healthy food and exercising regularly will help avoid unnecessary weight gain. You will also feel better about yourself and have a lot more energy.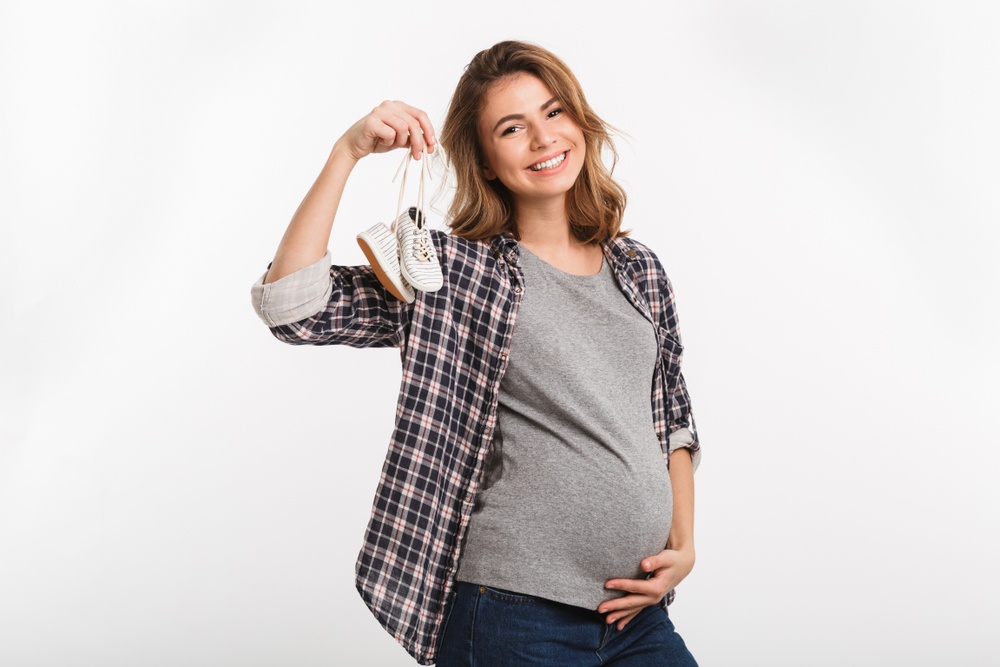 All over weight gain
Avoid covering up in over sized loose fitting clothes. Embrace your newfound figure and dress to impress.
Embrace the color black to help build a base for your outfit. Black leggings and a black tank top will help to slim your figure. Add layers for interest i.e. Long jackets, cardigans, long shirt or shapely jumpers. Accessorize with scarfs, necklaces, earring and a great handbag.
Note: Avoid large prints as they can emphasis your size.
Carrying on the hips
Avoid bold prints or bright colors on your lower half. Opt for dark colored jeans and or leggings to help minimize your shape.
Choose bright colorful shirts, jackets, jumpers and or tops to wear. They will help to draw attention upwards and away from your hip area.
Petite frame
For those women who are naturally petite opt for clothing that helps to define your shape. Embrace figure-hugging items that help to show off your body.
Note: Long skirts and over sized clothing will not flatter you. It will only swallow you up.
All bump
For those that carry neatly in the front stretchy tank tops and maxi dresses will be a staple.
Note: Look for garments that have Roughing around the belly area. Roughed garments will accommodate a much larger belly and help to define your shape.
Mix and match suggestions
Brunch girlfriend date:
1. Ruched fitted skirt (stripe) + LS Maternity nursing top (white)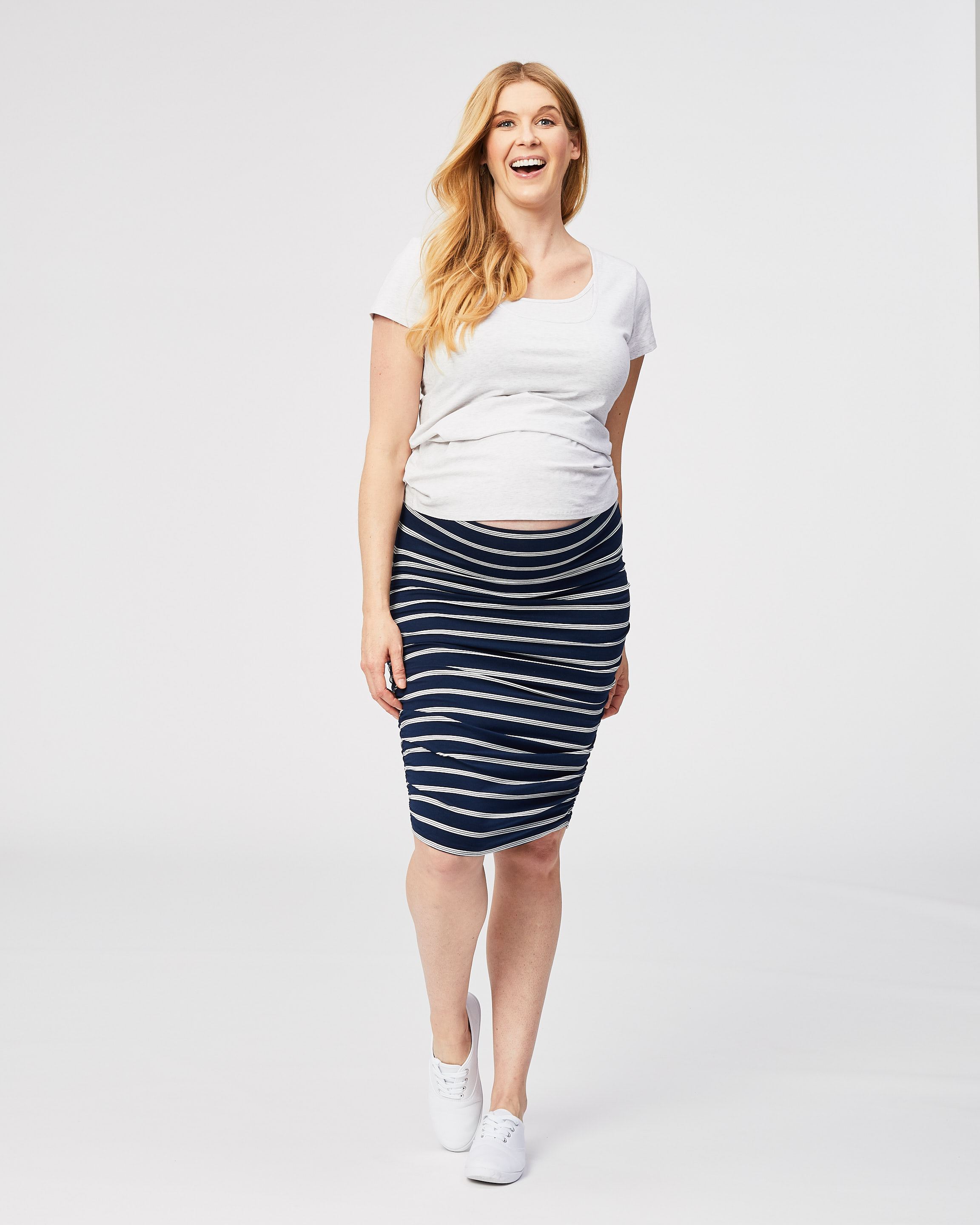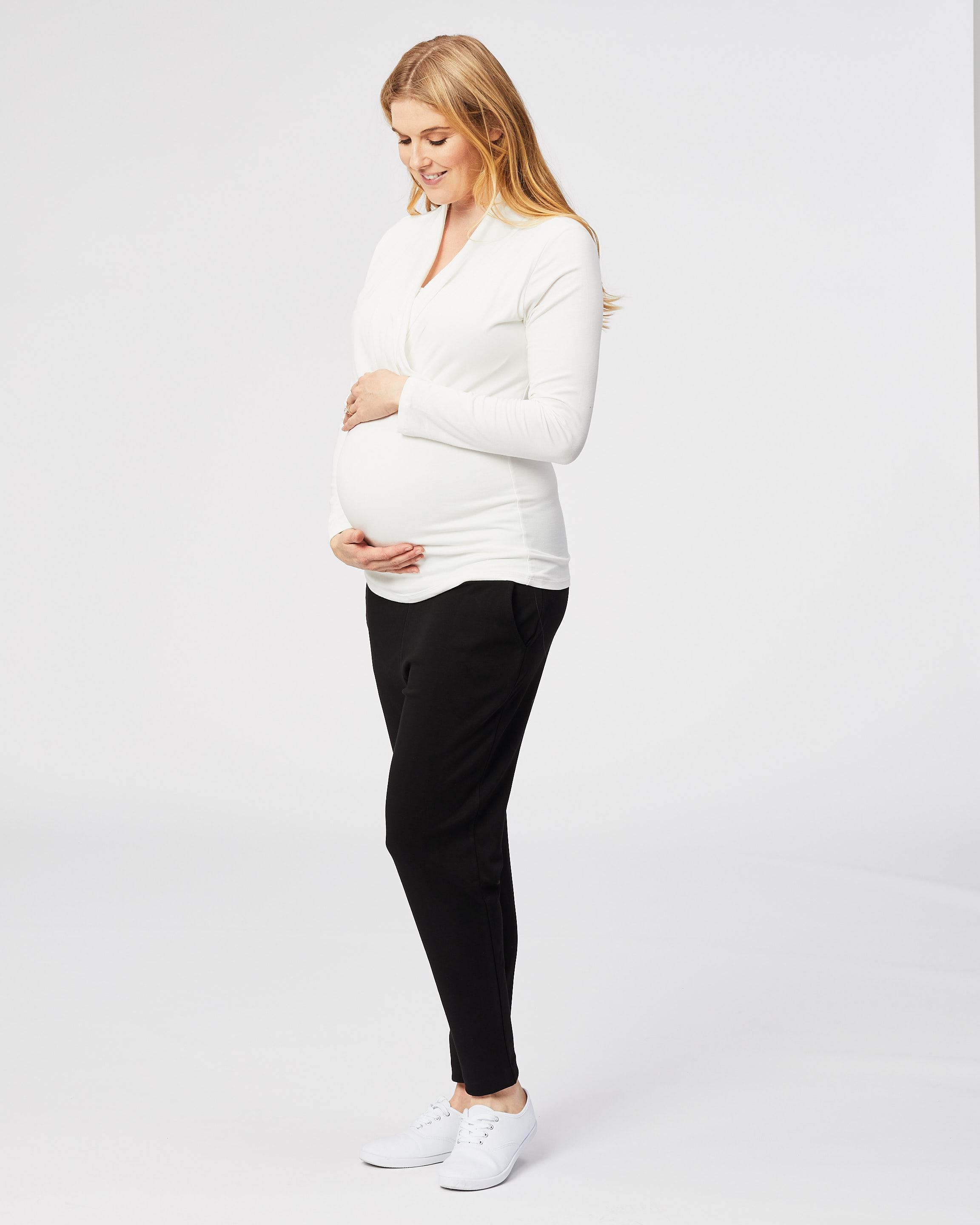 2. Maternity swing dress (navy) + Waterfall cardigan (navy)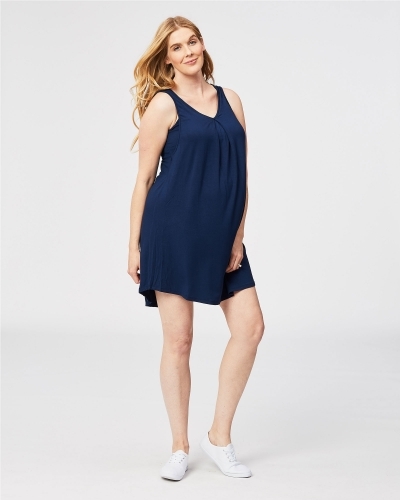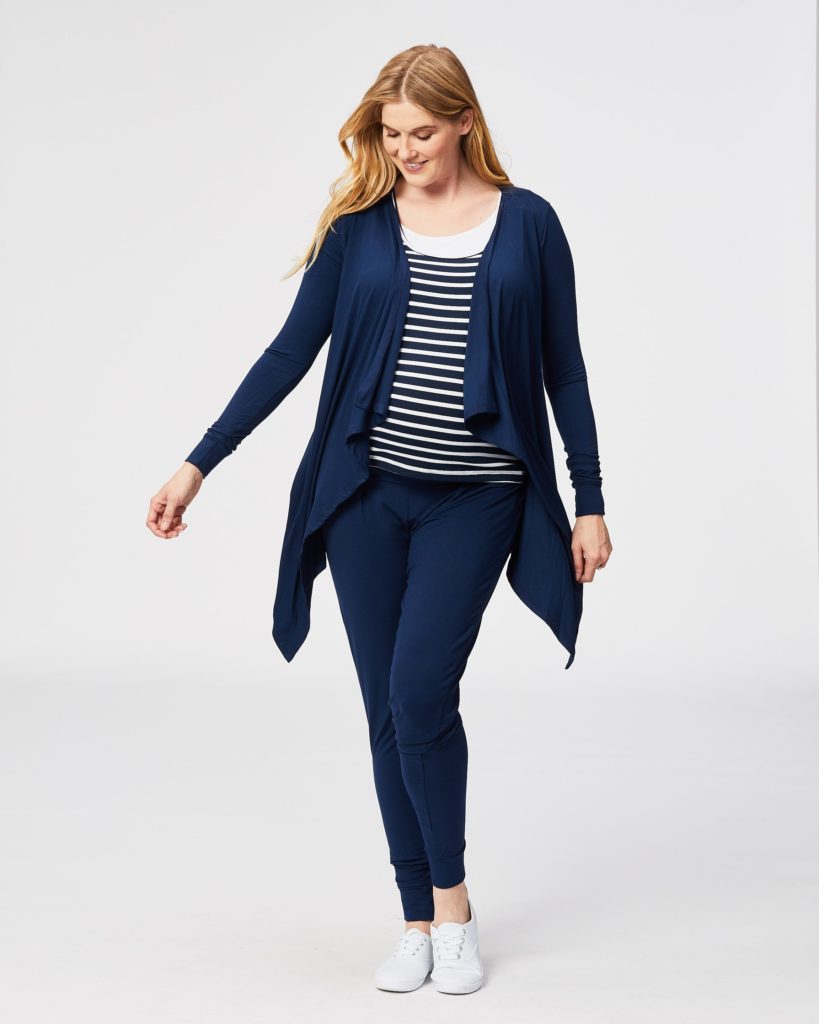 Saucy Dinner date with bae:
1. Reversible maternity dress (black) + Waterfall cardigan (navy)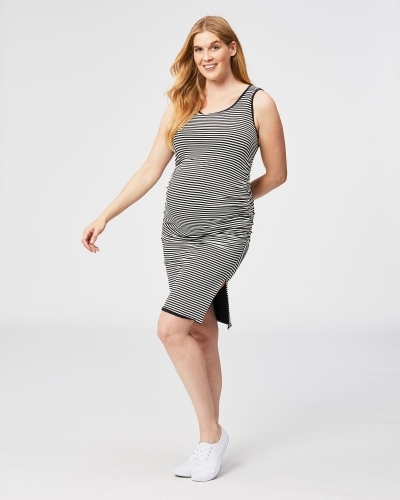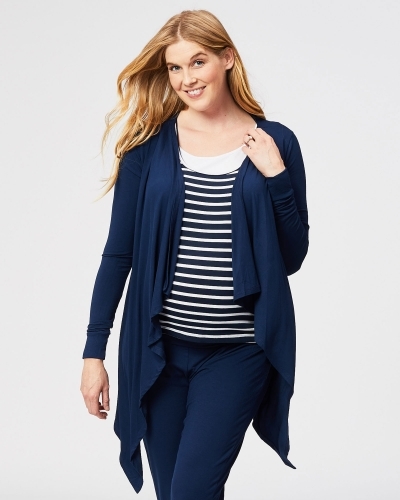 2. Long sleeve maternity wrap dress (black )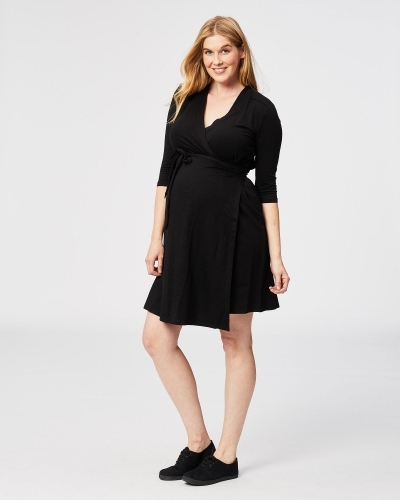 Working it:
1. Relaxed soft ponte pant (black ) + Pull up nursing tank (navy stripe) + Waterfall cardigan (navy)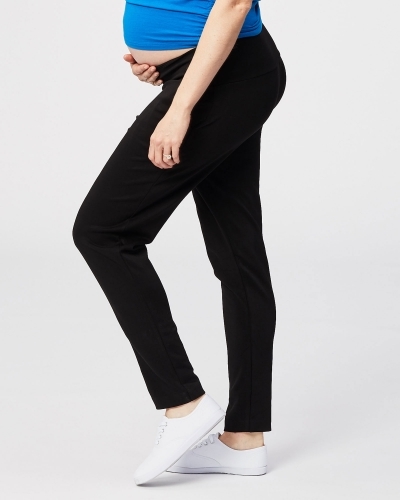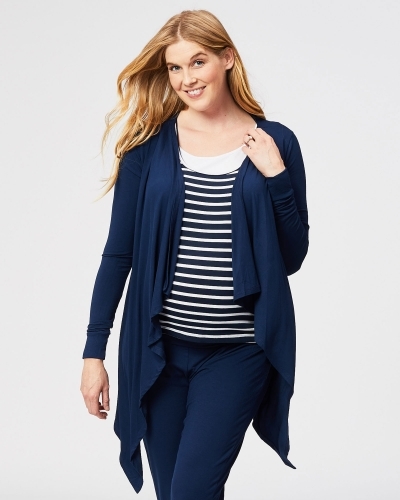 2. Sleeveless maternity wrap dress (black)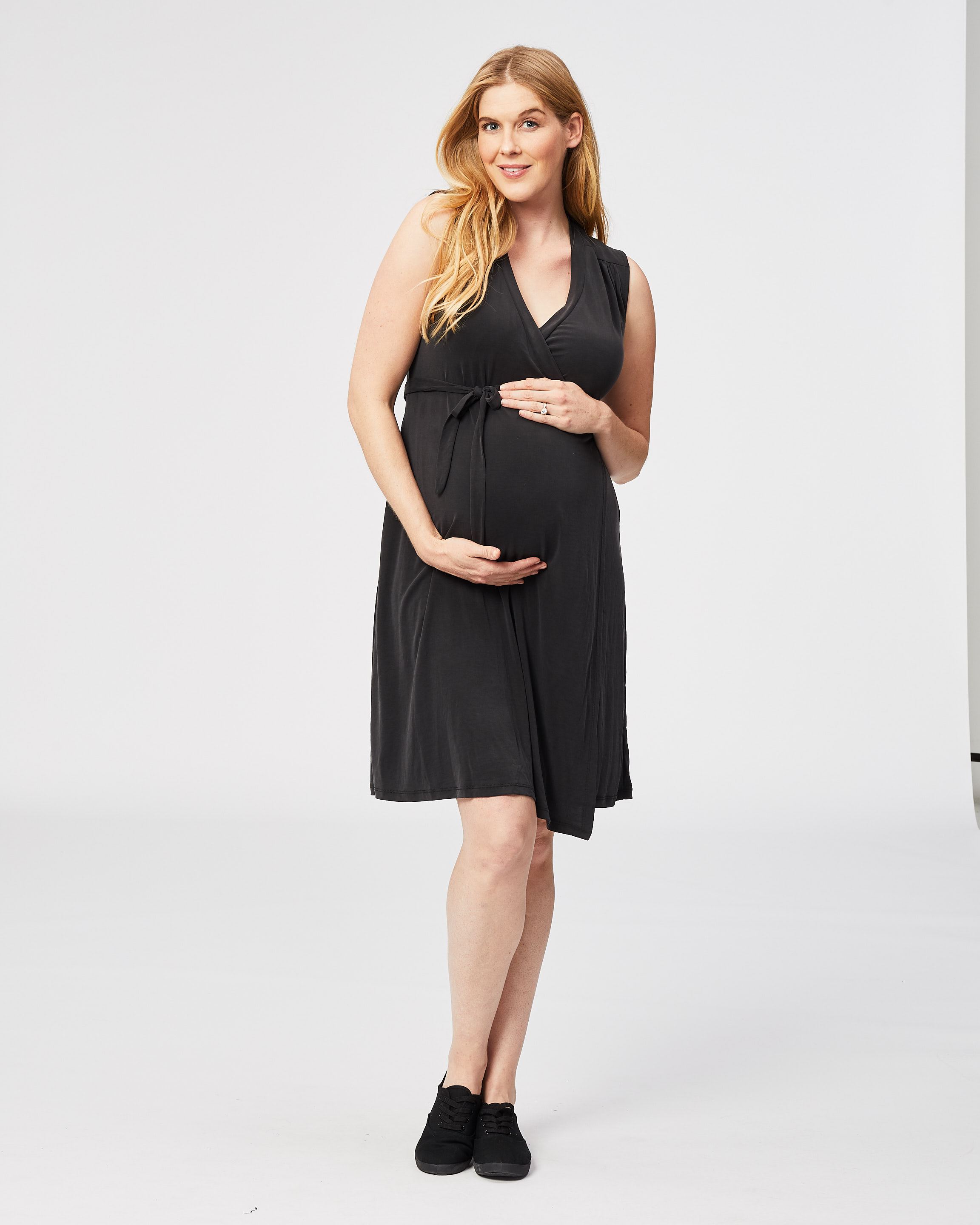 Heading to the shops:
1. Maternity nursing swing dress (navy)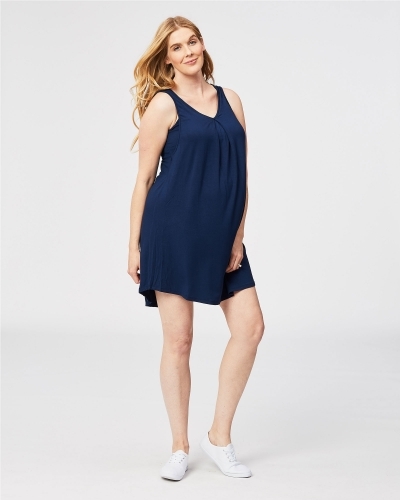 2. Bodycon sleeveless maternity dress (navy) + nursing poncho (navy)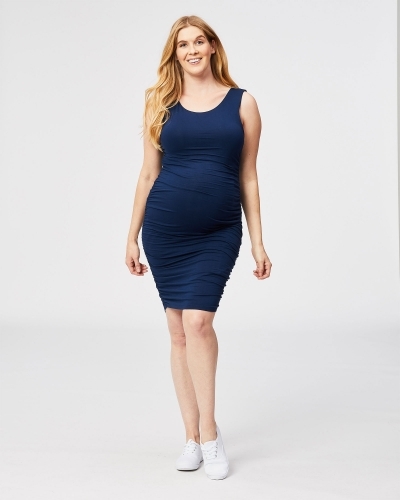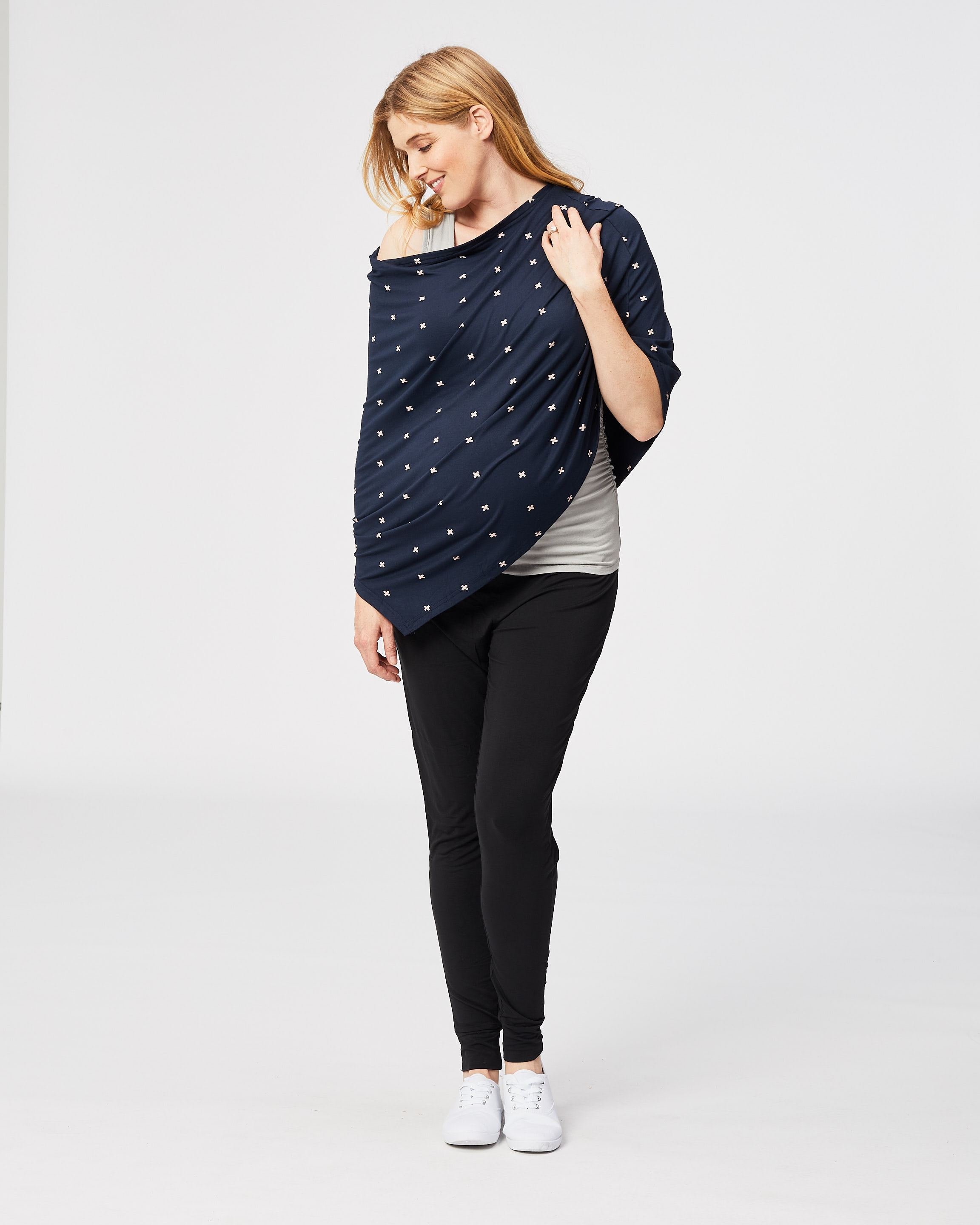 Don't miss: Things To Consider When Buying Maternity Clothes
Like this post? Follow Cake Maternity on Facebook to get the latest updates!
LIKE WHAT YOU READ?
Join CakeMama Club & get 10% OFF your first order!
Plus you'll get tips + tricks for pregnancy, postpartum & breastfeeding, get member-only offers, earn CakeCoins every time you shop + more. Learn more