Nursing Tanks are incredibly versatile and a great staple to have in your wardrobe during both pregnancy and breastfeeding.
Tanks can be worn as underwear or can be layered as outerwear to create a fun look that is practical for breastfeeding mothers. Purchase in a range of colours so that they can be mixed and matched with a number of different items in your wardrobe.
Available in easy sizing XS-XXL, nursing tanks are easy to fit and will stretch and change with your growing body shape.
How do I choose the right tank for me?
With a number of nursing tanks in the marketplace to choose from, it can be confusing when it's time to purchase one.
Knowing what to look for is half the battle! We've come up with a helpful checklist to make shopping easier.
1. Breathable fabric
Choose a nursing tank that is made from natural fibres such as cotton, bamboo or modal. Natural fabrics will help keep you cool and allow your skin to breathe.
They are also less likely to irritate your skin, feel scratchy or cling to you in warmer weather.
Synthetic fabrics, whilst cheaper, can become hot and/or can be irritating to wear.
2. Comfort
Try on or test wear the tank before purchasing it. If it doesn't feel comfortable in-store, then it is highly unlikely that you will wear it often.
Comfort is particularly important during pregnancy and whilst breastfeeding, especially as a woman's body and skin is more sensitive during this time.
Purchase for your current clothing size. Avoid buying for what you think your body will look like in the future. A tank that is too big will not sit correctly on the body and is likely to twist and move around (very annoying). A tank that is too small, will feel restrictive and uncomfortable to wear.
You might also like: Maternity Style: How To Dress Your Baby Bump
3. Stretch
Choose a tank with good stretch. A stretchy fabric will be more forgiving and will stretch with your changing body, providing for a more comfortable fit.
Non-stretch fabrics could feel tight and uncomfortable. A woman's body is constantly changing during pregnancy and whilst breastfeeding and it is possible that a less forgiving fabric will not fit in time.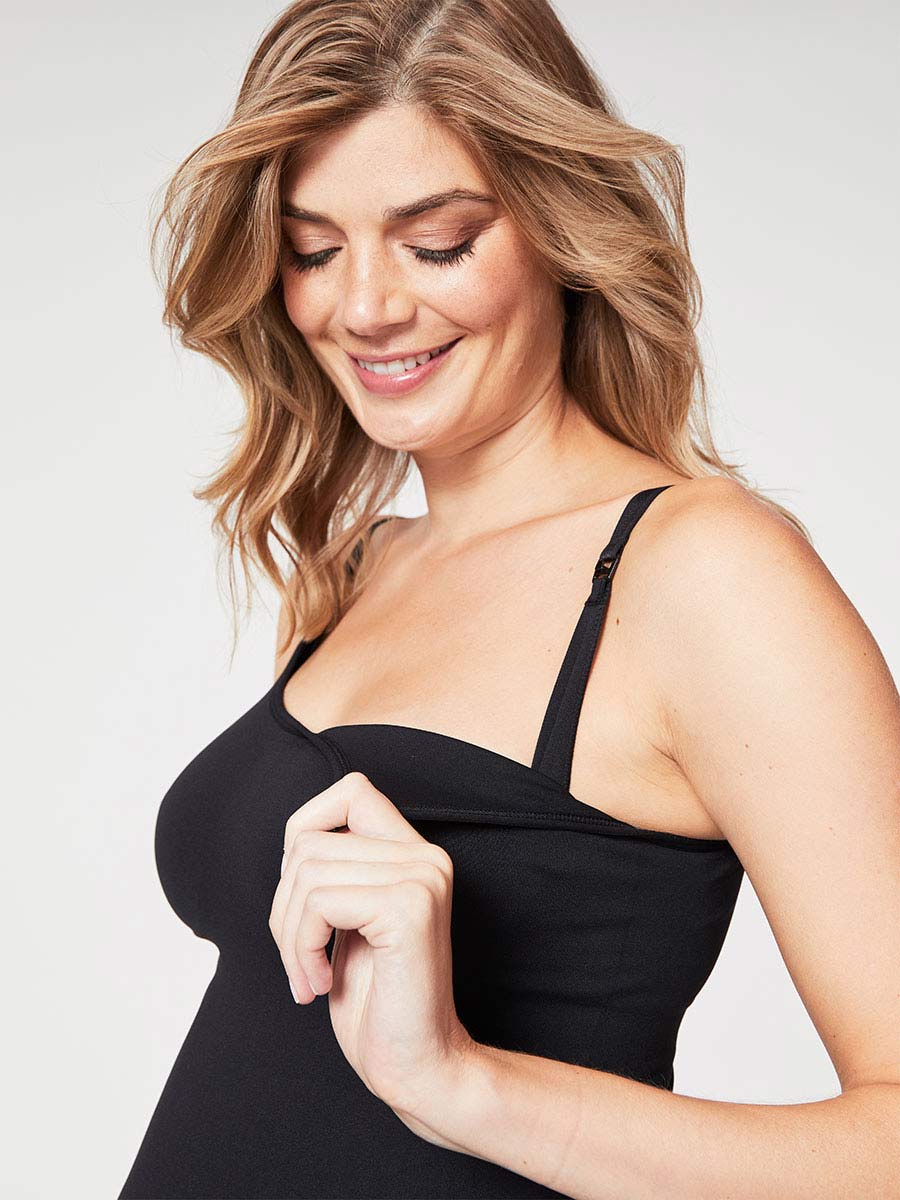 4. Drop down cups for feeding
A good nursing tank will have feeding clips incorporated into the strap design.
Drop down cups will make feeding a breeze and more discreet when out and about.
5. Underwear/outerwear
Outerwear tanks generally have a few extra design features and may come in a variety of prints. The design and cut of the tank is generally more flattering and can be dressed up or down depending on the occasion.
Tanks designed for underwear will often have less design features and come in a smaller colour range. Beige and black are most popular and these tanks can often be worn as a replacement for a bra.
6. Price
It is often better to spend a little more than to buy budget. Even though you are only wearing the tanks for a short period of time, it's better to invest in a durable garment that will wash and wear better, than invest in a cheaper garment that will probably lose stretch and shape.
7. Neutral colours
Select neutral colours. That way they can be easily matched and dressed up with other accessories to create fun fashionable outfits you will enjoy wearing.
Pregnancy does not mean you have to dress frumpy! Mix and match your pre-pregnancy clothes and accessories with a few key maternity dress items to create fun, fashionable looks.
8. Longer length
Select a tank that has a longer length. This will be much appreciated during the later stages of pregnancy and be more comfortable postpartum.
9. Gathered side seams
Gathered side seams are great because they enable the fabric to drape nicely over a growing belly. The gathers will also be beneficial post birth. 
10. Versatility
Choose a tank that not only flatters your body but also can be worn throughout pregnancy and post birth.
This way you really get your value for money!
You might also like: What To Wear Postpartum: Dressing Your Post Baby Body
11. Removable pads
Ideally, choose a tank that contains removable pads or laminated cups. These are ideal for smaller busted women who are looking for a supportive, discrete option. The pads will provide some lift and will help to avoid nipple show, providing the wearer with a smooth flattering shape.
12. Support shelf
Choose a tank that has a built in shelf for added support and comfort.
Depending on the size of your bust and the support provided by the garment, you may or may not need to wear a bra with the tank.
Once you find a tank that is suited for your needs, we advise you to buy a couple more in different colours.
A good nursing tank will soon become a staple in your wardrobe and your go to item, through your pregnancy and beyond.
13. Eco Friendly
Choose a tank that uses sustainably sourced fabrics and dyes. Cake Maternity tanks use Oeko-Tex 100 Standard materials and accessories, to help ensure the garment is free from harmful substances and leaves a minimal impact on the environment during the manufacturing process.
Tanks for the fuller bust
Most good nursing tanks have a built in shelf for added support. This is usually suitable for a B-DD cup and will provide moderate levels of support for those women who do not want to wear a bra under it.
A standard built in shelf is not a suitable support structure for a fuller busted woman who does not want to wear a bra. She will not get the much needed support that her larger/heavier bust will need. Should she purchase a standard tank she should wear a nursing bra under the tank to assist in supporting her breasts. The other options are to invest in a nursing tank that has been specifically designed to support a fuller bust.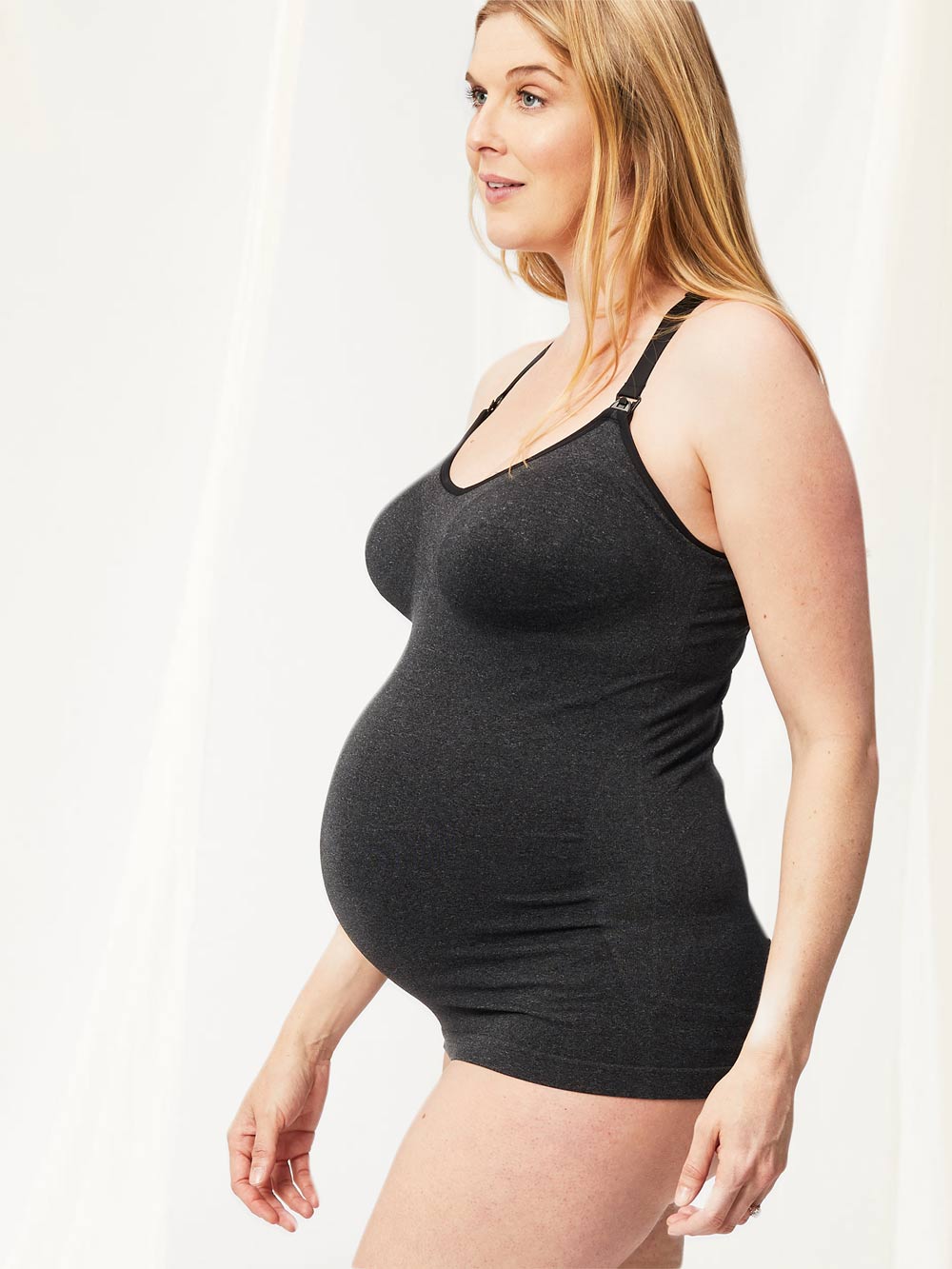 Our Wild Nursing Tank has been designed with F+ cups in mind. It is made from a strong durable stretch yarn and contains a built in seamless bra for added support. This under bra structure helps to support and separate the breasts; giving them lift and a great shape.
Ideal for the fuller busted woman who does not want to wear a bra under their tank.
Seamless Tanks versus Cotton Tanks
There is no right or wrong choice when it comes to choosing between a seamless tank or a cotton tank. Pick the style that works for you and your specific needs.
Seamless Tank features:
Easy sizing XS-XXL
Contains multiple cup sizes
Contains a built in shelf
Made from a seam free stretch fabric
Body hugging and will conform to your shape
Comfortable
Ideal undergarment
Can be worn by smaller busted women without a bra
Drop down cups for feeding
Sleek simple design
Longer length to accommodate a pregnant and postpartum body
Cotton Tank features:
Easy sizes XS-XXL
Contains padded cups
Cotton is cool to wear
Soft and luxurious to touch
Simple cup sizing (B-E cups) (F-G cups)
Gathered side seams to flatter the figure
Longer length to accommodate a pregnant and postpartum body
Drop down cups for feeding
Can be worn as outerwear
More tailored look
Tank versus Bra
Both tanks and bras have a place in a nursing mothers wardrobe.
Nursing tanks are a discrete way to breastfeed when out and about in public. The nursing tank will cover your midriff allowing for a much easier, quicker feed. Layering with a scarf or over sized shirt can help to aid as a breastfeeding cover up should you need it.
Nursing bras come in all sorts of shapes, sizes and styles, which gives you more options. A bra can be purchased to fit your exact size providing the wearer with much higher levels of support.
A nursing bra will generally sit discretely underneath most outfits and will allow for easy access to the breast when breastfeeding. An 'A frame' sling is wonderful as they cover the exposed breast allowing for some levels of privacy.
Care Instructions
It is recommended to always wash your nursing tanks in cold water and to drip dry in a shaded area. This will help to retain the integrity of the garment's fabric and will prevent any premature fading or deterioration of the elastics.
Using warm or hot water is never a good idea. The hot water will shrink fabrics such as cotton and will loosen the fibres in the fabric resulting in misshapen garments that will wear and tear much quicker.
Don't miss: Things To Consider When Buying Maternity Clothes
Like this post? Follow Cake Maternity on Facebook to get the latest updates!
LIKE WHAT YOU READ?
Join CakeMama Club & get 10% OFF your first order!
Plus you'll get tips + tricks for pregnancy, postpartum & breastfeeding, get member-only offers, earn CakeCoins every time you shop + more. Learn more