The bra world can be confusing due to the various sizes and the changes in our own bodies, which make it tricky. Whilst pregnant & breastfeeding your bra needs will be different too, all of which we've explained in a simple to follow checklist.
When it comes to our bras, there are some common mistakes we make especially around buying, wearing and taking care of your maternity and nursing bras. We've made a list to help you quickly identify these in the hope that you can avoid them in the future.
1. Wearing the wrong size
A lot of women are wearing the wrong size because they either A) Don't know their size, or B) Really want a bra that is not available in their size. Everyone is a 14C right? WRONG!
A huge percentage of women are wearing the wrong size bra. It is our recommendation to get correctly fitted at a lingerie boutique or department store. A bra that is the incorrect size will either not support you if it's too big, or dig into your breast tissue if it's too small. This can result in long-term breast damage.
2. Buying poor quality bras
Invest in bras that are made from quality fabrics and trims. It is noticeable at first glance (and feel) if a product is well made. The elastics should be firm and not have too much give. A good quality bra will often have multiple layers and feel luxurious to touch.
Cheaper bras are made from inferior fabrics and trims, and will often lose their elasticity and ability to support you after a few washes. Buying these also means greater landfill, and we don't want that.
3. Buying the wrong bra for your shape
Not all bra styles will suit every woman. Our bodies are unique and beautiful in their own way, right down to our breast shape and form.
– Plunge bras are wonderful for smaller busted women who tend to be heavier at the base of the breast. Check out our range of petite nursing bras, which provide support, comfort and easy breastfeeding access.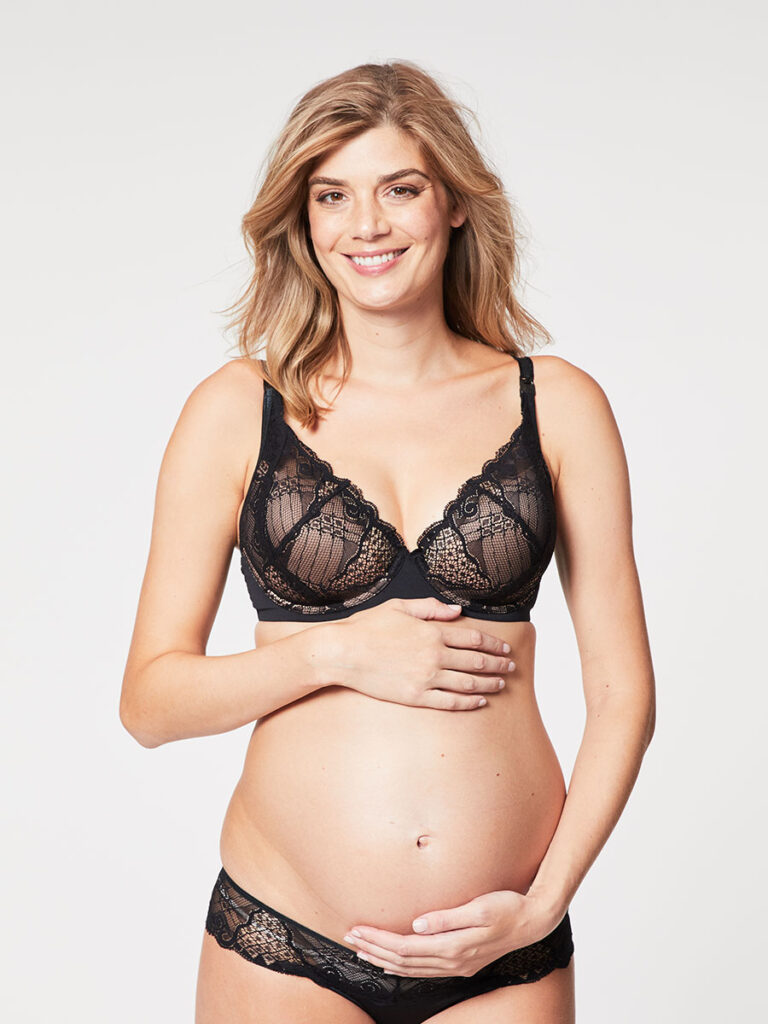 – Balcony style bras are good for women who have a rounder, even weight distribution in the breast.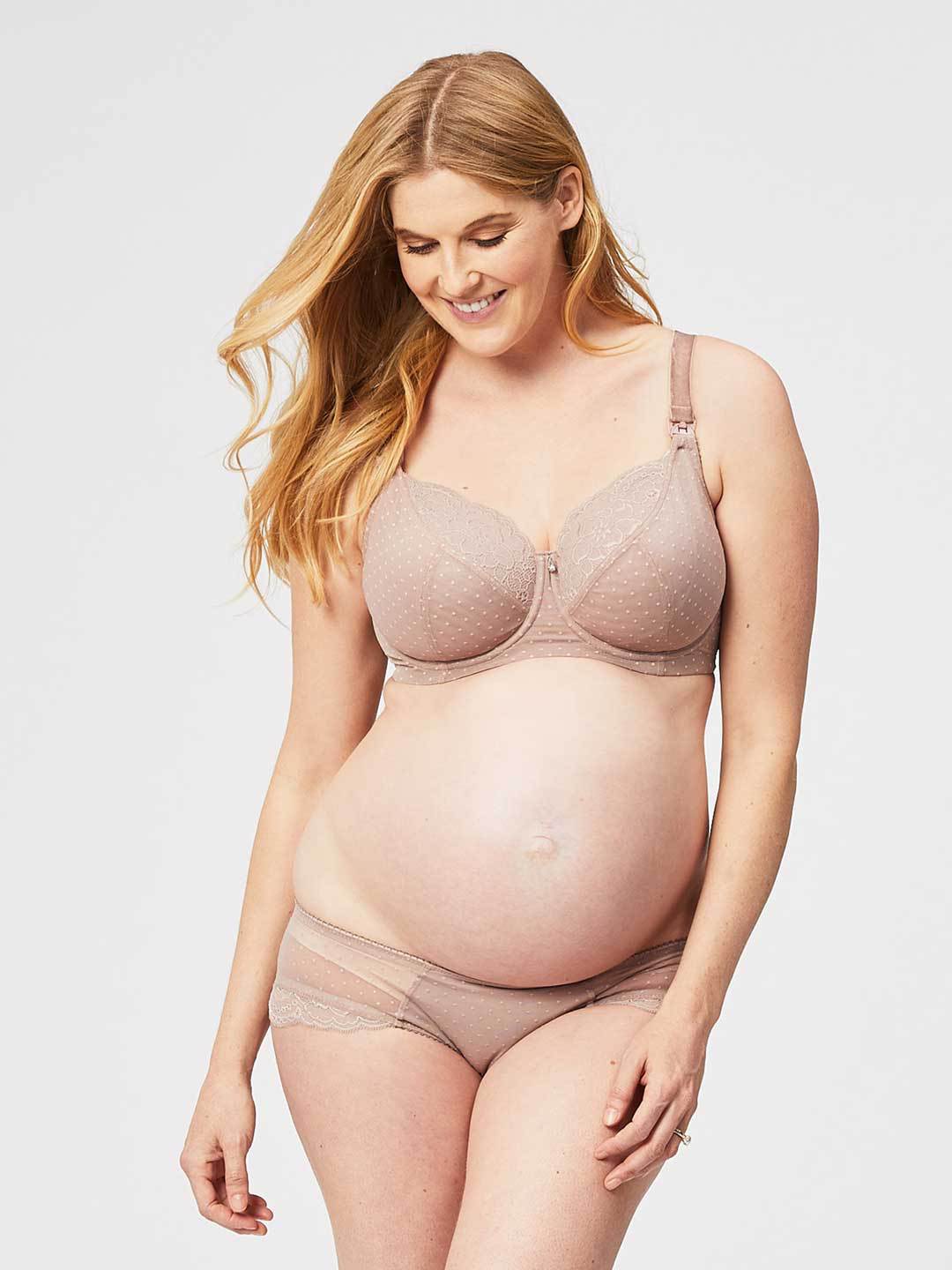 – Full coverage bras are ideal for women who are larger in the bust. The full cups are designed to cover the entire breast area, resulting in greater support and a secure fit. Browse through our range of busty nursing bras, designed specifically with your size in mind.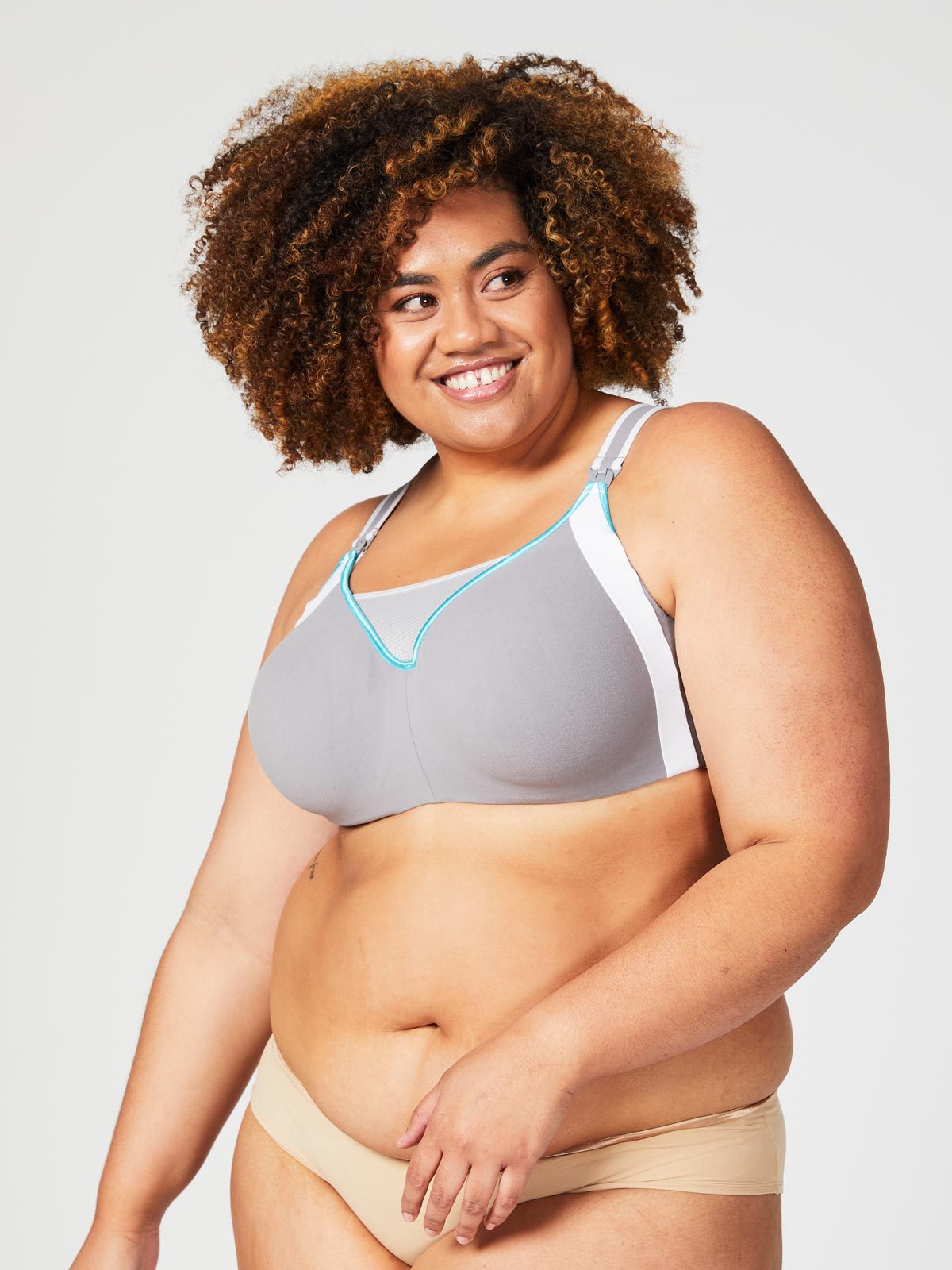 This can be frustrating when you see a gorgeous bra on an iddy biddy model and you're a DD cup. Just because it's available in your size, doesn't necessarily mean it will suit your shape.
4. The band is riding up your back
This is one of the most common mistakes. The underband of the bra should fit firmly and run across your back, parallel to the ground. It shouldn't ride up or feel too loose. Should the back band start to feel loose when done up on the tightest hook, it's time to throw it away and purchase a new one.
This is because:
The weight of your breasts will now be held by the shoulder straps instead of your back.
The wires that should be splayed, will now be pinched and possibly digging into your breast
The back band provides the wearer with approx 80% of the bra's support.
5. Not getting professionally fitted
When it comes to being fitted, it's so important to be fitted by a professional. If this is not suitable for you, there are many brands offering extensive fitting guides for these isolating times. Going and getting fitted at your local bra boutique or department store is worth the effort. A bra fitter is professionally trained and will assess your body type and shape, and provide you with the options they have available.
Buying bras can often be a frustrating experience. Going to professionals cuts out all of the frustration leaving the customer happy and supported.
6. Wearing the same size when pregnant or breastfeeding
Pregnant and breastfeeding women should purchase bras that fit them correctly.
Pregnant and nursing mothers should purchase bras that have top cup stretch. All Cake Maternity bras allow for fluctuations, so that you are supported at all times when breastfeeding, not just when you're full.
7. One size doesn't fit all
Your body and breasts go through many changes during the 9 months of pregnancy, immediately post birth and during breastfeeding. One bra size won't suit you for your entire pregnancy and breastfeeding journey.
For the first 3 months of pregnancy and 6 weeks postpartum, purchase a supportive seamless bra. This bra will stretch and adapt to your changing breast shape.
Once the transitional period is over and your breasts and body have stabilised, you can then wear a non-wired or flexible wired bra that is specifically designed to support cup sizes.
We suggest you purchase at least 6 bras — 3 for those transitional periods and 3 more for periods of stabilisation.
One for wear, one for the wash and one for your drawer.
8. Wearing the same bra for multiple pregnancies
A good maternity or nursing bra will usually last 6-9 months. By this time, multiple washes and heavy wear will begin to loosen the elastics and the fabrication will start to lose its support.
There's also a good chance that you won't be the same size from one pregnancy to the next, so to ensure optimal support, get fitted each time!
9. Purchasing the incorrect band size
Some women purchase their first nursing bra around month 8 of pregnancy. This is because there's a belief that your breasts are around the same size at 8 months pregnant and once your milk supply has stabilised postpartum.
However, this rule only applies to your cup size, as your underband will be a lot bigger when you're pregnant. It's a good idea to buy a band size smaller and a cup size bigger. When trying on bras, ensure the back band is fastened to the loosest hook so you can decrease these as your ribcage contracts.
Cake Maternity nursing bras have 6 hook and eye extensions for this reason, so your bras will fit and last for longer.
10. Settling for the wrong size bra, just because it's pretty
I think we're all guilty of doing this. We find a bra we love the look and feel of but the store doesn't have our size.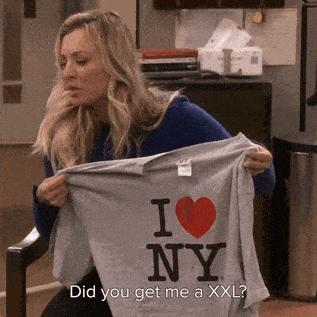 Just don't do it.
11. Wearing wired bras during periods of rapid fluctuation
It's our recommendation to wear a seamless bra during those transitional periods when the breasts are experiencing rapid growth. A wired bra worn during this time can be extremely uncomfortable, and can cause clogged ducts or mastitis due to the compression.
A flexible wired bra can be worn from 4-9 months of pregnancy and at 6 weeks post birth, once the body has learned to regulate its milk production.
You might also like: Underwire Bras — Are They Safe to Wear During Pregnancy?
12. Squashing, flattening or monoboobing
Many bras out there don't allow for your breasts to sit in the bra. Instead they squash them to your chest wall by means of compression. A good fitting bra should dip in between your breasts and sit flat on your chest wall, or at least very close to it.
When your breasts are touching each other, this is a sure sign that your bra is not the correct size.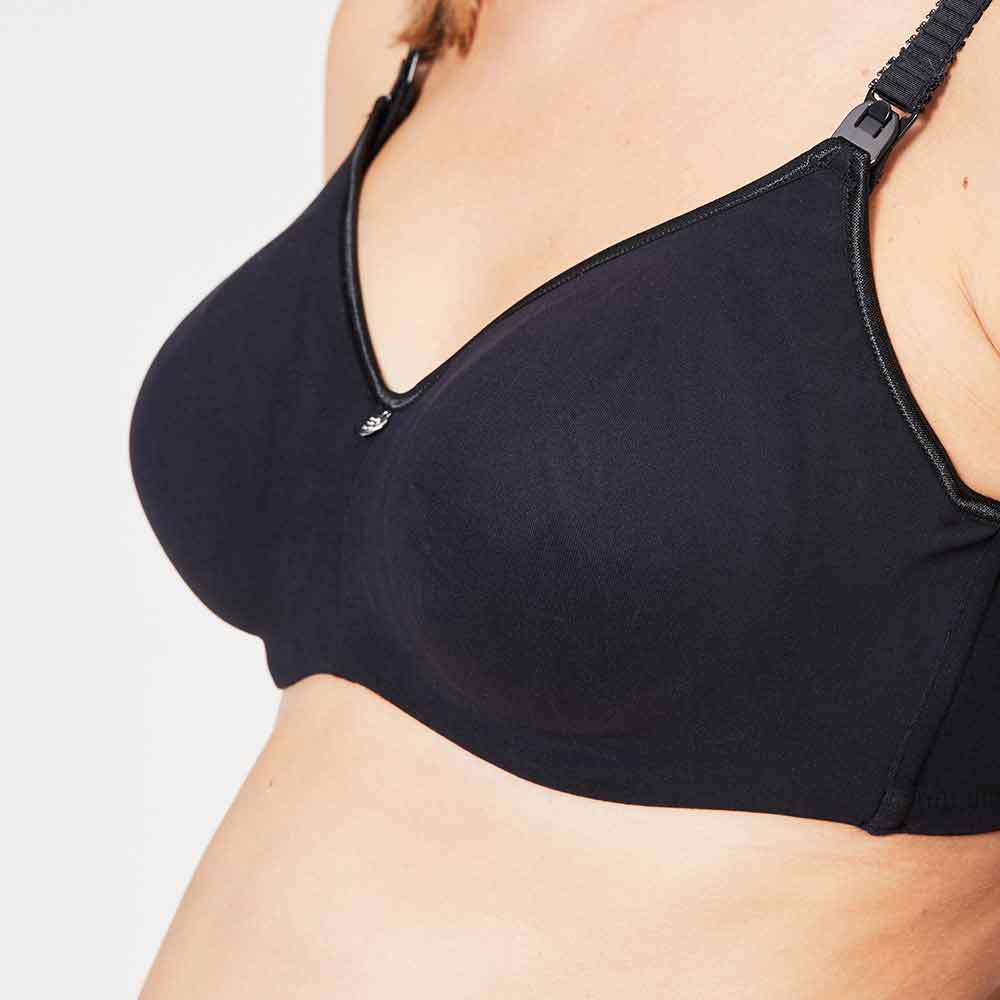 Tip: You should be able to push the centre front of the bra comfortably between your breasts. If you are unable to do this, the bra is not effectively separating your breasts.
13. Wearing fabrics that aren't breathable
A breathable bra is a good investment when you are pregnant and breastfeeding, as your body temperature can rise by 1-3 degrees. Look for maternity and/or nursing bras that have cotton lining and cotton slings.
The cotton will not only feel comfortable but will also help to keep you cool.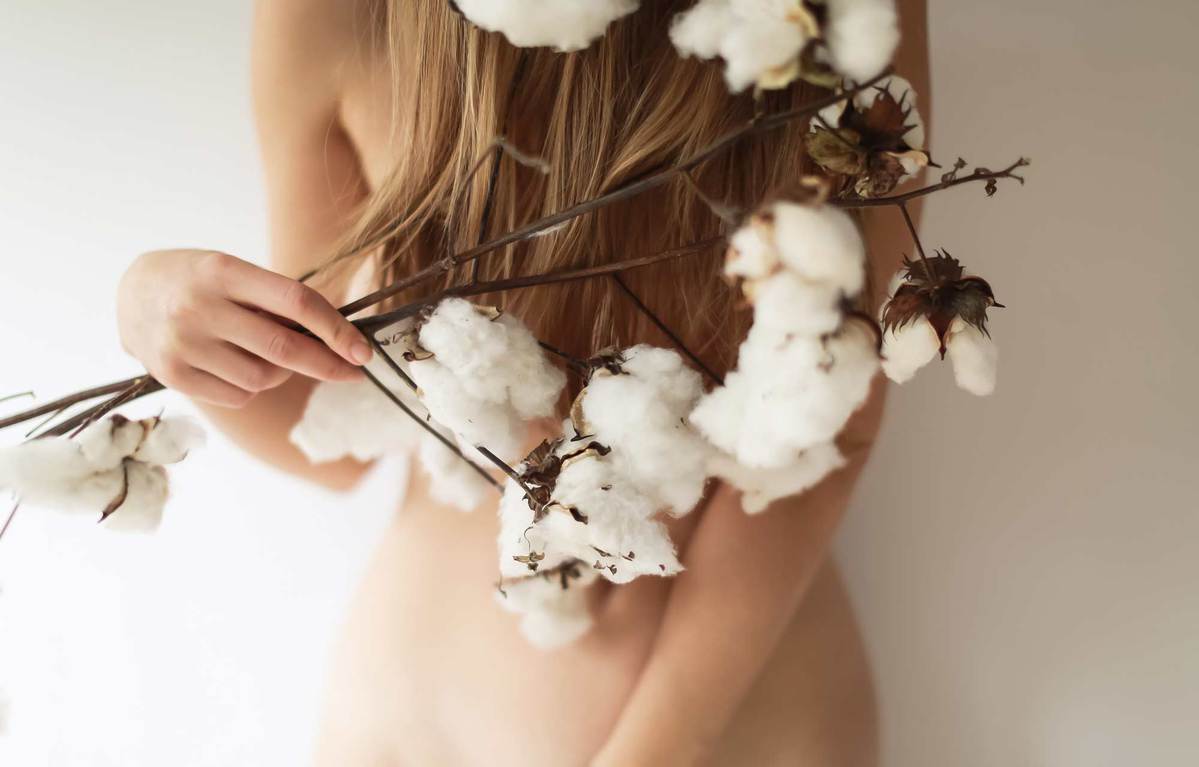 So now that you know what some of the most common bra blunders are, give your lingerie drawer a face lift. Your boobs will thank you for it.
—
Disclaimer: Cake does not provide medical advice, diagnosis, or treatment. Any information published on this website or by this brand is not intended as a substitute for medical advice, and you should not take any action before consulting with a healthcare professional.
LIKE WHAT YOU READ?
Join CakeMama Club & get 10% OFF your first order!
Plus you'll get tips + tricks for pregnancy, postpartum & breastfeeding, get member-only offers, earn CakeCoins every time you shop + more. Learn more