You don't have to sacrifice your lifestyle or sense of style just because you're pregnant. Long gone are the days when pregnant women were told to cover up and judged for exposing their bodies. Pregnant women are now celebrating their changing shape and demanding products that make them feel beautiful.
In the past, maternity bras were matronly, super full coverage and all around unflattering. They were far from the kind of bra that makes you feel special and feminine. Nowadays maternity bras can be beautiful and flattering, all while providing you with the necessary comfort and support your changing body needs.
Here at Cake, our initial goal was to shake up the maternity lingerie market by providing beautiful underwear and sleepwear for pregnant and breastfeeding mamas, without sacrificing comfort, durability and fit.
A brief history
I've always enjoyed wearing beautiful lingerie. I love the texture of different laces, the shimmer of satins, the feel of luxurious fabrics and all of the beautiful little details that make lingerie so special! I have always been happy to pay a little extra for a garment that excites me and I felt no different when it came to maternity bras.
Cake Maternity was developed out of a personal need. I was pregnant with my now 16-year-old son and I was in the market for maternity bras. Much to my disappointment the maternity lingerie at this time was matronly and unflattering. It did nothing for my self-esteem and I felt like I was giving up a part of my femininity to be a mother. Maternity bras seemed to be an afterthought by most brands, and no care or love had been put into their design.
Cake Maternity is now 12 years old and widely viewed as one of the key maternity bras brands in the world. A winner of numerous awards, Cake Maternity is stocked in 1000s of boutique and department stores in 45 countries.
The story of our bras
The demand for our nursing bras has been amazing, which only reinforces to me that women feel the same way I do, about wanting to retain their femininity while pregnant and/or breastfeeding.
At Cake, we love designing new ranges. Necessity truly is the mother of invention and our team is constantly creating and evolving, based on our Cake mamas' personal experiences and feedback.
High quality maternity lingerie
Designing a bra is an intricate process, but throw pregnancy or breastfeeding into the mix and you have a whole new set of challenges to overcome. The lining, fabrics, flexi-wire, channels, hook and eyes, and cup construction all differ from ordinary bras. Each element is carefully considered and measured to ensure a flexible yet supportive fit, with comfort and breathability.
While you're breastfeeding it's far too easy to lose your self confidence and feel like a milk machine first and woman second. That's why the appearance of our bras is so important to us. Beautiful lingerie that makes you feel good about yourself is a necessity, not a luxury.
You might also like: Best Maternity & Nursing Bras for Your Stage of Pregnancy & Beyond
What should you look for in maternity lingerie?
During pregnancy, your breasts can completely change shape and dramatically increase in size and weight — sometimes up to three cup sizes!
That's why it's imperative that you wear a well fitting bra that provides plenty of support. This will also help avoid premature sagging and any discomfort or pain.
Not all maternity bras are created equal.
If you were fuller busted prior to your pregnancy, you already know that you need to invest a little more in your bras. This isn't because you require more fabric, but because you require superior support mechanisms that your B and C cup women don't.
So if your breasts have increased significantly in size, it's important to look out for stronger fabrics and trims with fuller cup support.
You might also like: Buying Nursing Bras For The Fuller Bust
Note: Generally speaking, cheaper bras do tend to be made from less durable fabrics and trims, causing the bra to end up in landfill sooner. We don't want this! Slow fashion all the way.
Features of a high quality maternity bra
Top cup stretch
The lower section of the bra cup should be firm and strong (no stretch in the cup) as it holds and supports the breast. The top cup however, should have some stretch in it to allow for fluctuation and changing breast size.
Strong durable elastics
Test the elastics by giving them a firm pull and feel for any resistance. A good quality elastic will feel firmer and retain its integrity by snapping back into place when unstretched.
Fully adjustable straps
Quality, adjustable straps will allow you to adjust as required without loosing their tension.
Multiple hooks and eyes
A bra that contains more than 3 rows of hooks and eyes will allow for adequate change in your body size. 6 hooks and eyes will allow you to loosen the bra underband as your rib cage continues to expand during pregnancy.
Wide, supportive underband
The underband should be wide and contain a strong, durable fabric. Give the fabric a pull and gauge the strength/durability. A fabric that has little give will provide much greater support than a fabric that gives easily. Double layered back bands are also preferable.
Full cup coverage
Whilst plunging necklines are lovely, support is by far the greater priority. When trying on a bra make sure the bra cups give you adequate support and coverage. You should be able to move your arms up and down and your body forward and back, without the risk of your breasts falling out.
Non-wired
Non-wired bras are by far the most comfortable and are recommended to wear during your first trimester and immediately post birth. A good quality non-wired bra will feel just as supportive without the use of an underwire.
Flexible wire
Flexible wired bras are a fantastic option for pregnant women and can be worn during your second and third trimester. Flexible wired bras should only be worn during periods when breast fluctuation has stopped. A good flexible wired bra will feel extra supportive and give the wearer a great shape, especially after the first month post birth, when your flow has regulated.
Nursing bra
Some women choose to purchase their nursing bras during pregnancy, this way they can continue to wear them when breastfeeding.
A good nursing bra will contain all of the above features with the added benefit of drop down cups for feeding.
Learn more: 9 Qualities You Should Look For In A Good Nursing Bra
Our top picks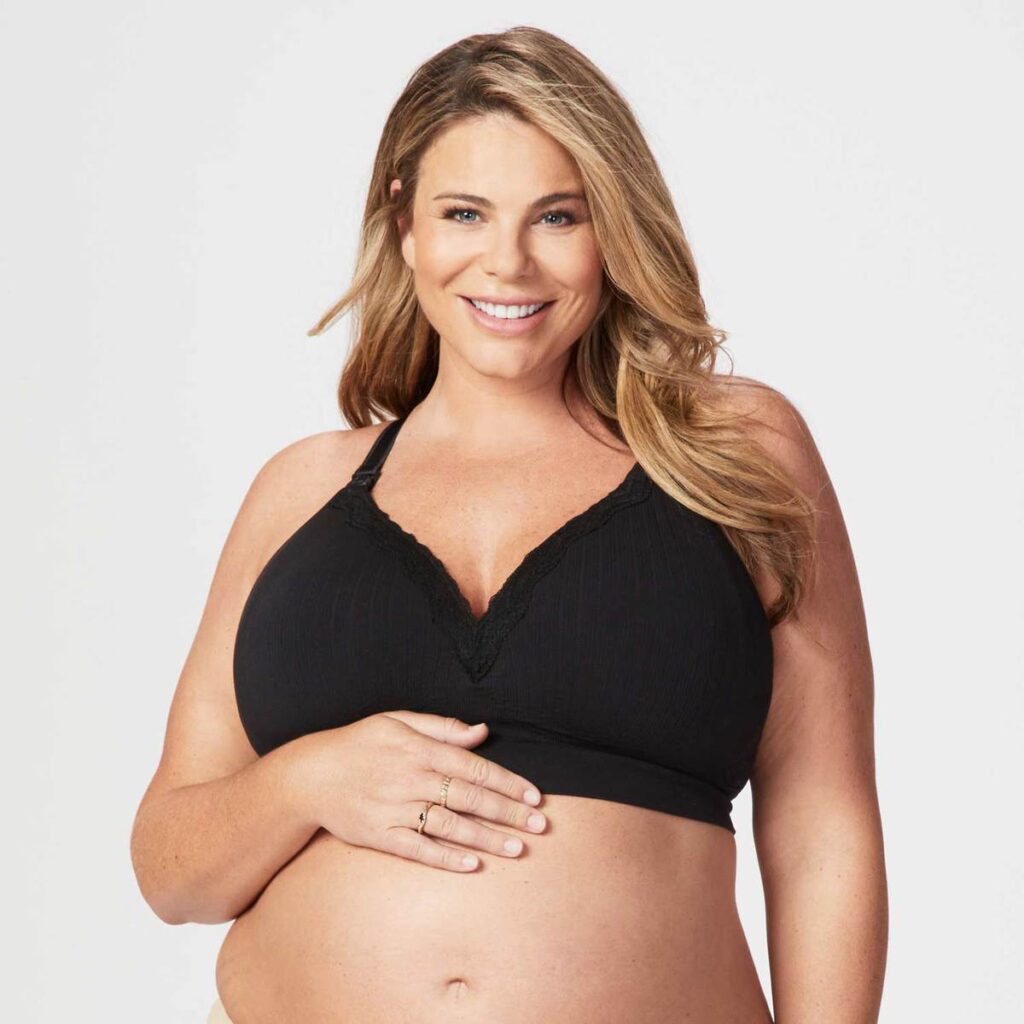 For the earthy mama: Tutti Frutti is comfort plus. Made from ribbed bamboo with a racer back design, wire-free, cute lace trim and easy sizing to support up to an F cup. This one is hard to beat.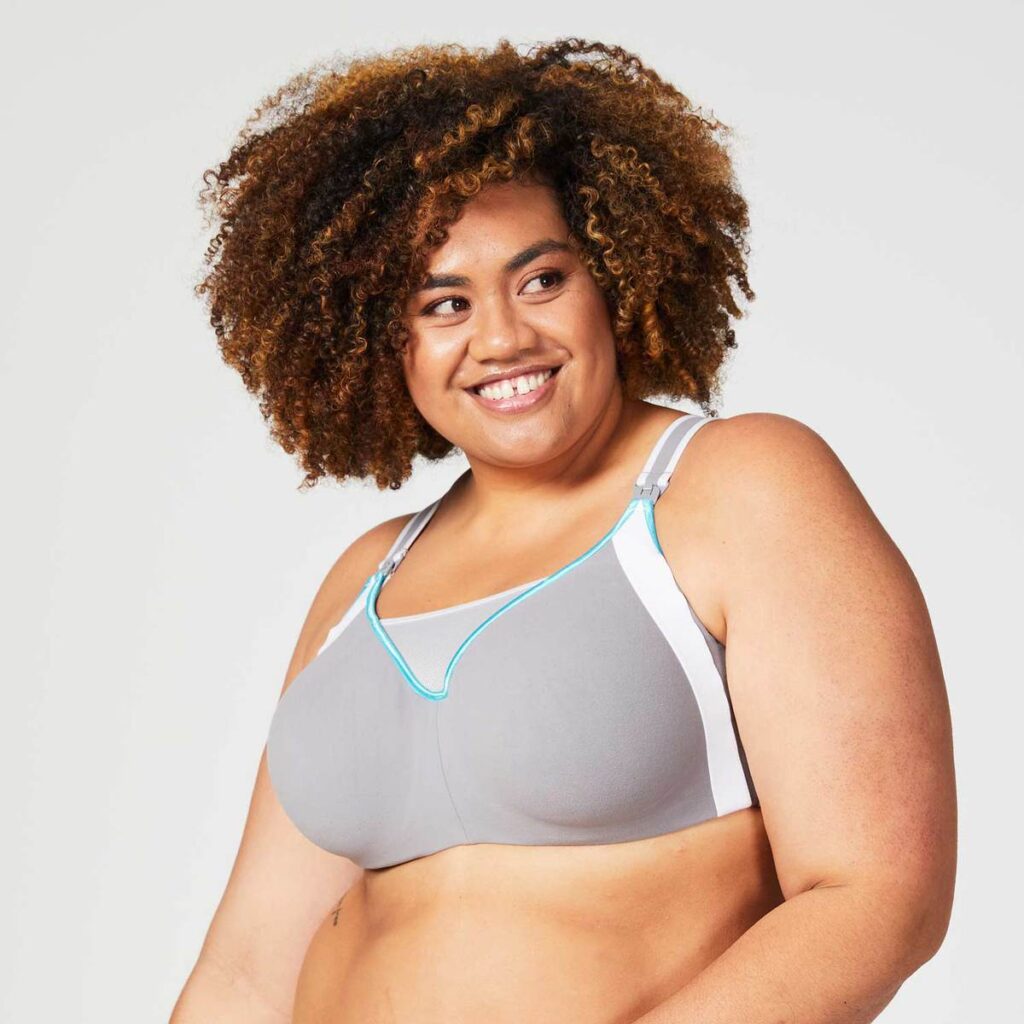 For the sporty mama: Zest has been designed with high impact exercise in mind. Feel super secure and powerful when working out (or in) in Zest.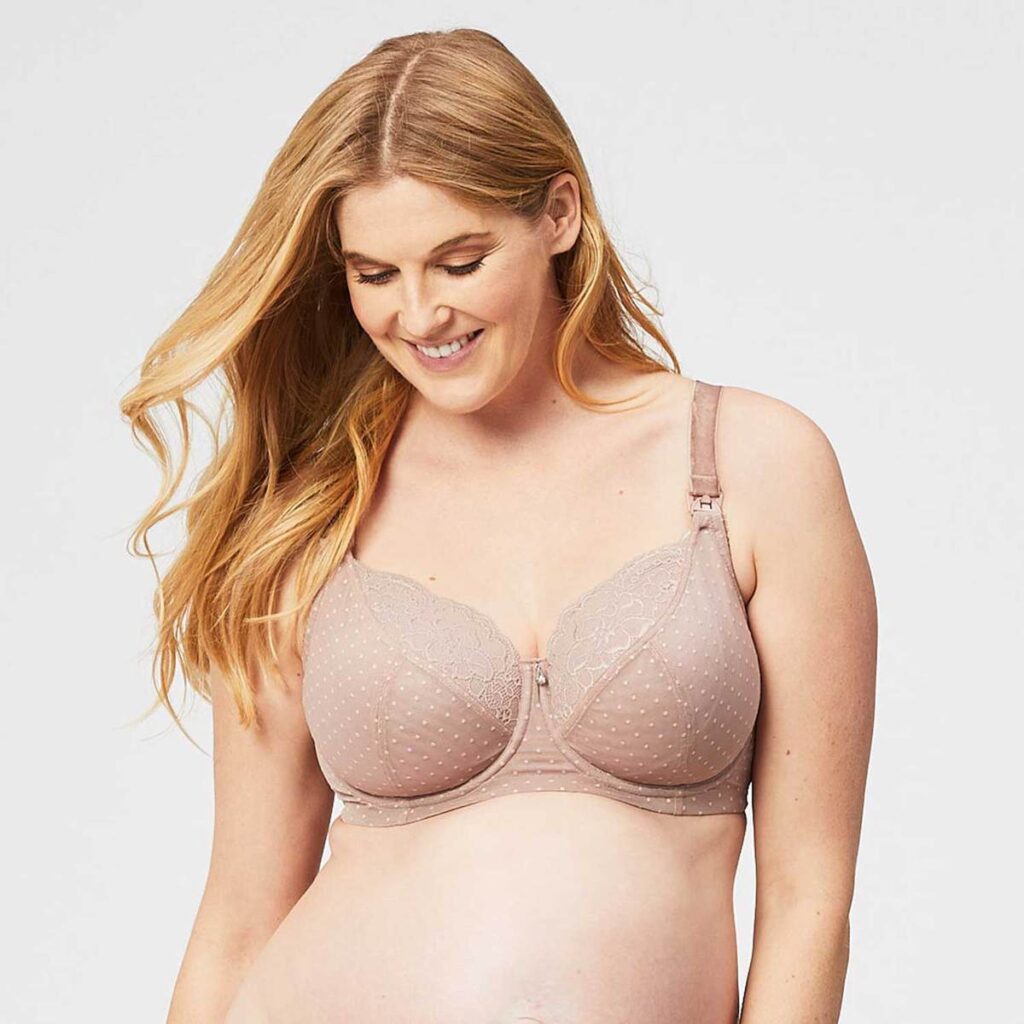 For the mama who wants more: TimTams is the ideal bra for those that want a little bit more support, luxury and flare. This flexible wired bra has cotton lining, velvet straps, lacey details, spotty mesh, beautiful colours and of course the drop down cup.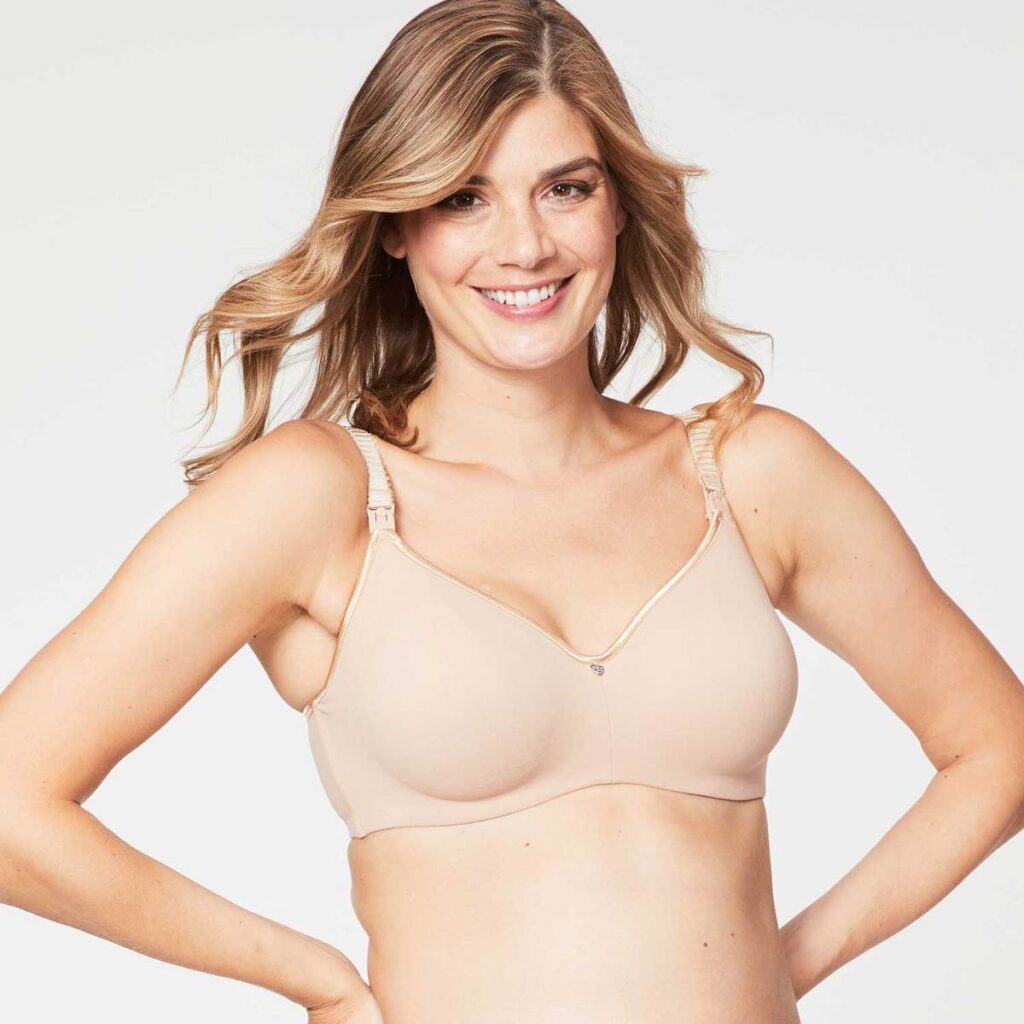 For the T-shirt loving mama: Croissant is the ultimate everyday bra. Available in Beige, Raisin and Black, it can be worn under T-shirts without being seen. The best thing about this bra is that it comes in a wide size range 32C – 40K(US) so we've got you covered.
So basically the answer is yes, there most definitely is beautiful lingerie out there for mamas to be. Whatever you're looking for in a maternity bra, whether this be for date night, to sleep in, or to give birth in, Cake has something beautifully crafted for you.
Don't miss: What You Need To Know About Seamless Nursing Bras
Like this post? Follow Cake Maternity on Facebook to get the latest updates!
LIKE WHAT YOU READ?
Join CakeMama Club & get 10% OFF your first order!
Plus you'll get tips + tricks for pregnancy, postpartum & breastfeeding, get member-only offers, earn CakeCoins every time you shop + more. Learn more