If you're a mama or a mama-to-be, you already know that the breast tenderness is real during the first trimester and the first few weeks postpartum. During these periods of growth and fluctuation, the last thing you want to be wearing is a bra with pokey underwires and itchy seams. Enter the seamless bra.

Seamless bras are designed to be ultra comfortable and stretchy, whilst providing moderate levels of shape and support. They contain no seams or stitching across the cup, and are ideally moulded to provide depth and shape without any compression.
For these reasons, seamless bras are ideal for pregnant and breastfeeding women because they can grow with you and adapt to the changes that come along with this season of life. Plus, a quality seamless bra will also have an inner side sling for support, extended hook and eye closures, and lower stabilisers to help lift fuller busts.
How is it made?
Here at Cake, our seamless bras are constructed on knitting machines that are programmed to knit the garment in one piece. Specific measurements are entered into the machine to control the size, shape, density and strength.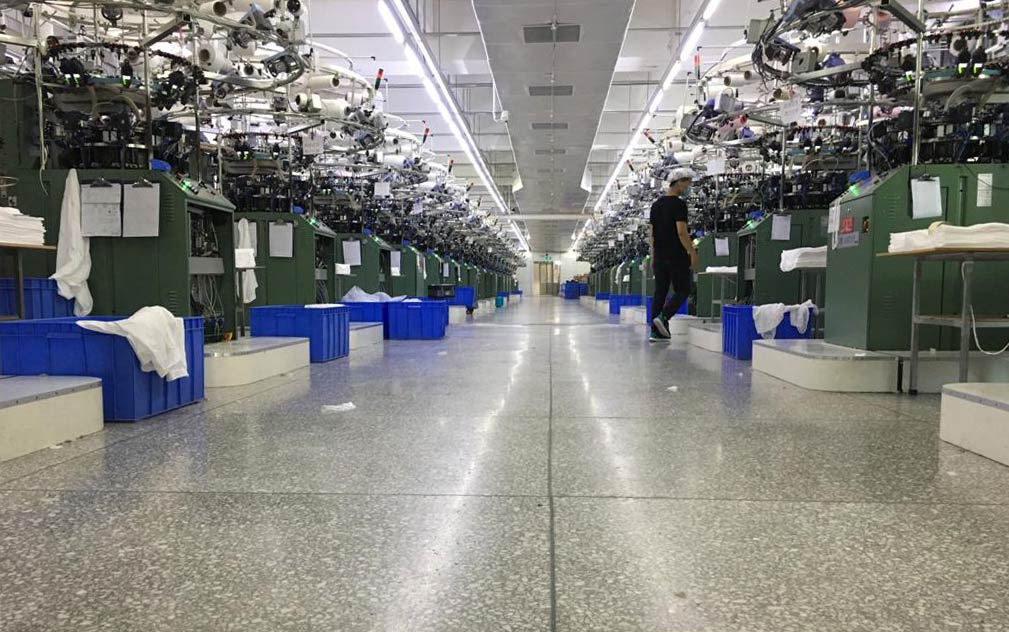 Not only does this create a higher quality, more comfortable product, it's much better for the environment as it drastically reduces the amount of off-cuts and waste produced by the manufacturing process.
Once the knitted garment comes off the machine, the cups are then put in a heat press to mould the depth of the cups. The raw edges of the garment are then trimmed and bound, the straps are attached, the hooks and eyes are connected, and finally it's labelled and packaged.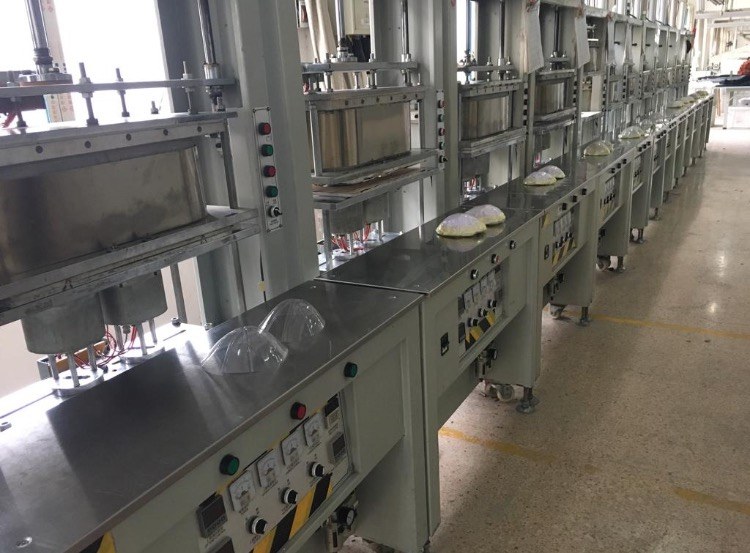 Design
Seamless bras come in a variety of different styles and designs to suit different sizes and purposes.
1. Regular bra back
This is the most common type of bra style. It has a number of hooks and eyes at the back and can be adjusted should it need to be tighter or looser. The regular back is ideal for all bust sizes but may not be as supportive as a racerback.
2. Racerback
Racerbacks provide the wearer with greater support and a more secure fit, perfect for wearing overnight. The additional fabric on the back of the bra helps lift, support the chest and evenly disperse the weight.
3. J-hook or cross over
An adjustable back is perfect for mamas looking or additional support or to go under certain items of clothing. J-hooks are ideal for all bust sizes and provide great versatility.
4. Double or single layer
Most quality seamless nursing bras are double layered. This gives the bra its much-required strength and durability, without compromising its stretch. It also provides better stretch recovery and increases the lifespan of the bra.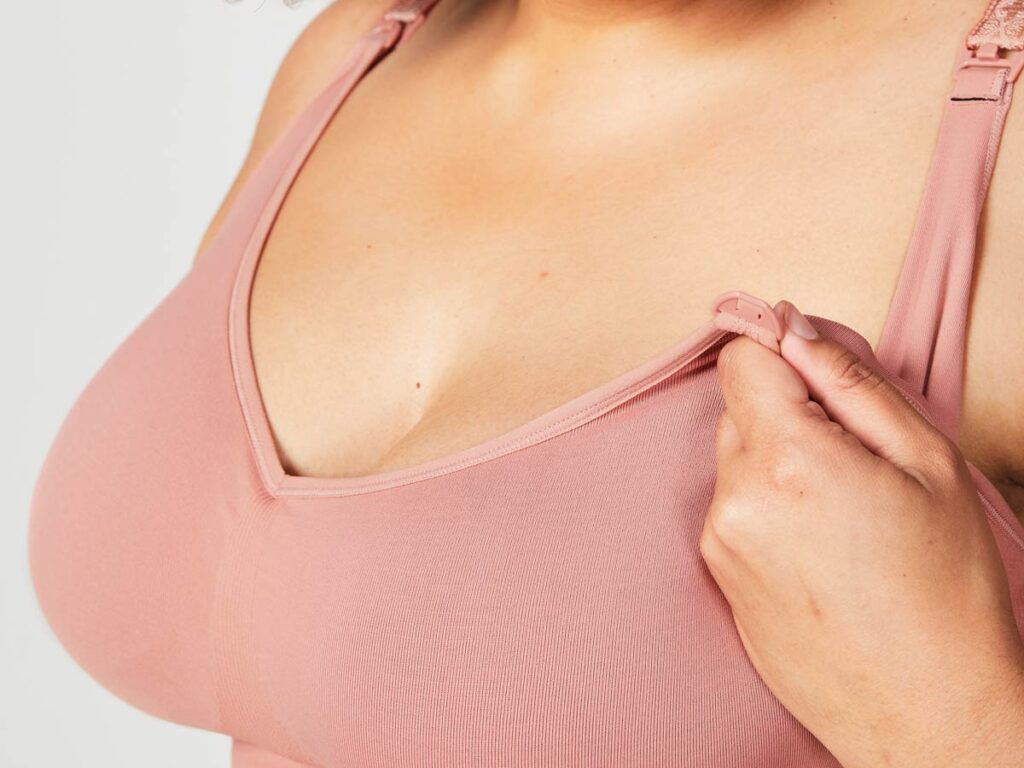 5. Side sling
When it comes to nursing bras, always choose seamless styles that have a full fabric inner side sling. This helps project the bust forwards and limits the compression that ordinary seamless bras can cause.
When should a seamless nursing bra be worn?
We recommend mamas wear seamless nursing bras during transitional periods when you experience a rapid increase or fluctuation in your breast size. This is usually the first trimester of pregnancy and the first 6 or so weeks postpartum when your body is learning to regulate its milk supply.
The soft luxurious nature of the bras will give you gentle support without the use of a wire and are ideal for wearing under your PJs and for sleep as well as around the home on a lazy weekend.
Will a seamless nursing bra provide enough support?
Seamless nursing bras are designed specifically for transitional periods during pregnancy and postpartum, as this is when a woman will experience the greatest changes in her breast size.
Seamless bras will stretch with your growing body and they are soft and non-restrictive to wear.
They also come in easy XS-XXL sizing, with each size covering multiple cup and band combinations. This makes them the perfect choice for transitional periods when you may not know what size you'll end up.
A typical seamless bra will provide women up to an F cup with enough support for continued wear throughout her pregnancy and beyond.
For larger busted women, look for a seamless bra that has the built-in structures and reinforcements to provide the additional levels of support, shape and separation required. Engineered panels, stabilisers, denser knit panels, cross weaves, platform support panels, wider bands and denser knits, are some of the key features to look forward to when choosing a seamless bra for F-H cup women.
It is important to take the time when purchasing a bra to understand its function and expected lifespan. Remember that not all bras are suited to every woman as our bodies are all unique and shaped differently. Choosing the right bra will change your life!
What makes a quality seamless bra?
Like with most things we buy, you get what you pay for. There are several nursing seamless bras in the marketplace, but tread carefully because they are not all created equal.
When shopping in person, feel the fabric in your hands and give it a gentle pull. The fabric should feel firm and not have too much give. The more stretch the fabric has the less support it will give you.
Feel for thickness in the fabric. Thin fabric is likely to provide less support than that of a bra that has a double layer of fabric.
Pull on the straps! They should be substantial, and when pulled, should only give a small amount. Elastics that give too easily will not hold the weight of your breasts.
The design is also important. The centre front should be higher and the bra should cover your breasts sufficiently. The back band should be wide and firm as it provides up to 80% of the bra's support.
Features of Cake Maternity seamless bras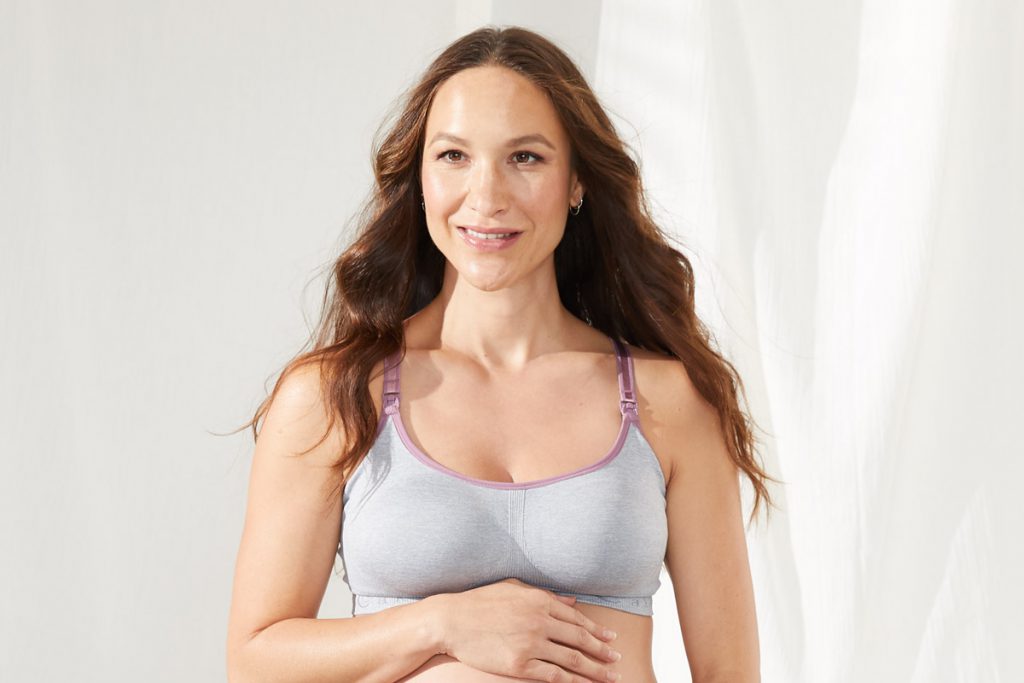 The Cotton Candy Nursing Bra is multi-award winning and is loved by hundreds of thousands of women around the world. This seamless style provides the perfect transition and sleep option as it allows room for the breasts to fluctuate.
Its silky-soft knit and strategically positioned support panels will expand and contract with you, without losing shape, making it the perfect choice for every stage of motherhood.
Features:
Silky soft, seamless design offering wire-free support.
Easy-feed drop down cups.
Inner side sling with knitted contour support panels.
Racerback design with adjustable hook & eye options for comfort and support.
Side opening for optional padding.
Zero itchy garment tags.
Oeko-Tex® Standard 100 Certified materials and accessories.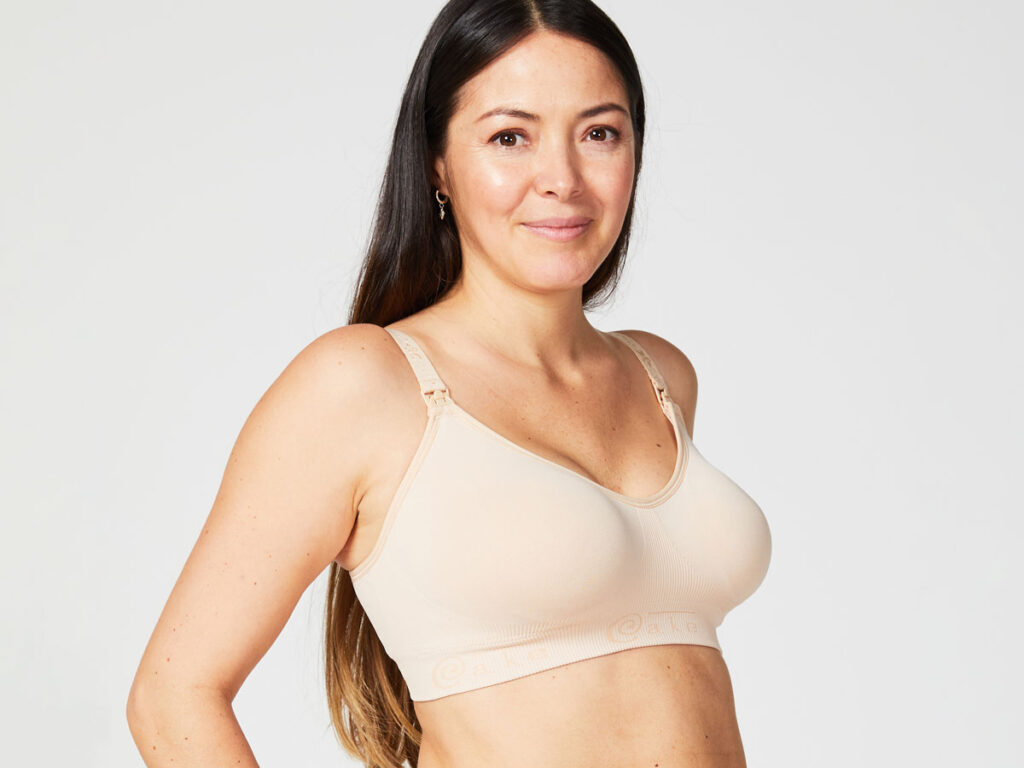 Rock Candy was created for mamas and mamas-to-be who are looking for a wire-free, seamless bra that supports without restriction. This style is constructed with the same high quality fabrics as Cotton Candy and offers the wearer comfort, support, function and flexibility with a normal back construction and a removable foam cup for discretion.
Rock Candy is the perfect everyday bra and is particularly useful during the transitional periods in pregnancy and postpartum when the body is undergoing rapid change.
Features:
Silky soft, seamless design offering wire-free support.
Inner side sling with knitted contour support panels.
6 hook & eye options to fit your ever-changing body.
Removable foam contour pads.
Wide adjustable straps for shoulder support.
Zero itchy garment tags, anti-pill yarn.
Oeko-Tex® Standard 100 Certified materials and accessories, ensuring this garment is free from harmful substances.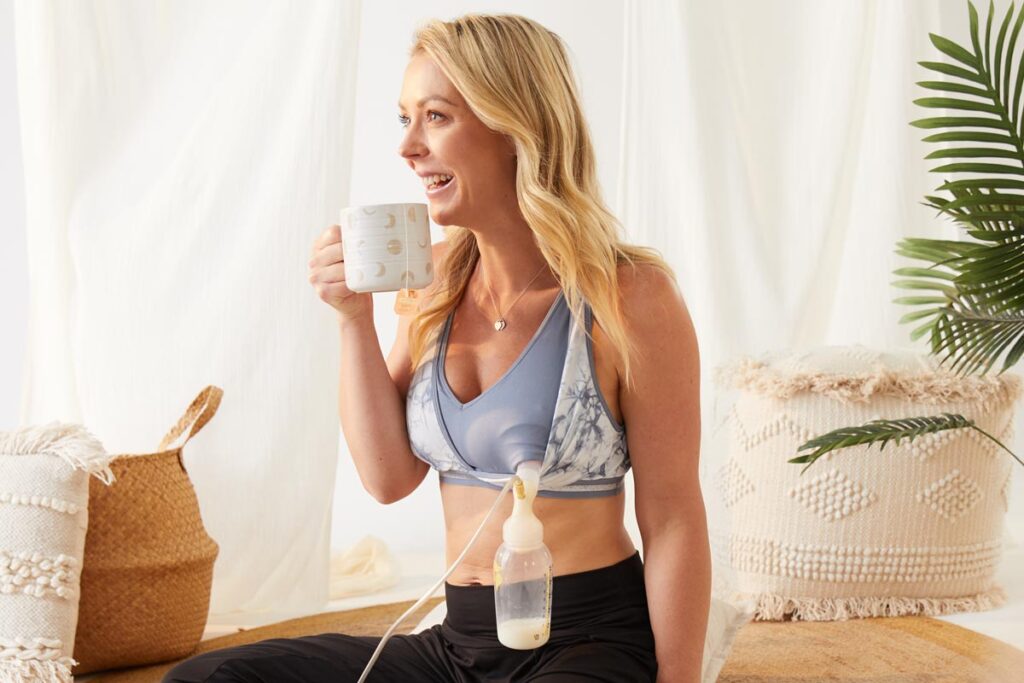 Lotus is the perfect bra for busy multi-tasking mamas. With its pull aside cups for easy nursing and hands-free pumping, Lotus is as versatile as it is supportive.
Perfect for yoga, pilates or any low-medium form of exercise, lounging around the house or if you simply just love wearing activewear.
Its strategically positioned openings support hands-free pumping, as it's designed to support the bottle as it fills, because we know as a mum, you need an extra set of hands. Well, now, you get your own back!
Features:
Pull aside cups for easy, hands-free pumping.
Discreet side opening to fit a breast shield/flange when pumping.
Double layered, crossover back for support during low-medium impact exercise.
Silky soft, seamless design offering wire-free support.
Zero itchy garment tags, anti-pill yarn.
Oeko-Tex® Standard 100 Certified materials and accessories, ensuring this garment is free from harmful substances.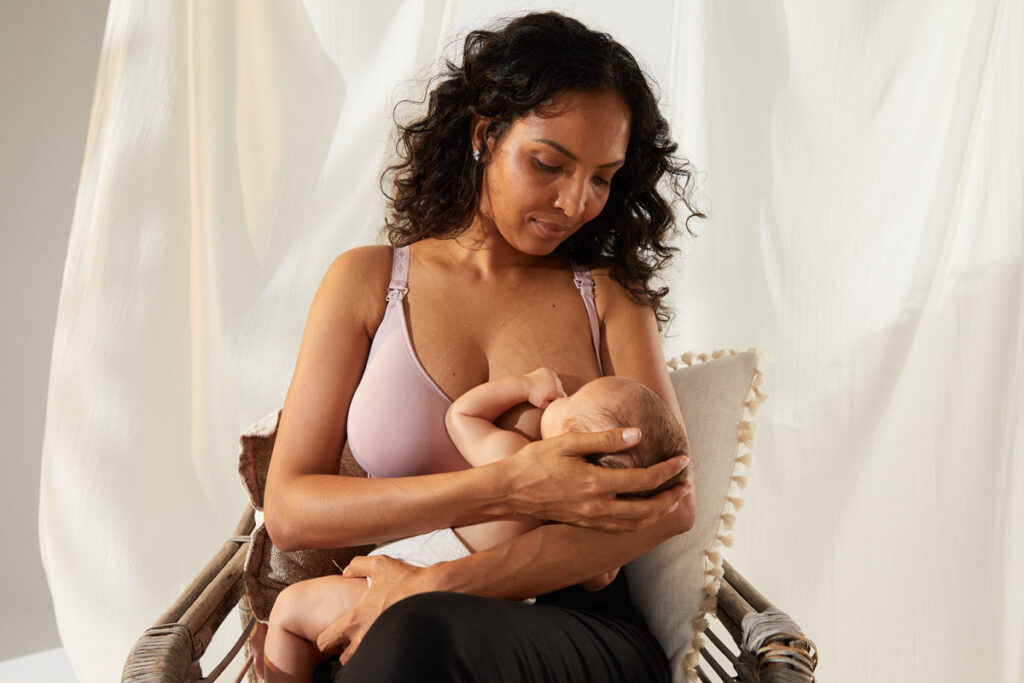 Our Popping Candy Nursing Bralette is the perfect solution for F cup and up mamas. Offering incredible wireless support, comfort and easy-feed drop down cups, this bralette makes breastfeeding an absolute dream.
Features:
Silky soft, seamless knitted design offering wire-free support.
Easy-feed drop down cups with easy-clasp clips.
Inner slings designed to lift, shape and support.
Moisture-wicking, stretch recovery fabric which morphs with your transitioning body as it changes.
Comfortable and wide adjustable straps for shoulder support, with intricate metallic detailing.
6 hook & eye options to fit your ever-changing body.
Zero itchy garment tags.
Oeko-Tex® Standard 100 Certified materials and accessories.
Why should I invest in quality bras?
Breast health is extremely important. During pregnancy and breastfeeding your breasts undergo the most extreme change of your entire life. Not only do they change in size, but they change in weight too!
So not only will an inferior product be extremely uncomfortable, but it could also contribute to ligament damage and loss of elasticity.
Supporting your breast sufficiently will not only give you a great shape and confidence, but it will help to reduce your risk of developing conditions such as mastitis.
What should I look for in a seamless bra?
Seamless bras come in all sorts of shapes, sizes, colors and quality. Look for a bra that feels supportive, with firm fabric and high quality yarn.
Look out for:
Fabric that feels soft and luxurious on the skin.
Double layered cups for added support and lift.
Moulded cups for separation and depth.
Supportive, wide side slings for shape and comfort.
Firm yet comfortable adjustable shoulder straps.
At least four (but preferably up to 6) hooks and eyes to allow for expansion.
A wide back and under band for comfort and support.
A wire-free design to prevent compression and discomfort.
Finding the correct fit
When purchasing a seamless bra, it's important to check the size chart to ensure it's appropriate for your bust size. Many of them are sized XS-XXL, however this may not mean the same thing across different styles, e.g. a S in out Cotton Candy style fits a B-E cup, whereas a S in our Popping Candy style fits an F-H cup.
A correctly fitting seamless bra should:
Encase your breasts fully in the cups, with no spillage out the top, sides or bottom.
Have a snug and firm underband that doesn't ride up or feel too tight.
Have straps that are comfortable and don't dig into your shoulders.
Not all seamless bras are created equal. As the saying goes, you get what you pay for! Cheaper products tend to use lighter density yarns, trims and materials, which ultimately determine the quality and life of the bra.
The bra could fit you fantastically for a short period but may rapidly deteriorate over time due to wear and washing.
How should I care for my seamless bra?
As with all bras, to get the most use out of your seamless bras and extend their lifespan, they need to be properly cared for.
Some care tips include:
Washing the garment in warm or cold water inside a laundry bag. This helps avoid discolouration, fabric pulls and shrinkage.
Washing lights with lights and darks with darks to avoid colour transfer.
Hanging to dry away from direct sunlight.
Avoiding dryers as they will deteriorate the elasticity in the fabrics and could cause shrinkage.
Storing flat or neatly folded in your draw after the garment is dry.
If you take good care of your seamless bras, they're sure to become your go-tos during all phases of motherhood. They're the most comfortable and forgiving bras on the market and well worth a try.
Don't miss: 13 Common Nursing Bra Mistakes You Should Avoid
Like this post? Follow Cake Maternity on Facebook to get the latest updates!
LIKE WHAT YOU READ?
Join CakeMama Club & get 10% OFF your first order!
Plus you'll get tips + tricks for pregnancy, postpartum & breastfeeding, get member-only offers, earn CakeCoins every time you shop + more. Learn more