It's no secret that pregnancy can be a little uncomfortable, heck, for some it can be a lot uncomfortable! There's all the classic symptoms that you expect, like morning sickness, tiredness, and aches and pains, but then there's the really fun symptoms that no one seems to tell you about! Everything from itchy boobs, overheating, leaking (throughout the pregnancy, not just postpartum!), insomnia and engorgement. Don't even get us started on the rollercoaster of breast changes that occur postpartum.

Like any mama or mama-to-be, we know that you'd put up with anything to bring your gorgeous bub into the world, but wearing an ill-fitting bra along the way can make these symptoms a whole lot worse! Designed by our team of mamas, each style is created with these challenges in mind, to help you have the comfiest pregnancy and breastfeeding journey possible.



Itchy, Expanding Boobs
During pregnancy, your breasts and belly can undergo some pretty rapid growth! Since it's happening so quickly, your skin is put under a fair bit of strain as it stretches, which can result in some pretty itchy boobs and underbust area. Regular moisturisation can help, but one of the best ways to fight the itch is wearing a non-irritating bra.

Our Rock Candy Nursing Bra has a super soft, seamless design, which is sure to keep the girls happy. There's no tags, no nasties, no itchy inside bits and best of all, there's no wires, keeping your underbust area itch-free. Plus each size covers up to 10 cup and band combinations so it's going to fit you for most, if not all of your pregnancy and postpartum journey!

If you're above an F cup, make sure to check out Popping Candy. It has all the same lush perks of Rock Candy, but it's been made specifically to offer the ultimate wire-free support for busty mamas and mama-to-bes.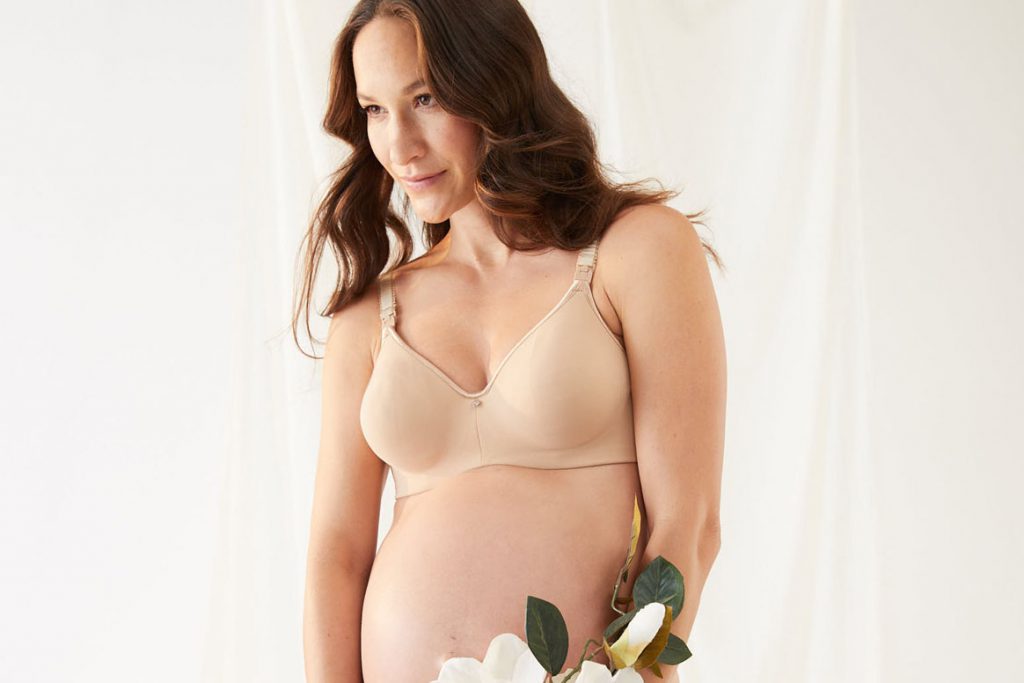 Expanding Rib Cage
Many of the aches and pains during pregnancy are due to your body changing shape. You're literally housing a little human now so it's no real surprise! All of our bras feature extended hook and eye closures for this exact reason, with some bras offering up to 6 rows. As your rib cage expands to fit your little one, so do our bras. Then once bub arrives and your rib cage begins to contract, they'll continue to morph with you as your body changes.

Our Croissant Nursing Bra has 5 rows of hooks and eyes, so you're sure to get a tonne of wear, comfort and support out of this buttery soft bad boy. Plus, it's is particularly good at supporting your growing breasts as it's made with our signature flexi-wire, which flexes with you without restriction.
Quick tip: We recommend avoiding flexi-wire bras during periods of rapid growth, i.e. the first trimester and the first 6 or so weeks post-birth, but aside from then, go for gold!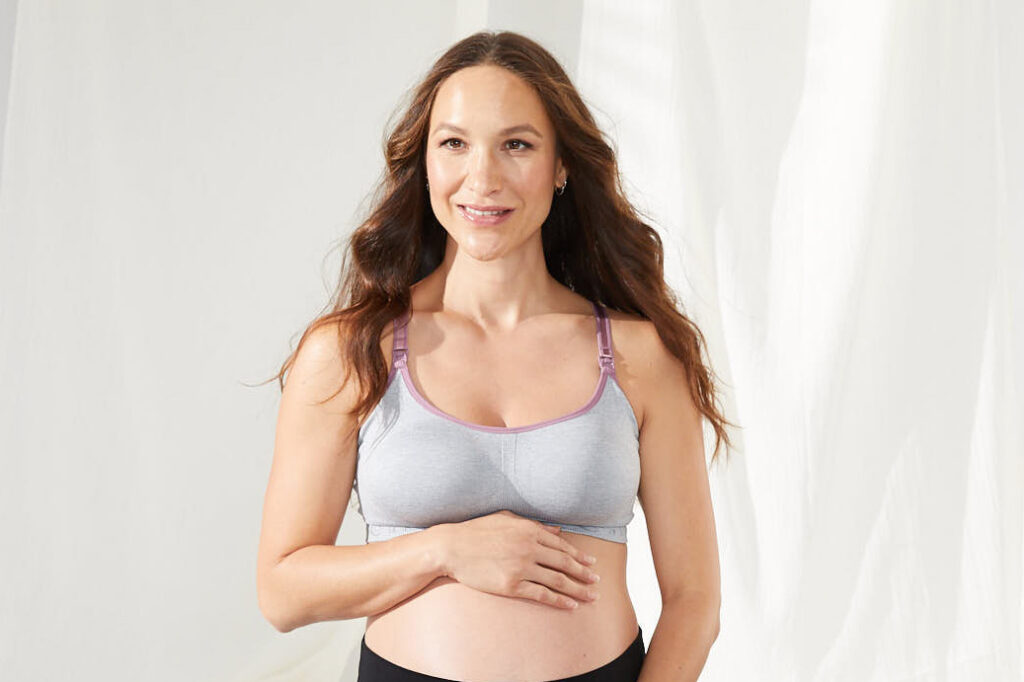 Hot Flushes
Did you know it's actually super normal to have hot flushes during pregnancy? They're most common around the 30 week mark, but they can continue right until birth and beyond.

The best way to combat the burn is of course, take a quick dip, but if that's not on the cards, wearing a breathable bra is a close second. Cotton Candy Nursing Bra is knitted from a super soft yarn which lets your skin breathe, all while providing comfortable support, without compression.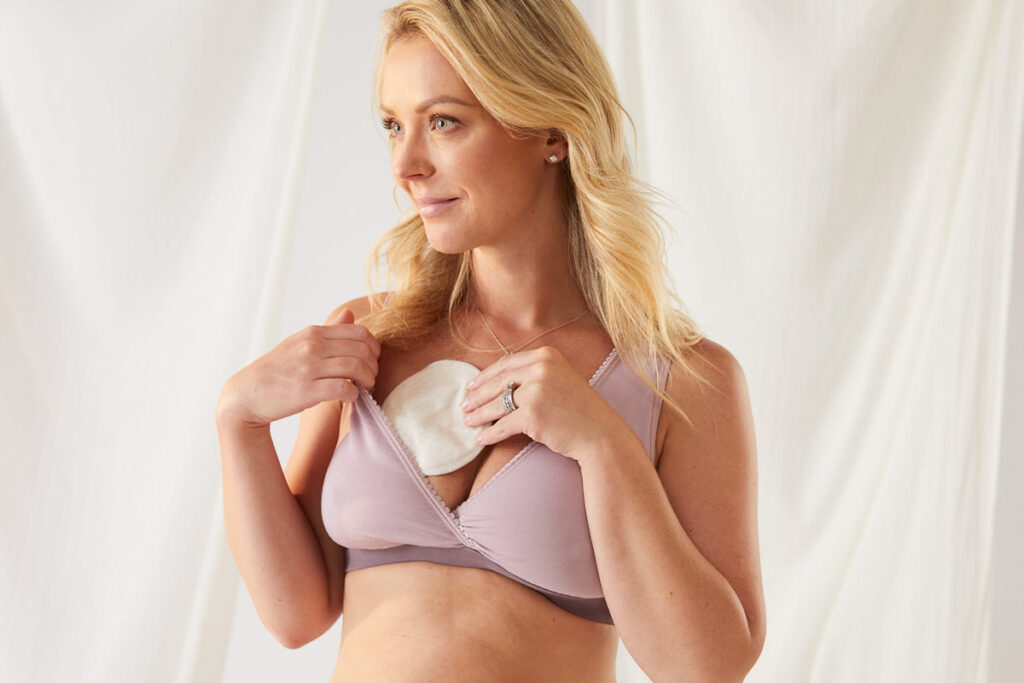 Leaky Nips
I'm pregnant, I don't need to worry about leaky pipes until I give birth, right? Wrong! Leaking colostrum during pregnancy is completely normal, but it can be a little inconvenient if you're not prepared.
A moisture-wicking style like our Milk Bamboo Sleep Bra is the perfect solution. Not only are you going to get a tonne of use out of it when you're breastfeeding (who wants to mess around with nursing clips during nighttime feeds?), but its sustainable bamboo construction works wonders at absorbing any pre-baby leaks! Also, remember that insomnia we mentioned earlier? You'd be surprised how much a comfy sleep bra helps you catch your Zs. You'll be luxuriously drifting in dreamland before you know it. Browse through our range of sleep nursing bras perfect for all stages of motherhood.

It's unlikely that you'll leak so much that you need some nursing pads pre-birth, but when you do need them, our Night & Day Nursing Pads will slot right into the hidden pockets inside Milk's cups.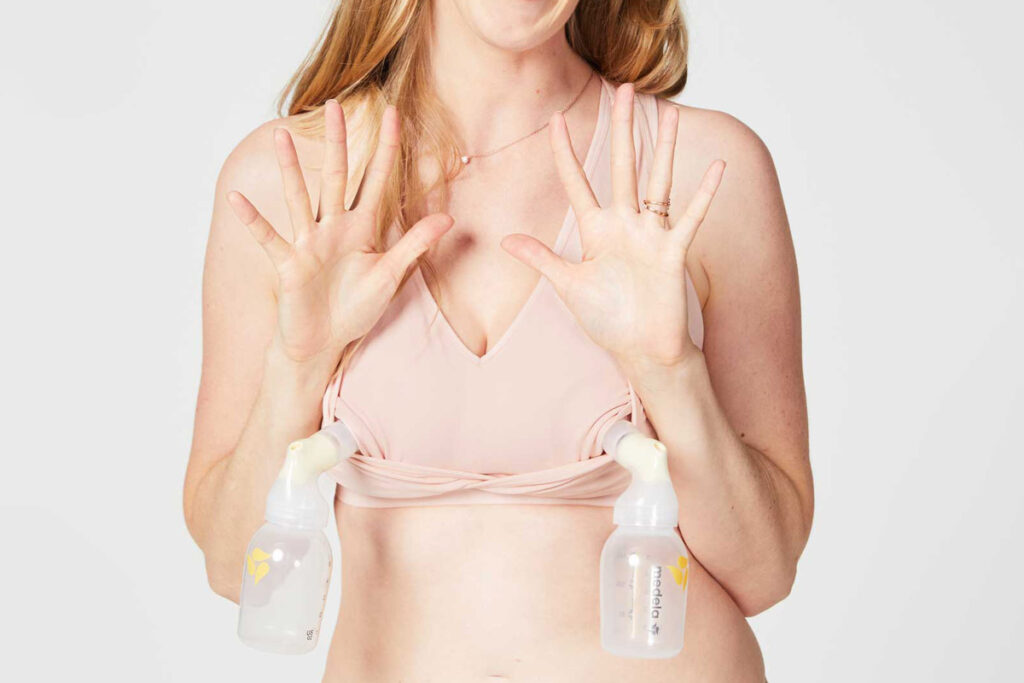 Oversupply/Undersupply
During the first 6 or so weeks post-birth, your breasts take a while to learn the ropes. Until they've figured out exactly how much milk bub needs, there's a good chance they'll either produce too little or too much. The solution for such problems? Pumping!
If you've got an undersupply of milk, regular pumping sessions can stimulate your breasts into producing more. Or if you're on the other side of the spectrum, pumping can do wonders to relieve engorgement.

Now, we get it. You have a newborn that you can't (and won't) stop smooshing and you're hungry literally all the time when you're breastfeeding, so you're going to want to keep your hands free! That's where our Lotus Hands-free Pumping Bra comes in. It's perfect for the busy on-the-go mama who has things to do and ultimately needs to be hands-on. What mama doesn't! It's perfect for yoga, pilates, any form of light to medium exercise, or for just chilling at home. It's essentially a pumping bra with a greater purpose, and better yet it, looks like a sports bra not a torture device.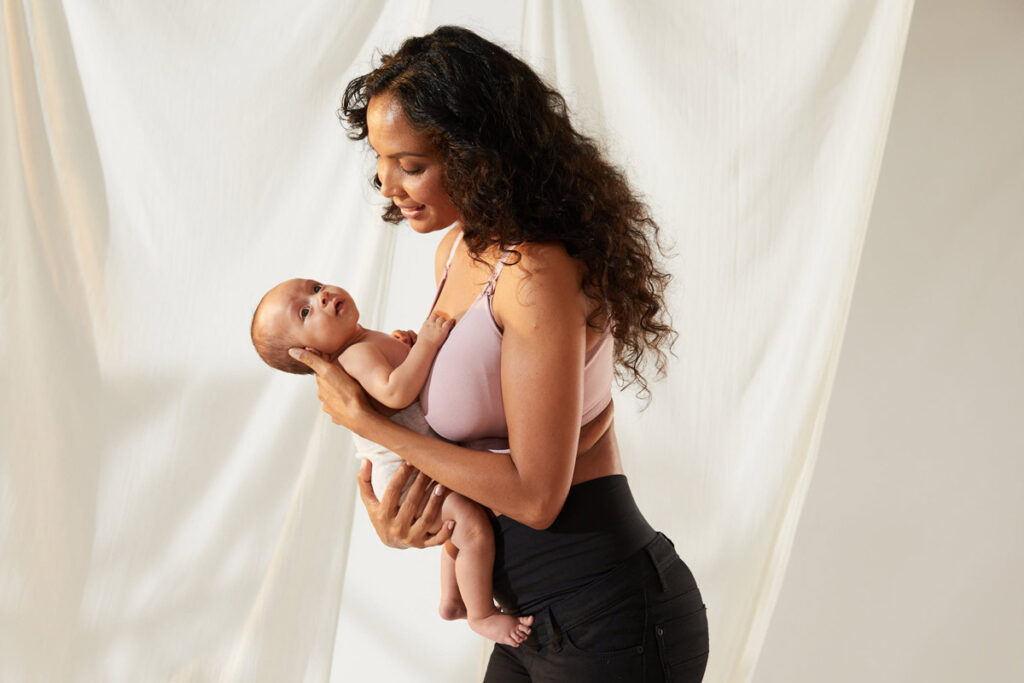 Size Fluctuations
While your breasts change a tonne during pregnancy, you can pretty much predict that they'll keep progressively getting larger — on average up to 3 cup sizes. During postpartum, however, it's a whole different ball game. When your milk comes in a few days post-birth, you'll suddenly have the boobs you (and your partner) have always dreamed of. Then as you get stuck into breastfeeding, you'll be a totally different size each day, and at different times of the day!
We strongly recommend mamas wear alpha-size bras during this time, aka bras that fit multiple sizes in one. If you're F cup and up, you're going to love Popping Candy. It has all the support and lift of a wire bra, without any of the pesky pokey wires. Perfect for your tender, postpartum breasts.

Smaller cupped mamas can whip out their trusty Rock Candy Nursing Bra to help accommodate their fluctuations.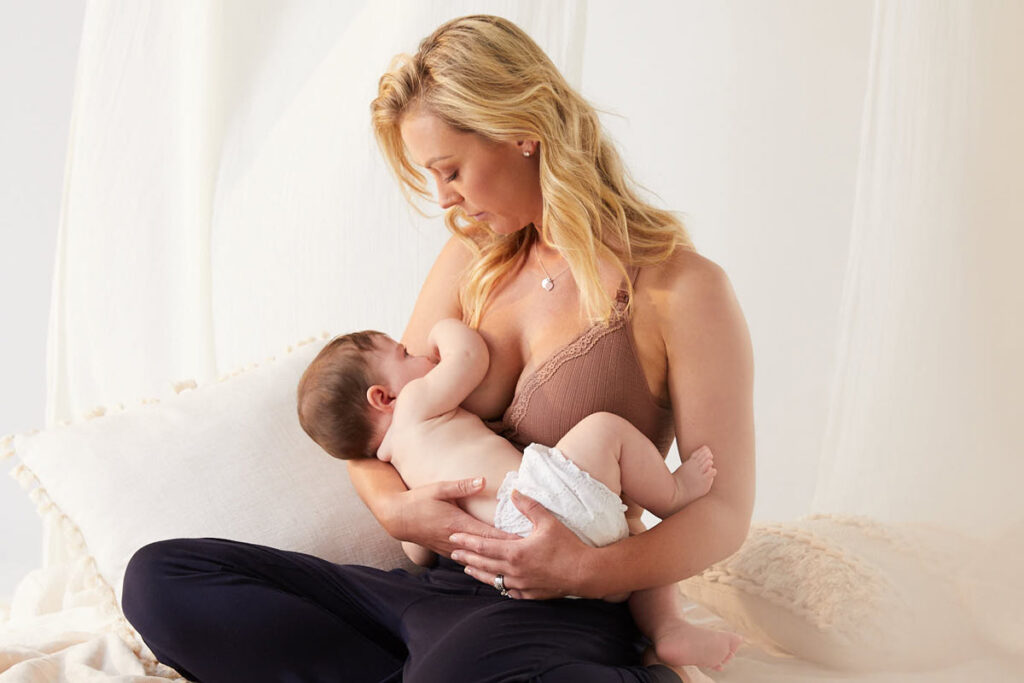 Blocked Ducts
One of the most unpleasant realities of breastfeeding is blocked ducts. These pesky buggers occur when the ducts become blocked and milk builds up, sometimes causing a sore red lump.
There are a few things to help remedy blocked ducts, but prevention is key. And what's one of the best ways to prevent them? You guessed it… Wearing the right bra!

During the first couple of months post-birth, it's super important to avoid restrictive bras and clothing. Tutti Frutti is one of our favourite bras for this stage because its soft padding gives you gorgeous support and shape, while its seamless, wire-free design is incredibly boob (and duct) friendly.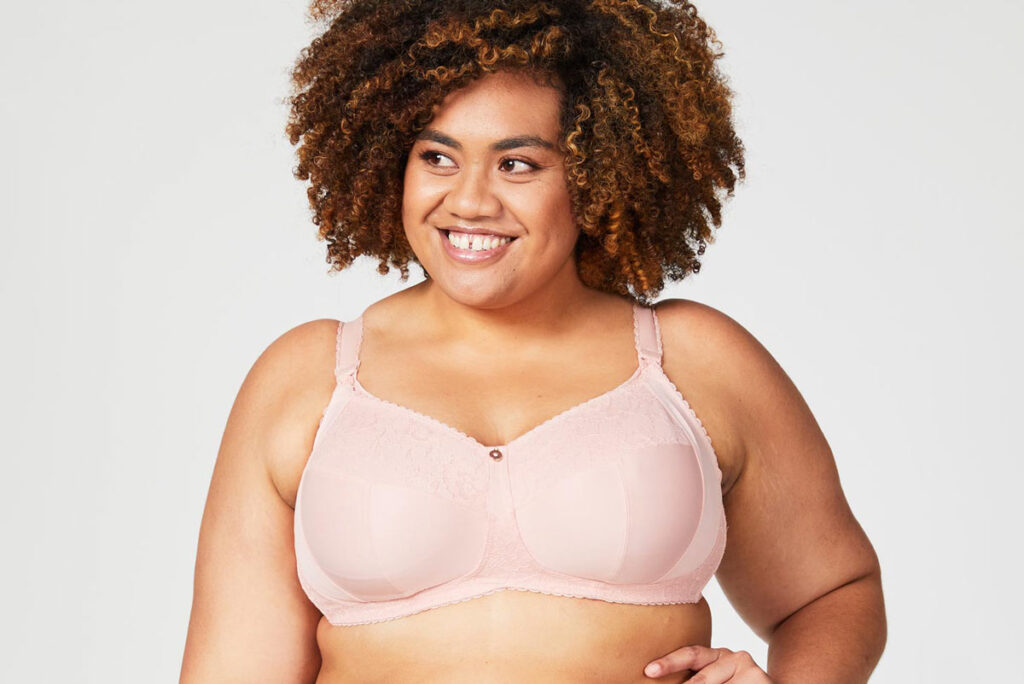 Heavy Breasts
When your milk comes in, not only are your boobs going to look larger, they're going to feel much heavier. In fact a breastfeeding boob can be up to 35% heavier than a non-breastfeeding boob of the same size!
You're going to need some serious support for your new assets, but you'll want to avoid anything with wires. You'd be forgiven for thinking Tea Nursing Bra is a wired bra with the amount of support it provides (and for fuller busts too!), but it is in fact a wire-free delight! The combination of a platform sling and a four-piece soft cup supports fuller busts, without discomfort.
So mama, regardless of where you're at in your motherhood journey, you're likely to experience a few, if not all of these symptoms, but rest assured knowing comfort is just around the corner, as long as you're wearing the right bra for YOU! It's important to remember that everyone has their own individual fit preferences and at the end of the day, the best judge of what works best for you and your body is ultimately, you. We're just here to help if you need us. Best of luck mama, comfort is something you deserve.
Disclaimer: Cake does not provide medical advice, diagnosis, or treatment. Any information published on this website or by this brand is not intended as a substitute for medical advice, and you should not take any action before consulting with a healthcare professional.
LIKE WHAT YOU READ?
Join CakeMama Club & get 10% OFF your first order!
Plus you'll get tips + tricks for pregnancy, postpartum & breastfeeding, get member-only offers, earn CakeCoins every time you shop + more. Learn more