In this article:
—
It is recommended that your baby exclusively feed on breast milk for the first few months of his or her life. Breast milk is full of nutrients and immune boosters that will help to aid in a healthy weight gain for your baby.
Breastfeeding is best, however, in a society where mothers are returning to work after just a few weeks of giving birth, pumping breast milk and feeding baby via a bottle is the next best option.
Benefits to Baby
Breastfeeding protects your child from infections, increases his or her intelligence, it also reduces obesity and diabetes in children.
Benefits to Mother
Breastfeeding also presents benefits to you. Not only does it help the uterus contract back to normal after childbirth, it also helps to decrease your risk of breast cancer, ovarian cancer and diabetes.
Women who are supported early on in their breastfeeding journey also have a lower risk for postpartum depression.
Breastfeeding Essentials
Technically all you really need to breastfeed is your breast. However, should you want to make to experience comfortable early on, invest in an assortment of breastfeeding essentials to help you in your breastfeeding journey.
Supportive Nursing Bras
Women will experience fluctuations in the size of their breasts when breastfeeding.
This is particularly true in the early stages of breastfeeding. We recommend wearing only a seamless nursing bra for the first 4 weeks post birth. A supportive seamless bra will stretch and change with your body as needed without restricting the breasts. Avoid a cupped sized bra at this stage as your breast will become trapped and uncomfortable and conditions such as mastitis can occur.
Cupped sized nursing bras can be worn at approximately 4 weeks post birth.
It is important that the bra is fitted correctly and not resting on the milk ducts to ensure proper production of milk.
We advise going to a specialist bra fitter to get fitted.
A good nursing bra should have stretch in the top cup to allow for small amounts of fluctuation, supportive shoulder straps, 6 hooks and eyes for easy adjustment as you rib cage returns to normal, cotton lining to help keep your breasts cool, supportive well constructed cups, strong elastics and a sturdy back band for added support.
Breastfeeding Pillow
Many mums find nursing pillows very helpful in supporting their baby whilst breastfeeding. These specially designed pillows assist with breastfeeding as it brings the baby closer to the breast and encouraging a proper latch.
Should you not have a specialist-nursing pillow, a regular pillow will work just as well.
Nursing Pads
There are two types of nursing pads, disposable and washable pads.
Disposable pads while convenient they are not necessarily pleasant to wear. They are noisy, bulky, and hot as they are made from processed materials that do not allow the skin to breath effectively. These materials can also cause infections due to the nipple not being able to breath.
Washable pads are usually made from cotton or other natural fibres. They are less bulky, soft to touch, comfortable, allow the skin to breath and are less likely to cause infections such as thrush.
Breast pump
Breast pumps come in all sorts of shapes and sizes. Invest in a small portable one that gets the job quickly and effectively.
Bumping milk is particularly useful early on when your breasts are producing an oversupply of milk and is also ideal for women who want to continue giving their children the breast milk once they return to the workforce.
Bottles
Sterilizer
Nipple shield
Nipple cream
Heat packs
Nursing PJ's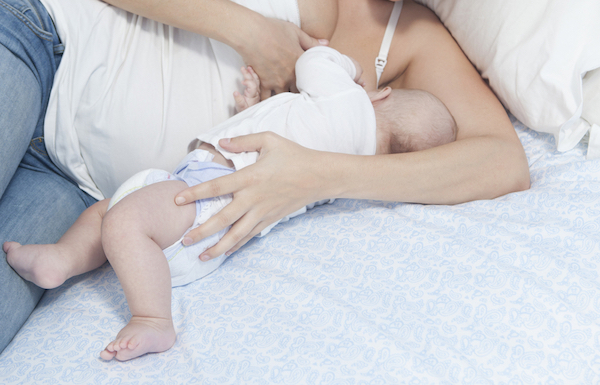 Positions for Breastfeeding
Choose a position that is comfortable for both you and baby.  Make sure you have a large glass of water next to you as breastfeeding can take some time to start with.  Keeping hydrated and comfortable is key.
Various breastfeeding positions:
Cradle – The baby's head is on your forearm and the mouth is opposite the nipple
Transitional cross-cradle position – The baby is lying along the forearm and the upper back and neck is supported by the mother's hand
Football hold – The baby is at the side supported by arm as in transitional with the baby's legs stretched out behind the mother
Lying down on your side – The baby's tummy is lying against the mother's stomach
Help & Support
For new mothers breastfeeding can often be a daunting task.
Most hospitals host breastfeeding classes and have lactation consultants available. These classes are invaluable and will guide you through the process i.e. Latching techniques, breastfeeding position, nutritional advise for breastfeeding women, etc.
It is important to know that breastfeeding does not always come easy to every women and that extra help should be sought if required. There is no shame in asking and perseverance will be rewarded. Remember the first few weeks are the hardest- it does get easier.
Common Breastfeeding Problems and Solutions
Every woman's breastfeeding journey is different. Some will find the experience effortless and very natural, whilst others may struggle initially with thoughts of giving up.
The breastfeeding struggle is real and women should put aside outside pressures and focus on their own journey. Take it day by day & do what's right for you!
The good news is that breastfeeding does get easier. The first couple of weeks can be the hardest.
We have compiled a list of breastfeeding issues and some suggested solutions.
Latching on hurts
It should not last more than a minute. You should not feel continued pain throughout the breastfeeding period.
An incorrect latch is often the reason for a painful latch. Ensure baby's mouth is wide open and has a large amount of the lower areola is in his or her mouth, as well as the nipple.
You may find it useful to use a feeding pillow to help get the babies head in the correct position to make this possible.
Leaking breasts
This is very common especially in the first few weeks when your body is producing overabundant milk supply.
Invest in some good nursing pads. They will help to keep your outerwear dry and avoid any embarrassing incidents.
We recommend purchasing nursing pads that are made from natural fibres such as cotton, hemp or bamboo. The natural fabrics will allow your skin to breath and will help to avoid skin infections.
Change your nursing pads regularly to avoid your nipples staying damp for an extended period of time.
Cracked nipples
Cracked nipples can be painful. Most women will experience them particularly in the early stages of breastfeeding.
Cracked nipples can be caused by an incorrect use of a breast pump, poor latch, regular feeding, thrush or dry skin.
Avoid using creams on your nipples. The best remedy is breast milk. After feeding express a little extra and rub directly onto the nipple and allow drying.
Blocked ducts
Blocked ducts are often caused by the breast not being completely emptied which is very common in the first few weeks of breastfeeding, when the body is producing an oversupply of milk.
To avoid blocked ducts massage the breast after feeding and use a warm heat pack. You can also use a breast pump to empty your breasts completely if necessary.
Mastitis
Mastitis is a bacterial infection in the breast. You will almost certainly know if you have mastitis. You will feel tenderness in the breasts and feel flu like symptoms such as fever.
A compressed breast often causes mastitis. Avoid wearing a cupped size bra during the first 8 weeks post birth. Invest in a seamless nursing bra. The seamless bra will stretch and conform to your changing body shape, providing you with support and comfort without restriction.
Should you get mastitis the only way to treat it is to go to your doctor and go on a course of antibiotics.  It is advised to use hot packs and frequently empty the breasts.
It is safe to feed your baby when you have mastitis and on antibiotics, but check with your doctor. You may however, experience some pain, until the infection disappears.
Thrush
Thrush is found in the baby's mouth and spreads in warm wet environments i.e. cracked nipples.
You will know if you have thrush, as your breasts will feel sore and itchy.
The only way to treat thrush is with an antifungal medication. Treat both the baby's mouth and your nipples. Both should be treated at the same time, to avoid the infection from continuing to spread.
Continued feeding
This is very normal for a newborn baby. Feeding on demand is encouraged and will help to avoid engorged breasts and any other conditions related to full sore breasts.
Baby falls asleep when you are feeding him or her
Newborn babies will often fall asleep on the breast.
Should you notice the baby start to dose off, tickle the feet gently, stroke the check or chin. This should wake baby initially, do expect to continue to do this for the first few weeks until baby becomes more efficient at feeding.
Shooting pains in your breast
It is normal to experience some let down in the early stages of breastfeeding. The good news is this should not last longer than a week or two.
Some women will experience pins and needle tingles during let down. This is quite normal and should not be painful.
Should a more serve pain be experienced ongoing, it may be a latching issue and it is recommended to visit a lactation consultant for advice.
Breast tenderness
Breasts will feel tender particularly in the first few weeks of breastfeeding. Our breasts are remarkable and are going through huge change.
Generally 8 weeks post birth a woman's breasts will have learnt to regulate its milk supply. You should feel less tender and find yourself back at the bra size your were, at approx. 8 months of pregnancy. At this point we advise you should start to wear a cupped size bra, which will provide you with that much needed support and lift.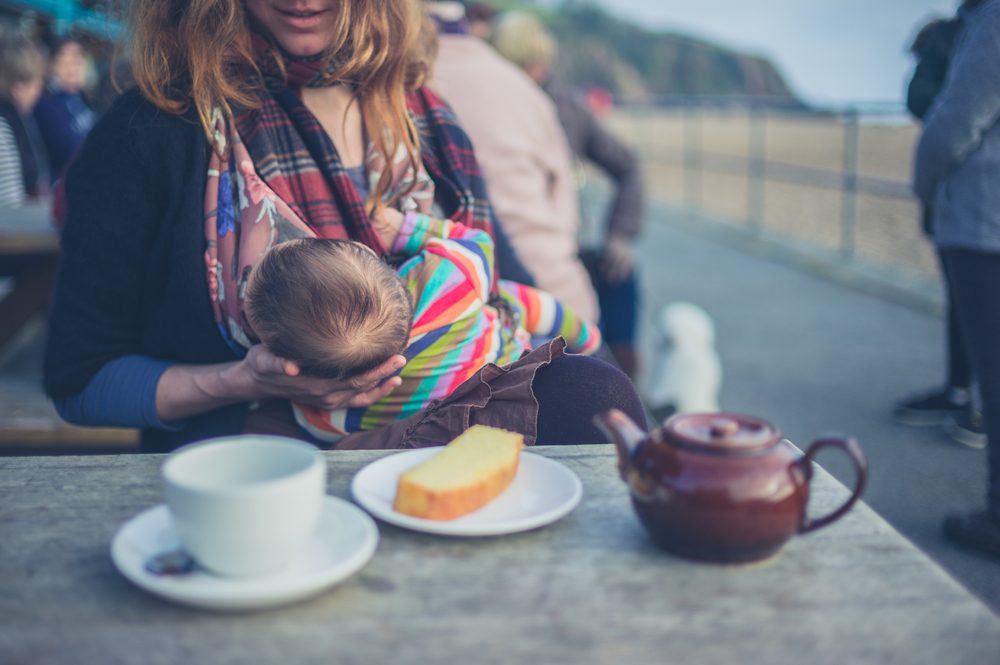 Breastfeeding in public
Breastfeeding in public can be a daunting task for a new mother. Some women might feel anxious and unsure, while others will feel completely confidant and ready early on.
It is our hope that all women will some day be able to breastfeed in public without experiencing feelings of embarrassment, anxiety or shame, and that breastfeeding be looked upon as the natural birth right of all our children.
We have come up with a short list that will help prepare you and make breastfeeding in public stress-free and a more natural experience.
Tips for feeding in public
A good nursing bra
Wear a good nursing bra that has easy access with drop down cups and an A frame sling for discretion. A good designed bra will allow you to access your breast with little fuss.
Learn more about why do you need a nursing bra and when is the best time to buy nursing bras.
Comfortable clothing
Wear comfortable clothing with easy access to your bra. Button down tops are a great option as they allow you to stay covered cup but access your breast area.
If you are in the market for some new clothes you may want to invest in some nursing tops. Maternity brands are now designing nursing outerwear that has easy access panels for discretion and ease of feeding.
Practice
Breastfeeding is not always easy. Some women will take a little longer to feel comfortable with the process. Practice at home first to ensure you have the hang of it.
Sitting in front of a mirror will give you a good indication of how discrete you are being.
Know your rights
Breastfeeding in public is legal and you are well within your rights, although not every business or person may be fully supportive.
We recommend you choose somewhere quiet and comfortable to feed. In the early stages a newborn can take some time to feed, so you should ensure you are comfortable and relaxed.
As time goes by you will become more aware of the child friendly areas/ locations.
Breastfeeding aids
Not everyone feels comfortable breastfeeding in public. Should this be the case with you, breastfeeding slings and covers can be purchased to partially drape over you and the baby.
This allows for easy discrete feeding without the feeling of being exposed.
Breastfeeding covers can be tricky to position into place initially, so some practice may be needed first in the privacy of your home before venturing out.
Take supplies
A breastfeeding woman should always be well hydrated and nourished. Make sure you always have a bottle of water and some sugar sweets (if you're ok with that) to help keep your energy levels up.
Breastfeeding is a beautiful, bonding and nurturing experience, which should be celebrated.
Enjoy the experience, which is completely natural and relish in the delight of bond that is being developed between you and your baby.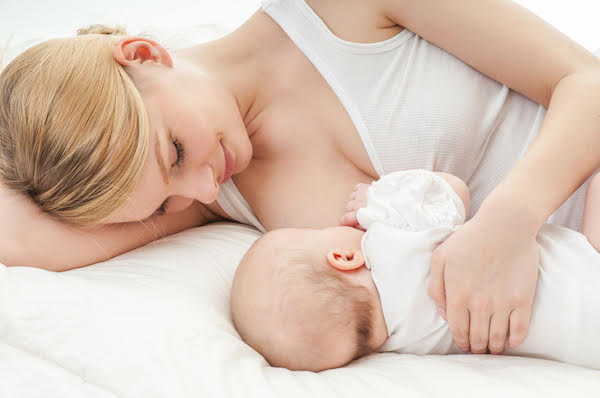 Things You Can Do While Breastfeeding
To start with breastfeeding can take a lengthy period of time. This is determined mainly by your baby's ability to feed effectively.
It is during these first few months that sit-feeding baby can become monotonous and boring at times.
We have a clever list of things you can do while breastfeeding to help pass time.
Bond with your baby
Stroke his or her cheek to help stimulate and keep your newborn awake while feeding. Talk or sing softly to baby as it feeds. Your calm voice will help baby to feel secure.
Drink
It is always advised to drink plenty of water when breastfeeding. Always have a glass or bottle of water close at hand, to help hydrate.
Eat
Prepare yourself a healthy snack before you sit down to breastfeed. Regular light snacks will help to keep your energy levels high, resulting in nutritious milk for baby.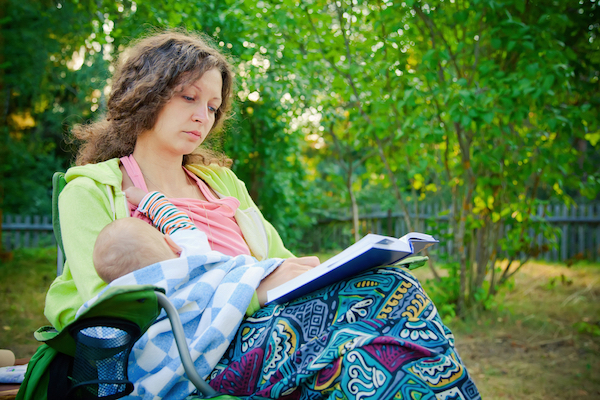 Read
Take the time to read a book. Position yourself comfortably and get lost in a good novel.
Catch up with your favourite shows
We all know that being a new mum is not easy and that free time is precious.
Record your favourite shows and watch them while breastfeeding. Time will fly!
Family time
Use the time to sit down and talk with your partner or other children. This way they will get your full attention and your family will feel loved and appreciated.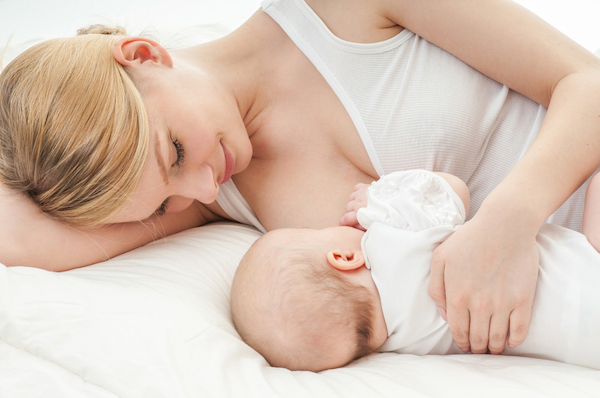 Relax
Put your feet up and close your eyes for a bit.
Practicing multiple feeding positions is beneficial. Being able to lie down to breastfeed will mean that you can take a load off and baby will feel completely relaxed and secure should you fall asleep.
It is advised to set an alarm should you fall asleep.
Get organized
Take the time to write a list and organize your day. Writing things down is useful to help ensure you don't forget anything. It also helps relax the brain and will result in less stress.
Get social
Catch up on social media. Share your favourite baby pic and get in touch with the outside world. New mums can often feel isolated.
Phone a friend
Catch up with friends and family via phone. Have an adult conversation! We often find our lives revolving around our children – stimulate your mind
Exercise your brain
Engage in a mind teaser, cross word or numbers game. Keep your brain active! Our brains need exercising just as much as our bodies.
Do your housework
Some women will find breastfeeding easier and will not need to sit. Invest in a good sturdy baby sling or carrier and position your baby accordingly. In the correct position a baby should be able to effectively feed from the breast while you continue to engage in other activity.
Listen to music
Take the time to sit and listen to your favourite tunes. Take time to yourself.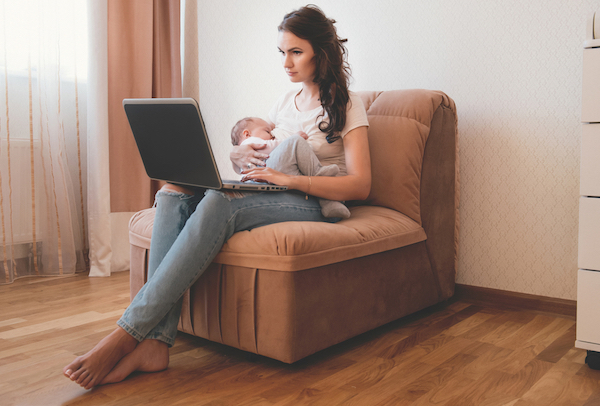 Surf the net
Getting out and about with a newborn is not always easy. Using the Internet to research before purchase is a wonderful resource. The Internet is also wonderful for shared mummy advice. Join a mum's blog online and share and compare stories.
Meditate
Take the time to slow your mind and breathing.
Close your eyes; get in to a comfortable position and take deep slow, controlled breathes.
Try to blank your mind and avoid any thoughts. If they do, discard them.
Practice makes perfect!
General Tips
Don't forget which breast you last fed with
Don't pull your baby off whilst breastfeeding as it will irritate the nipple. Instead little finger into the corner of your baby's mouth to break the suction.
Eat a well balanced diet whilst breastfeeding to keep a good amount of production of milk.
Use a breast pump to extract and then store milk
Use breast pads to soak up any leaking milk after feeding
If you experience any irritations or any signs of your skin turning red on the breast and feeling harder than normal, consult with your doctor as you may have a breast infection.
For more information you can visit you're nearest breastfeeding association in your country.
Bloggers get real and discuss their breastfeeding experience
We asked our favorite bloggers two breastfeeding questions and here's what they said.
1. What are your struggles with breastfeeding and how did you cope up with it?
I was completely unprepared to breastfeed my first born. I lived in a small town and we were discharged from the hospital on a weekend. My baby didn't take to breastfeeding and I had no breast pump. It was a rough time! My husband finally hunted down a pump on day two, but I would recommend having one before you give birth if you are thinking about breastfeeding. It really took the pressure off me – both physically and emotionally!
– Holly Homer of Kids Activity Blog
My biggest struggle was learning that it doesn't have to be all-or-nothing. You can breastfeed exclusively, you can formula-feed exclusively, you can pump exclusively — or you can do a combination of all of these. Every child is different and every mom's circumstances are different. Figure out what works best for the two of you at this point in time and do it! No regrets, no second-guesses, just make it work for your family! I had three different babies in four years, and I fed each baby differently. They're all healthy and thriving, which just goes to show that there's no single "right way" to do things.
– Blair Lonergan of The Seasoned Mom
2. What are your basic breastfeeding tips for first time moms?
Relax and stop worrying about what you have been told or what other people think. This is your baby and your body. You are a mom and trust your instincts!
– Holly Homer of Kids Activity Blog
Realize that each baby is different, so don't compare yourself (or your child) to the family next door. Some infants take to breastfeeding right away, while others need help learning. Some moms feel very natural with breastfeeding right away, while other women never do. It's okay! You're not a "good mom" or a "bad mom" based on how you feed your child, so be patient with yourself and your baby until you find a routine that works well for both of you. And then ignore what everyone else is doing and saying!
– Blair Lonergan of The Seasoned Mom