When it comes to raising your child, there's really no hard and fast rules. It's all about what's best for you and your baby and teething is no exception.
A baby will generally get their first tooth between 6 and 10 months of age, which is usually one of the lower middle teeth. Teeth generally come up in pairs, so the second lower middle tooth will follow shortly behind, then the top middle teeth, the sides and finally the back. By the age of 3 a baby will generally have a full set of 20.
How do I know my baby is teething?
Most babies experience some pain and discomfort while teething. Some indications that the process has started include a raised temperature, excessive drooling, sucking on fingers, toys or fists, red cheeks, red swollen gums, ear pulling, being unusually fussy with foods and soiled nappies.
How can I ease my baby's pain?
Always give teething babies plenty of hugs and cuddles as they're likely to be cranky and demand more attention. Gently rubbing their gums with clean fingers can help ease the pain, along with chilled teething rings or something firm to suck on.
Why is a sustainable teether a better option?
When it comes to your baby, natural is always best, especially given teethers go directly in babies' mouths and can be gnawed on for some time.
It's best to choose one that's made from natural woods and fabrics such as cotton or linen. Also check the dyes used in the fabric. Oeko-Tex certified dyes are best as they're non-toxic and safe for your baby and the environment.
Learn more: What on Earth is Oeko-tex
Always check the label before purchasing a teether for your baby. Avoid teethers that contain any of the below, as they're loaded with chemicals that can be harmful to your baby.
PVC: A synthetic resin found in plastic products.
Latex: A type of rubber that can cause allergies.
Cadmium: A highly toxic metal.
Phthalates: A chemical that is added to plastics to add flexibility.
BPA: A chemical used to make plastics.
Lead: A heavy metal toxic to humans.
Antimony: A toxic semi metal.
Are there any alternatives to purchasing a teether?
If you need to relieve your baby's symptoms in a pinch, frozen fruit is a great alternative. Not only does the cold surface soothe swollen gums, they double up as a tasty snack at meal times.
Another edible option is natural rusks that are free from artificial colours and flavours. They provide great relief since they're so hard, plus they can keep your baby distracted for long periods of time as they work their way through it.
For a cheap but effective option that uses items from around the house, try a frozen face cloth. Simply roll up a clean, damp face cloth, place it in a zip lock bag and leave it in the freezer for several hours.
How do I care for my baby's teethers?
Choosing a sustainable option is a great first step, however to ensure your baby's health it's important to clean their teethers after each use. This helps reduce the risk of infection, the build up of grime and helps you keep an eye on the teether's condition (as they should be discarded once they show any wear and tear).
Wooden teethers should be wiped down with a warm, damp cloth after use (avoid submerging in water as this can damage the wood). Once clean, leave them to dry in a warm place. Always ensure the wood is completely dry before use. Fabrics should be washed in a washing machine and hung out to dry completely.
If you choose to go down the silicone teether route, they can be sterilised in boiling water. Alternatively, warm soapy water can be used to clean them but always make sure you rinse well before use.
Always supervise your baby when they're using a teether, and avoid attaching any cords or ribbons or leaving one in your baby's cot.
Our top teether picks: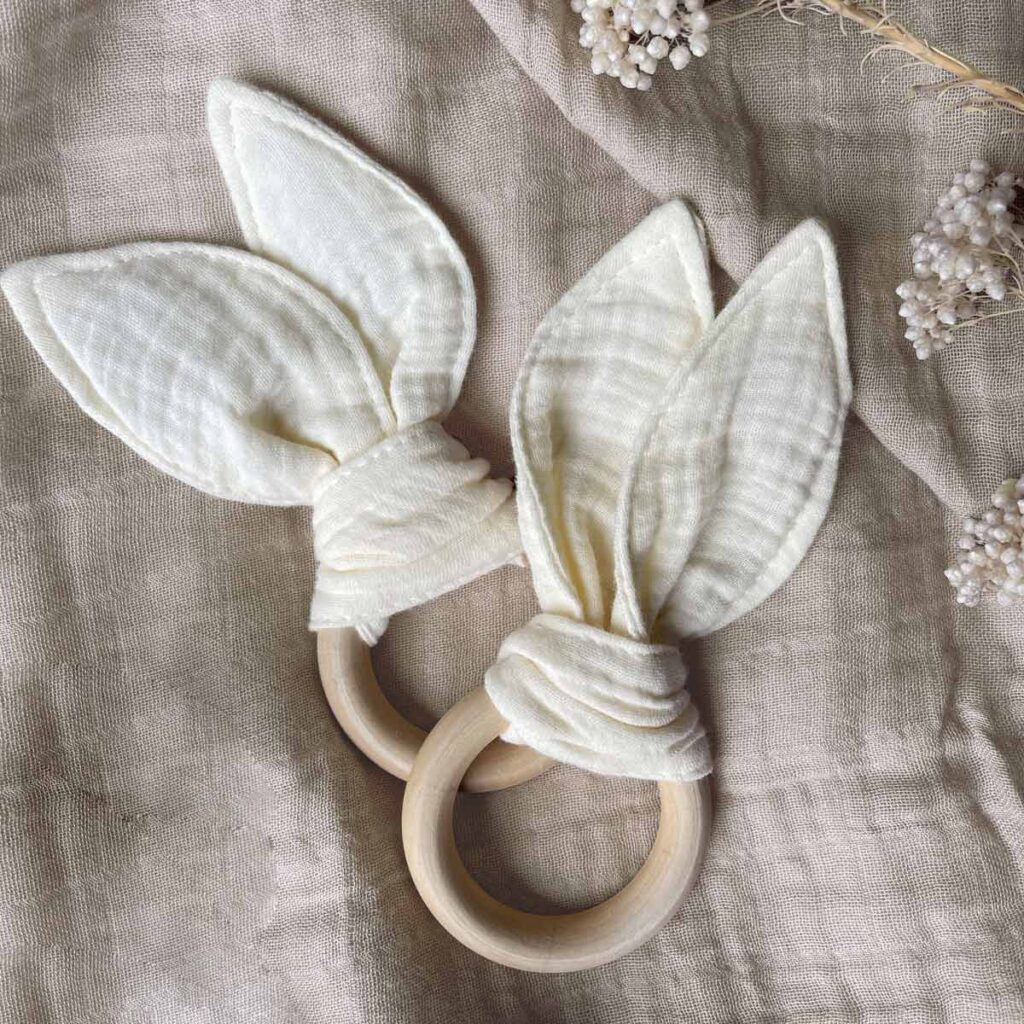 1. Bunny Teether by Cake Maternity
Now we may be a little biased, but one of our favourite teether options is our Limited Edition Bunny Teethers! Made with 100% linen/cotton, Oeko-Tex dyes and natural beech hardwood, they're fit for babies and Mother Nature.
Available as a free gift with purchase over the 2021 Easter long weekend.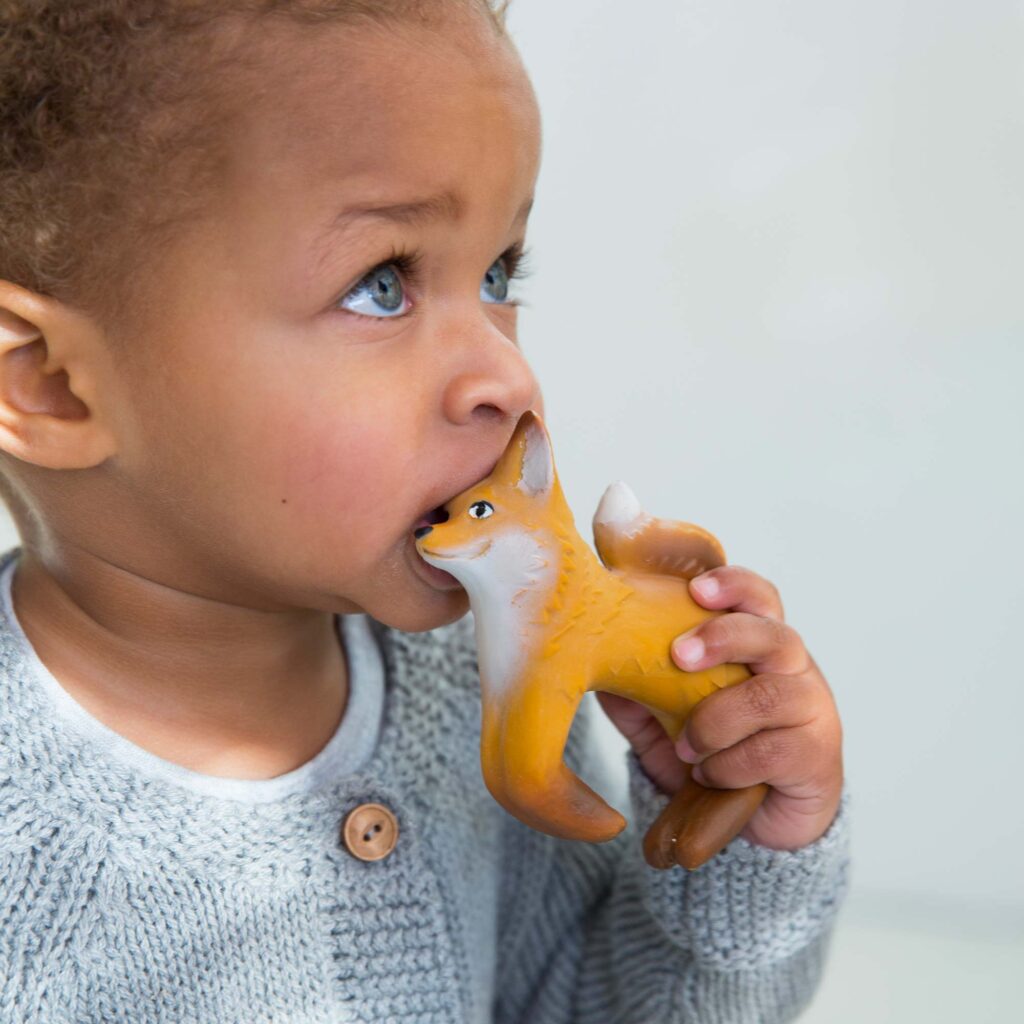 2. Rob the Fox by Oil & Carol
Not only is this teether super sweet and quirky, it's made with 100% natural rubber from Hevea trees. Its all in one construction ensures no bacteria or nasties get inside it, and each one is hand painted with natural pigments so there's no two alike!
There's also a bunch of other cute characters to choose from. Shop them here.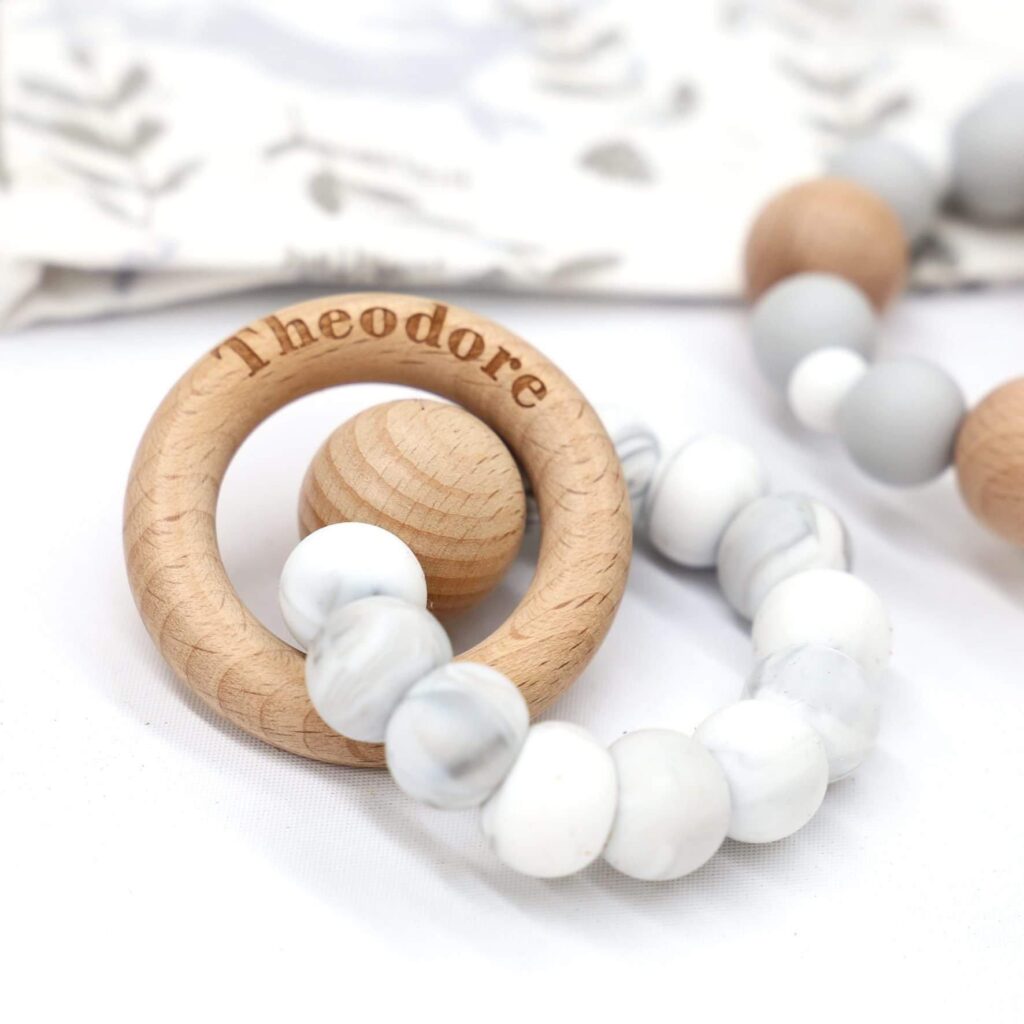 3. Personalised Silicone Teether Ring by CMC Gold
This gorgeous silicone option is completely customisable. There's 30+ colours of silicone beads to choose from, plus you can have the beech wood ring engraved with your baby's name!
Shop them here.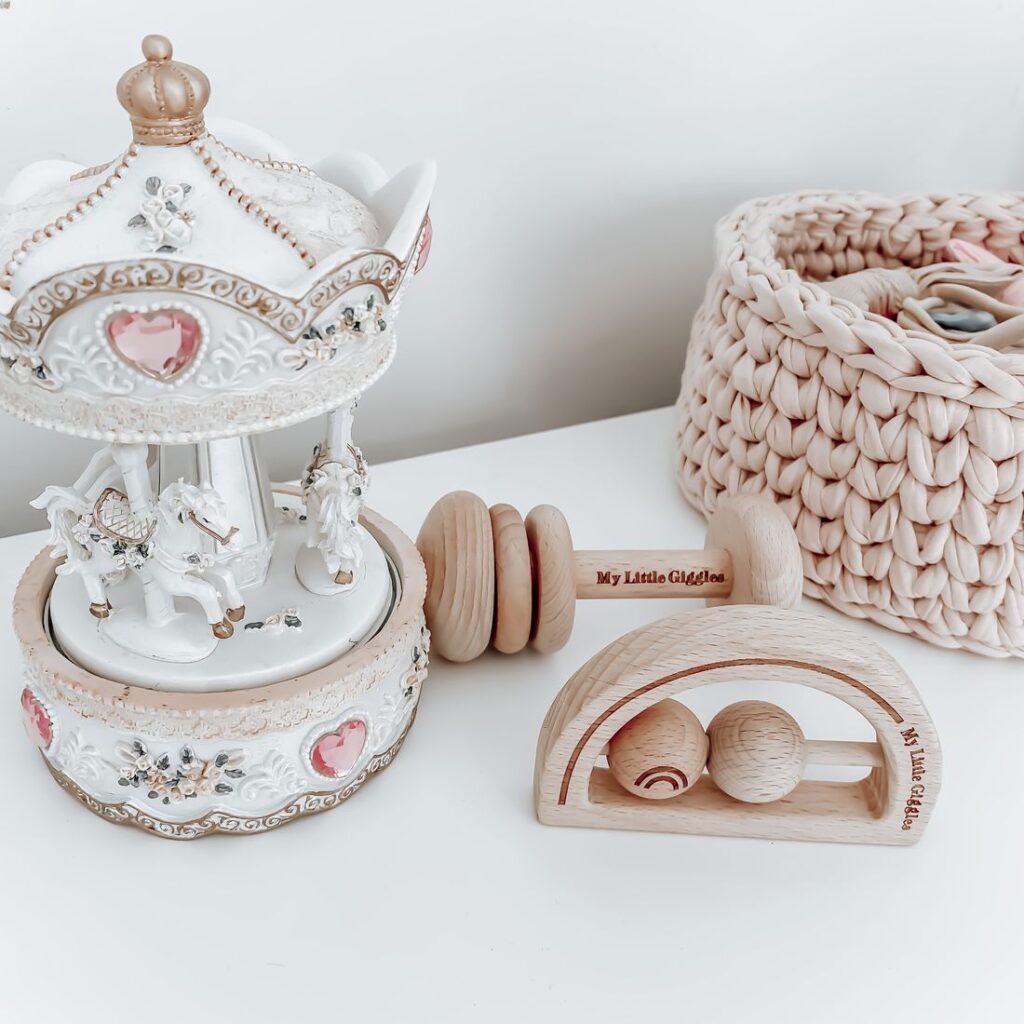 4. Rainbow Teether Rattle by My Little Giggles
These gorgeous rattles are made from 100% natural beech wood, making them the perfect teether as well! The large wooden beads will keep your baby entertained while soothing their little teething gums.

Shop them here.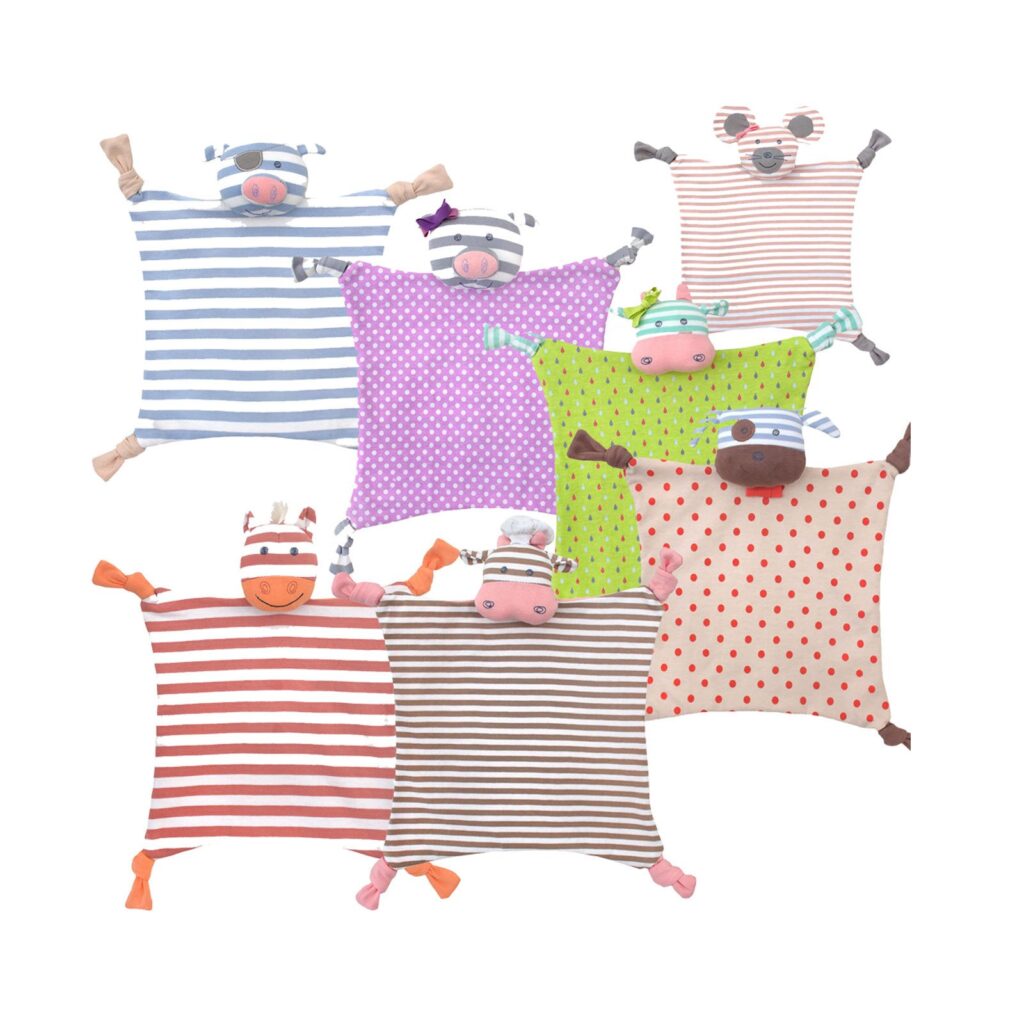 5. Organic Teether Blankie by Apple Park
These adorable farm animal blankies are made with 100% organic cotton. There's a gentle rattle in the head and the knotted fabric on the corners provide babies with some much needed relief from teething pains. You can also try dipping the corners into breast milk or some sterile water and freezing for additional relief.

Shop them here.
LIKE WHAT YOU READ?
Join CakeMama Club & get 10% OFF your first order!
Plus you'll get tips + tricks for pregnancy, postpartum & breastfeeding, get member-only offers, earn CakeCoins every time you shop + more. Learn more