Where has that first year gone? Now your baby isn't a baby anymore and it's their first birthday. I'm not crying, you are!
Celebrating a first birthday is like none other. For one, it's literally their first birthday ever and it marks the end of a very stressful year, full of sleepless nights and endless nappy changes.
When it comes to planning the big day, you can pretty much do anything you want since your child won't even know what is going on. Realistically this birthday is for the parents and capturing those sweet moments.
Here are some helpful tips and ideas for your little one's special day. However, when planning this event don't get too stressed out, you deserve to celebrate making it through the first year. It is quite a big accomplishment if you ask me.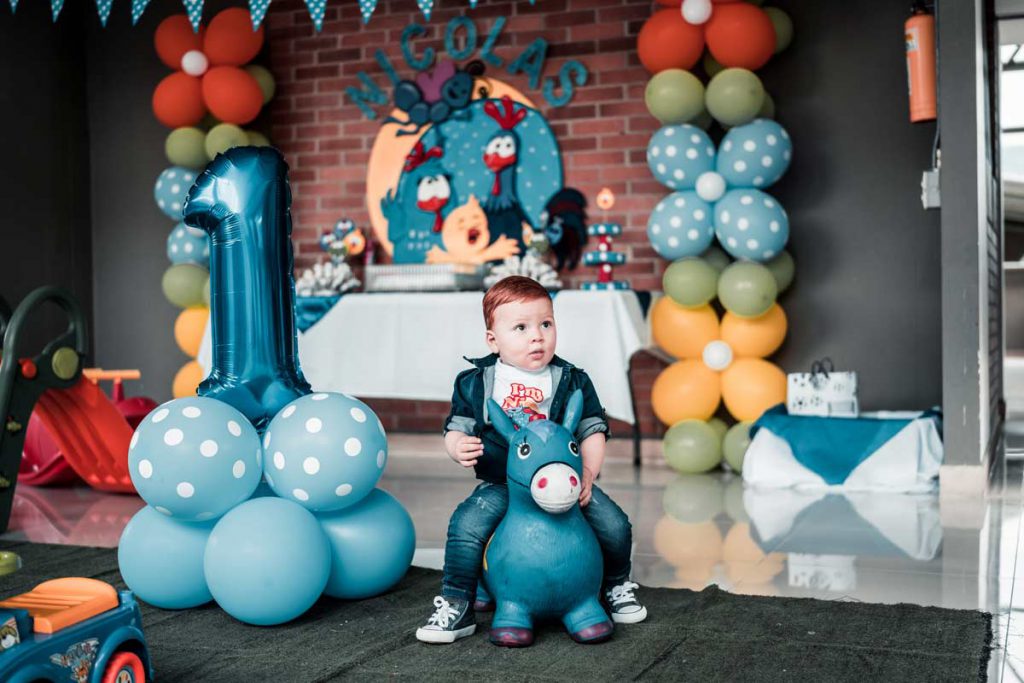 Will there be a theme?
Many parents love to pick a specific theme or colour scheme for their little one's special day.
However, this is definitely not a must. Simply getting the barbeque out and hanging some balloons in the backyard is just as great of an idea (and much cheaper!).
Here are a few ideas to get you inspired:
Get creative and use the first letter of their name as the theme.
Camping or hiking adventure (tents, roasted marshmallows and hot chocolates).
Into the woods (frogs, birds, lily pads and monkeys).
Zoo themed (crocodiles, bears and tigers).
One year in a movie (popcorn, admissions tickets, movie feature collation of your baby's first year).
Circus (top hats, red and white stripes and elephants).
Fairy party (fairy lights, fairy bread, fairy floss and lots of tulle).
Moon party (one small step for man, one giant leap for mankind).
Twinkle Twinkle Little Star (glitter, cupcakes and Twinkies, more fairy lights – the constellation under child's birth can be a talking point).
Favourite TV show themed (they might be too young for this but maybe Pingu, Peppa Pig or The Wiggles).
Colour themed — pick a colour or 2 and get 'Pinteresty'. Request that guests only wear that colour for some great photos too.
Cupcake party.
Under the sea party (mermaids, sharks and blue jelly).
And the list goes on…
TIP: Balloons can scare the poop out of babies so think carefully about whether you want these or not when decorating.
When is the best time?
Choose a time when your baby and other babies will not be having a nap. No doubt you will know mums and kids that are younger and older than your baby. Be considerate of everyone's schedule, and if in doubt, let them know in advance that you're thinking of them and their routine.
A birthday for a one-year-old doesn't need to go on all day. Most of the party guests will probably be getting ready for their afternoon nap. Why not invite everyone over in the morning for a few hours to celebrate this special occasion.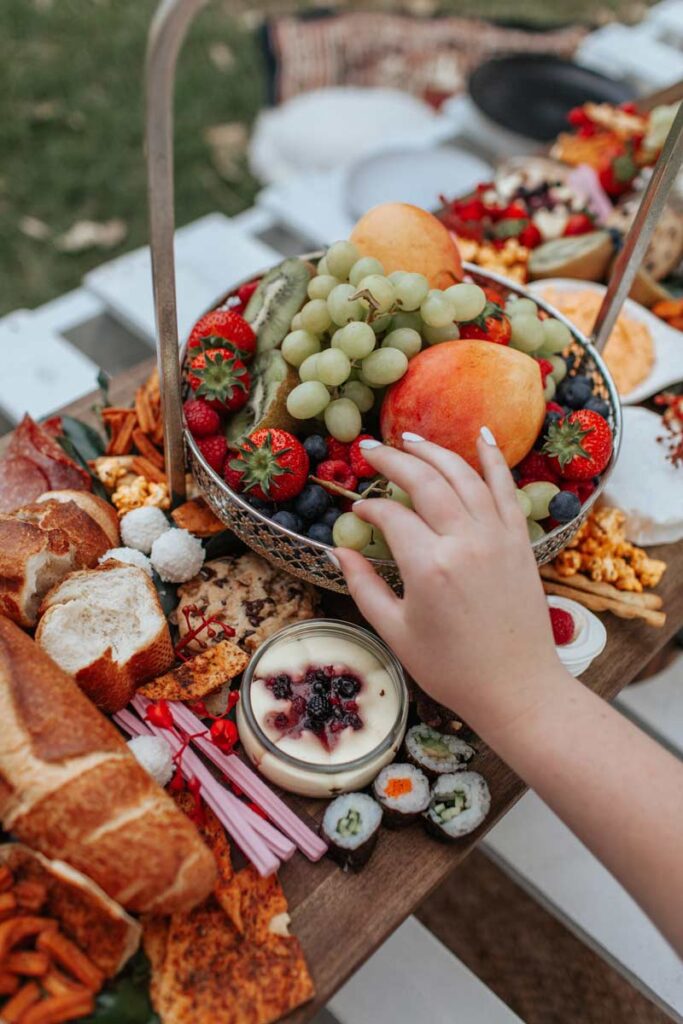 Food
There may or may not be many other one year olds there so make sure you are catering for your guests and not just your child.
If there will be other children, be mindful of what they usually eat.
Finger food is a safe option (no dishes to wash) but make sure there are enough napkins and wet wipes around for sticky fingers.
TIP: A lot of children this age don't indulge in sugar. Make sure you have enough healthy options for those not wanting to alienate their child from the celebrations.You might also like: Baby's First Foods: The Best Foods to Start With
Drinks
Juice and water are a safe option unless you're used to serving fizzy drinks. Personalised little milk bottles or named juice boxes are also a good option.
Now, it is totally up to you but serving alcohol to the parents is also a nice treat. Having some wine with your girlfriends while the kids play is always a fun time. Just make sure to always drink responsibly when the little ones are around.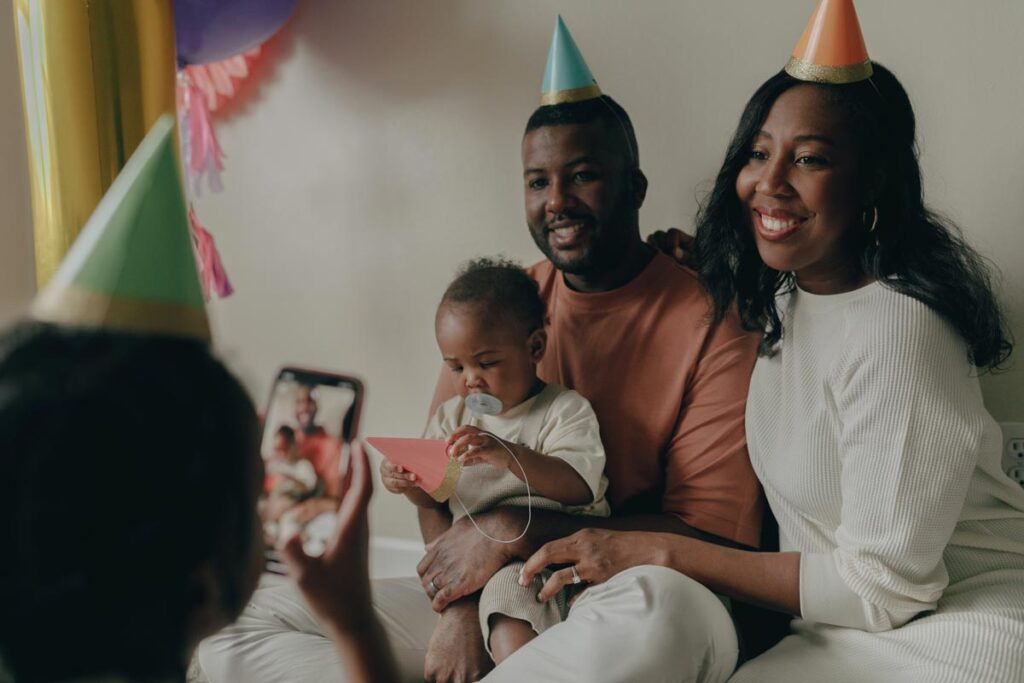 Photos
Arguably one of the most important factors of your baby's first birthday is to take as many pictures as humanly possible. Since your little one won't remember the party and you never want to forget anything from this special day, having pictures to look back on is a necessity.
Make sure you have a designated photographer for the party as you want to be in the photos yourself and not just taking them. This could be as easy as getting your best friend to capture moments from the day with their iPhone.
Birthday Presents
You can opt for a no present request and instead ask guests to donate to a charity of your choice, bring a plate of food or just their company.
If you don't specify 'no' presents, then people will usually bring them. A place to put them up high is a good idea.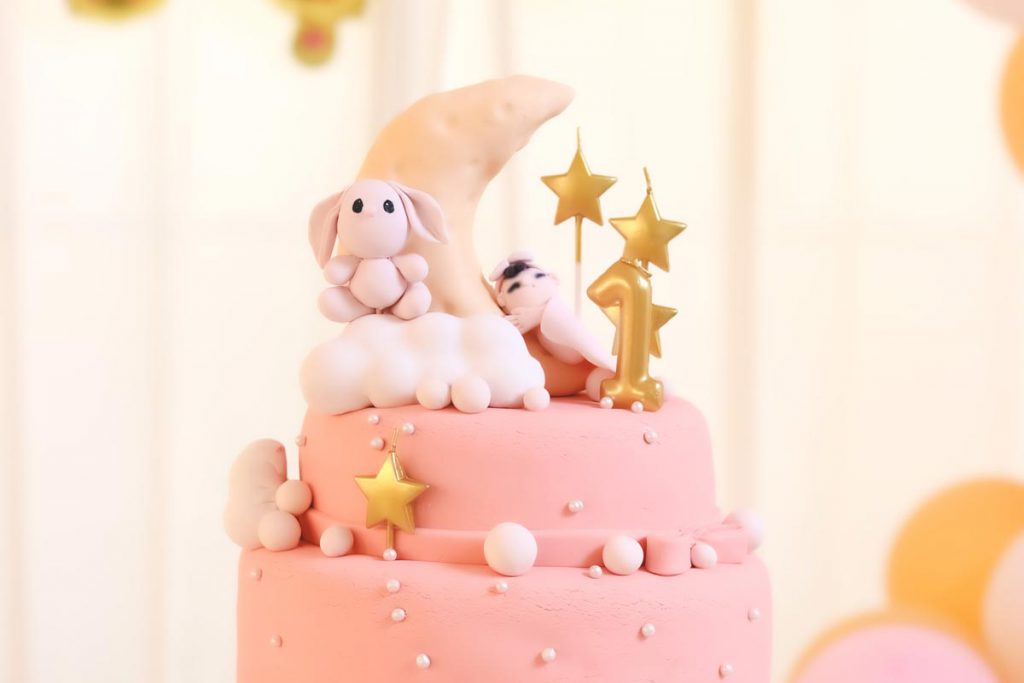 The Cake
I grew up with a mother who made all my birthday cakes. Each year I would flick through the Women's Weekly birthday cake book and pick out a cake I wanted.
It is a fond memory and the cakes always looked and tasted fantastic.
So, it was only natural that I too wanted to make my boys' birthday cakes. I can't say that it was an experience I always enjoyed, as the cakes didn't always represent what I was trying to achieve, but I'm glad I did it.
One year my eldest son, who is a die-hard Star Wars fan, asked me to make a lightsaber birthday cake. This ended in complete disaster. The cake ended up looking like something R rated and my husband made a mad dash to the cake shop the morning of the birthday to purchase a more child-friendly cake.
Through my years of experience I have come up with a few fail-safe strategies to help ensure my birthday cakes are more successful and less stressful.
Home-made or bought?
When creating a child's birthday cake, you need a good base to start with. You can either bake the cake yourself using a good recipe you are familiar with, buy a ready-made cake mix that only requires eggs and milk to be added or you can buy a cake base from the store.
The advantage with making your own is that you can control the ingredients you put into it by making it allergy safe or healthier by adding less sugar and using other beautiful natural flavours to create exotic tastes.
Should you decide to make your own cake base, it is my recommendation that you make the cakes the night before. This way you have time for the cakes to cool, and should you have a cooking disaster, you have time to remake them.
Store the cooled cakes in an airtight container on the bench. Avoid putting it into the fridge as the cool air will dry out the cake.
Theme
When it comes to choosing a theme for your cake, your only limit is your imagination.
Think outside of the box! A birthday cake could be an assortment of cupcakes arranged and decorated according to a theme, a cheesecake, an ice cream cake, gingerbread construction or even a macaron tower. Be creative!
Popular birthday cake themes for children:
Favourite TV show
Disney character
Pirates
Princess
Numbers
Pool cake (pool party)
Sports theme
Trains or cars
Emoji
Superhero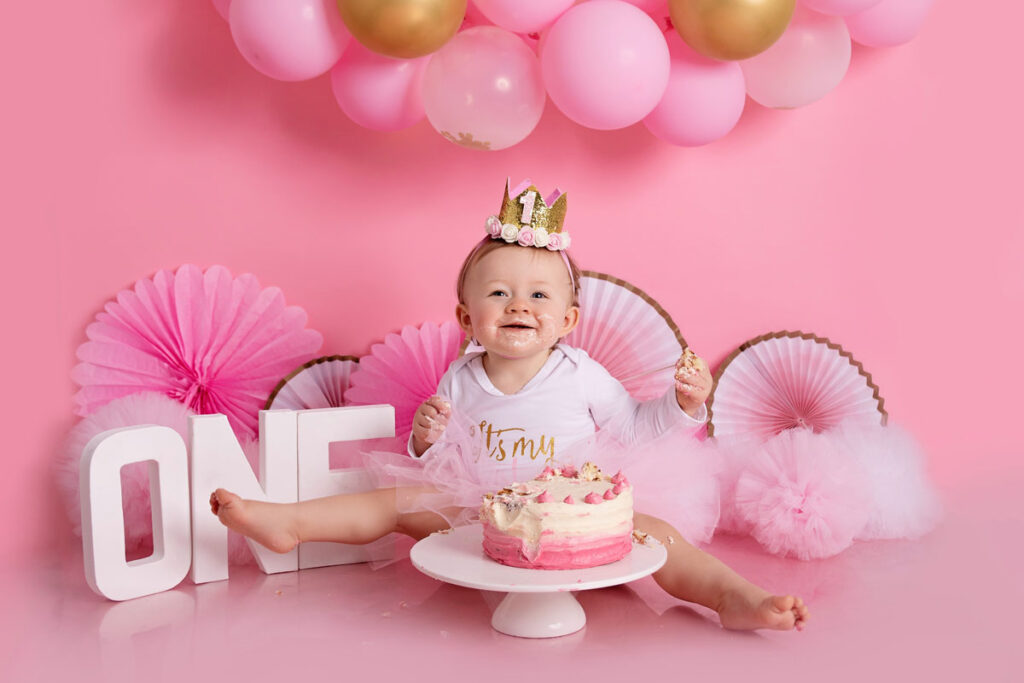 Smash Cake
You are probably asking yourself, what is a smash cake?
A smash cake is a small, frosted cake given to the birthday boy or girl usually on their first birthday.
Smash cakes have become very popular in recent years. It is given to the young child (for some children it might be their first taste of cake) and they are encouraged to explore, dig, eat and play with the cake. The objective is that the experience is messy, and that the child should be left to enjoy it.
It is after this that the real cake usually comes out and your masterpiece can be admired.
It's becoming a great tradition now to have a smash cake when you turn one. If you have older brothers and sisters this is always a fun one to photograph. Make sure you're okay with the amount of sugar that one of these contains as it's quite a hit (no pun intended) for a one-year-old to handle. Be ready for sugar peaks and the subsequent lows.
Any cake will be a great treat for your child, or you could serve individual cupcakes as these are much less messy. Well, not really.
However you decide to celebrate your little one's special day, make sure you are enjoying yourself and you aren't overwhelmed running around after everyone all day.
As mothers, we tend to look after everyone else before ourselves. As long as everyone is fed and happy then you have nothing to worry about.
Remember this day is about celebrating you as well, you did an amazing job mama! You made it through the first year!
Don't miss: Baby's First Foods: The Best Foods To Start With
Like this post? Follow Cake Maternity on Facebook to get the latest updates!
LIKE WHAT YOU READ?
Join CakeMama Club & get 10% OFF your first order!
Plus you'll get tips + tricks for pregnancy, postpartum & breastfeeding, get member-only offers, earn CakeCoins every time you shop + more. Learn more