A sports bra should always be supportive, snug, comfortable and hold your breasts firmly in place.
Don't be fooled by the many nursing bras in the market place that call themselves sports bras. A seamless bra with a racer back is not considered to be an effective sports bra for high impact exercise. The seamless fabric is stretchy and will move freely providing the wearer with very little support that could result in premature sagging or ligament damage. (A racer back seamless bra can however, be used for low impact exercise such as yoga).
The Zest Nursing Sports bra by Cake Lingerie is the first fully structured sports bra that provides great support for medium to high impact exercise with the added benefit of drop down cups for discrete feeding.
Designed for the generation of fit conscious mums, Cake Lingerie continues to follow trends and produce product that fits in with a modern mums lifestyle.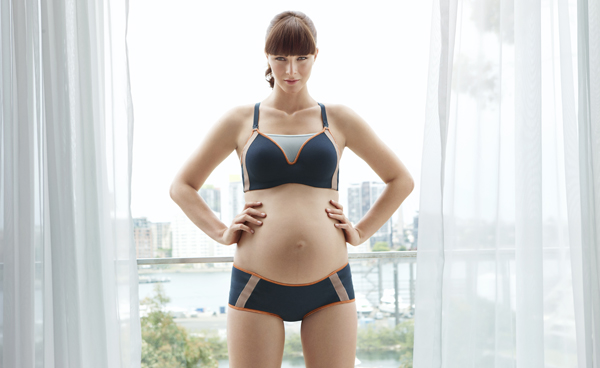 Key features and benefits of the Zest sports bra:
The Zest bras are made from high tech spacer fabric that is moulded to the shape of your breast. This amazing fabric will breathe and wick moisture away from your skin, resulting in a cooler body.
It contains breathable, upward bounce reducing panels for added support.
Mesh CF panels to help reduce bounce during high impact exercise.
Contains a concealed flexible wire for added support and great shape.
An A-frame folded edge sling that not only provides greater support but also provides discretion when feeding.
A Racer Back conversion J hook option that provides added support and lift for high impact exercise.
Available in sizes 32B- 40K in two great colours: Navy and grey.
The padded nursing bras are the perfect sports bras for pregnant and nursing mums who want to remain active. A healthy fit Mum will often feel better about herself, has more energy and will tend to regain her pre baby body quicker.
We recommend you try our wonderful Zest range and join the many thousands of women who are experiencing a healthy active lifestyle post baby.