A good nursing bra should provide the wearer with a number of key features and benefits.
Durability
A good nursing bra should be well made using good quality fabrics and trims. The elastics and fabrics should be strong and supportive and retain there elasticity after many wears and washes ensuring a good supportive fit for many months of wear.
Versatility
A good nursing bra should be versatile offering the wearer versatility from under clothing. Ie. Smooth profile from under T-shirts, J hook for adjustment of straps and should be pretty enough to wear for all occasions.
Features
A good nursing bra should contain a few extra bells and whistles. Ie. 6 hooks and eyes for back band adjustment, A frame sling for modesty, cotton lined, fully adjustable straps, drop down cups for feeding, nickel free hoops and sliders, Oeko-tex fabrics, top cups stretch to allow for fluctuation.
Function
A good nursing bra should be easy to wear. It should be comfortable and supportive for all daywear and should not dig in. A good nursing bra will make breastfeeding easy with its drop down cups peeling back easily for discrete feeding.
Style
A good nursing bra should be beautiful to look at. It should make the wearer feel feminine and loved. Long gone are the days when nursing bras looked like grannies underwear.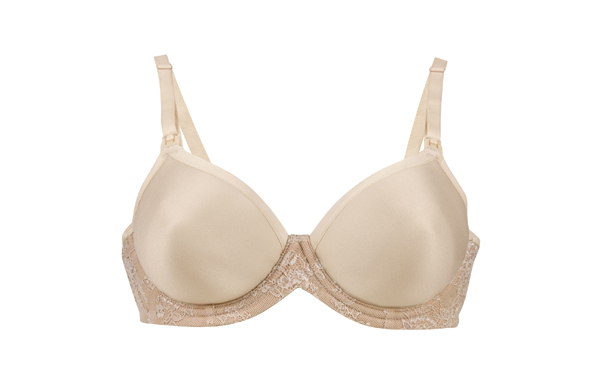 Introducing Buttermilk Waffles.
Buttermilk Waffles embodies all the qualities a good nursing bra should have. With its balance between function and beauty Buttermilk Waffles promises to be another top seller.
Buttermilk Waffles has been engineered and designed using spacer fabric. Spacer fabric is a unique and a highly supportive fabrication that gives you the support and shape of foam without the bulk. Making this the perfect bra for a nursing bust.
Buttermilk Waffles is a neutral tone as its name suggests in soft nude and apricot. Features include: polka dot A frame sling for discretion, J hook for added support and versatility, drop down cups for feeding, contrasting lace under band, 6 hooks and eyes for adjustment.
Available in sizes 10B-18H(AU)