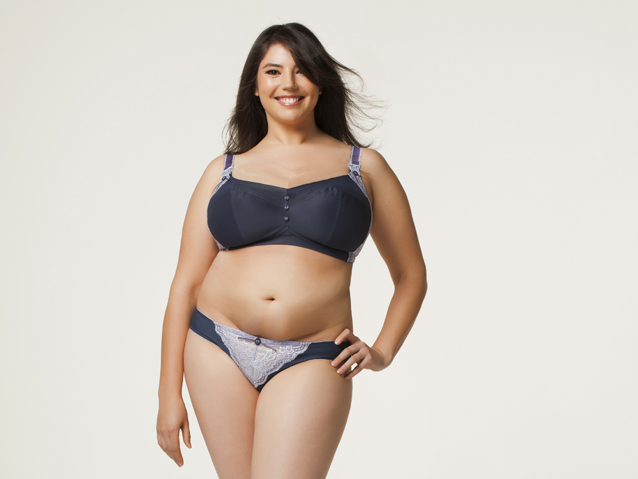 Ever wondered what goes through a fashion designer's mind when creating a new piece? For the talented designers here at Cake Lingerie, the pregnant woman is always at the forefront and when it came to designing Sorbet, they had the fuller-figured woman in mind.
This delightful wire-free, plus size nursing bra was developed in response to a gap in the market that many women were keen to see filled. Designed for support and to provide shape to the fuller bust, the Sorbet bra cups are constructed to encompass and enable good forward cup projection. Ideal under a T-shirt, Sorbet will be sure to please!
Uniquely engineered and structured, Sorbet is the answer for fuller-busted pregnant and nursing women who desire a highly-supportive, comfortable fitting bra without compromising on style and polish!
Each and every facet of this bra was considered with meticulous attention; from four part cups with top stretch to conform to the shape of your breast, to the graduated adjustable straps that provide versatility under sleeveless garments.
The side lace overay has been cleverly constructed to enhance support, but also adds delicacy to this full coverage yet fashion forward bra.
Of courses it also features Cake Lingerie's trademark design elements, including soft cotton-lined cups enabling the skin to breathe and avoid irriation, as well as 6 hook and eye extension to cater for expansion of the rib cage as the breasts change throughout pregnancy.
Sorbet is available in Lavender and Apricot, in the following sizes:
AU/NZ: 10 to 18, D-J cups and size 20, F-J cups
UK: 32 to 40, D-J cups and size 42, F-J cups
US/CAN: 32 to 40, D-M cups and size 42, G-M cups
EUR: 70 to 90, D-M cups and size 95, G-M cups
Tell us what you think
Do you have a fuller-bust and struggle to find a bra that's both supportive and stylish? Share your thoughts in our comments!
Have you met our fuller busted model, Claire? She demonstrates just how well Cake Lingerie fits on a naturally fuller-busted woman. Read how Cake Lingerie has got 'Big Boobs Covered'