Here at Cake we're passionate about connecting new mamas with meaningful and inspirational brands which we think will help improve their quality of life.
That's where Silatha comes in. Silatha is the brainchild of Veroniek, who has an inspiring passion for meditation and the positive changes it can bring to our lives.
Silatha has a fantastic guided meditation app which is perfect for beginners, and features thirteen series of 21 day guided meditations. Including a series created specifically to support you through your pregnancy, embracing the change and creating a deep connection with your baby.
They're even offering our Cake mamas a free trial! Keep reading to learn more about Veroniek, the history of Silatha, and to get your free trial links.
To start out, we'd love to know a little bit about you. Where are you from? What's your occupation?
I'm a Dutch from origin, but always had a passion for different cultures and travelling. At the age of 15 I explored Spain together with a girlfriend. And from then travelled the world, it brought me to leave Amsterdam and live in different cities like London, Singapore, Paris, Zurich and Berlin.
I'm an engineer from education, though I started my career in Marketing and spent about 15 years in the corporate world.
Currently I'm also a life coach. When I realised the impact meditation has on me, I founded Silatha, to spread this beautiful wisdom and way of living with others, especially mums, who I noticed to be very critical on themselves, even though they create miracles each day. They are the hardest workers in the office, have effective time management, and also take care of many things at home. It's extremely demanding and I see many women who overrun themselves.
With Silatha we aim to give them a little breath during the day, to be more in control of all the different tasks and do this with more peace of mind.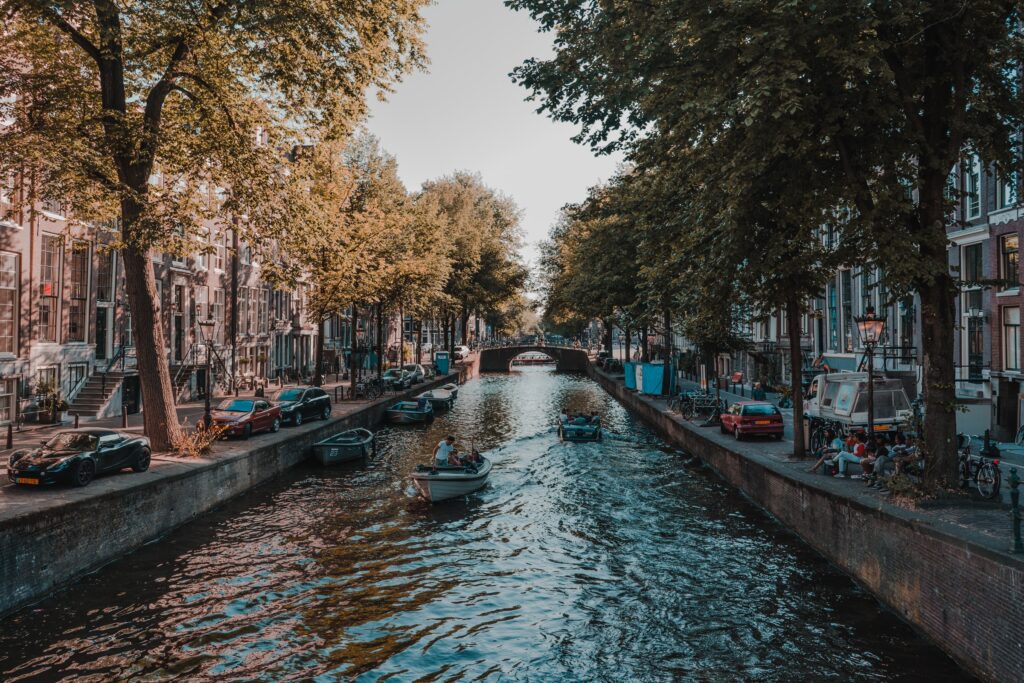 You've had an incredibly interesting career journey, from finding success in the corporate world to founding your own business, Silatha Meditation. What prompted this life change, was there a defining aha-moment that shifted your beliefs?
For me the aha-moment was about 8 years ago, when I was on a trip in the Himalayas.
A Buddhist had told me about meditation and I had practiced it for several days. I went paragliding at 5,500 metres and it was amazing, though my life changing experience came the next day.
Having done days of meditation and walking on my own in the beautiful landscape of the Himalayas, I felt that there was a higher purpose for me in life. I couldn't tell at that time exactly what, but I knew that I had a gift that I could share with the world and that this should be something more meaningful than the job I had, where I created and launched new chocolate and coffee products.
From there, this developed, first I learned more about meditation and the lifestyle that comes with it in monasteries and different meditation retreats. Though I struggled making this a daily habit. From the wish to engrain this new habit into my busy daily schedule, Silatha was born.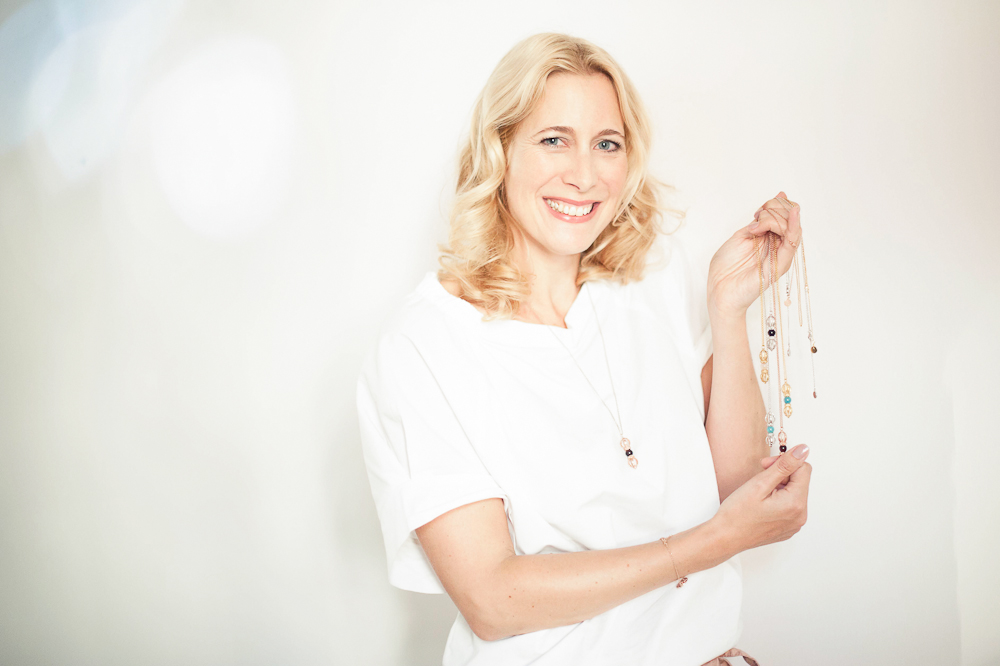 So, tell us about Silatha Meditation and the journey it holds for each individual?
Silatha is built to help enforce habit creation, as more than 90% of people who start with meditation fail within the first 30 days.
Our journey is inspired by the habit creation work of leaders In this field like BJ Fogg, Nir Eyal and Charles Duhigg. We discussed the Silatha concept with BJ Fogg who loves how it works.
Silatha makes use of a tangible object, which serves as your reminder and trigger. We created beautiful jewellery pieces to choose from. Though it can also be another object that you specifically carry with you the whole day.
Our meditation app will start with setting your intention. What do you want more of? Is it self-love, the ability to let go or simply more clarity? We even have a pregnancy series! You choose from the many intentions and dedicate your practice to it.
During each meditation you link your intention to your jewel so that you rewire your brain, when something stressful happens during the day, you can hold your jewel and your intention will flow through you. This rewiring of the brain is called embodied cognition.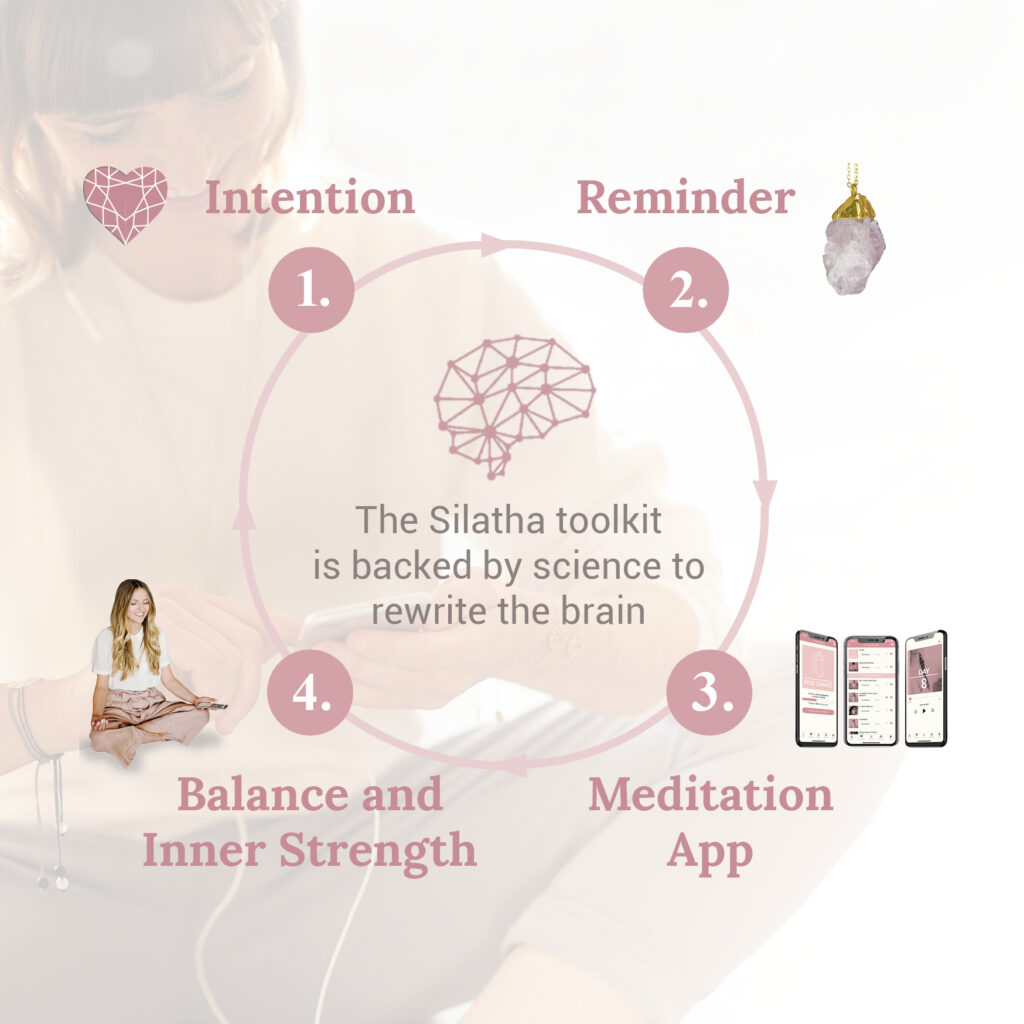 What does a typical day for you look like?
I get up, go for a run, have breakfast and get myself ready for the day. Then I meditate. After that I make my list of to dos for the day and get started. Unfortunately I work a lot behind the computer.
How has meditation changed your life?
I am so much more aware of who I am, what I want and how to enjoy life. I was always running after the next thing. Now I know that money and status don't make me happy, but people and purposeful work do. Life is a journey, it's not about the end goal, but about what you make of everyday.
Why is meditation important for pregnant/new mums?
Being pregnant or a new mum means a lot of change, everything in your life changes. Which is very stressful and an insecure period where everything is new. It's not only new, it is one of, if not the most, important and touching things in your life: being fully responsible for another life.
Meditation adds balance and peace of mind to your day. We can get caught up in little day to day dramas. Especially when we are rushed from one task to the other. Just having a moment to connect within and re-align your perspective can make a huge difference to how the rest of your day continues.
How do you find time for yourself every day, and because I know fellow-mothers will be dying to know, how much time are you able to put aside each day?
I always make time for myself each day. I work hard, sometimes 80 hours a week, but I always find time to do some exercise and to meditate. These are the two things that keep me sane. I know many people believe that this is costing extra time, but it refreshes my brain and outlook. With that I save so much more time, and the used time is earned back quickly as things go smoother and I feel more in control and at ease.
What makes you infinitely happy?
Actually many things make me happy.
Simply being with people that I love, or alone, feeling connected with the world and myself. Observing and using all my senses.
Also feeling purposeful, knowing that I'm adding something to the world makes me glow. Also helping others and seeing the impact is such an amazing feeling. If we all would give a bit more, the whole world would be a better place.
Do you have a favourite flower?
I love lotus flowers, as such a beautiful object is born from mud, developed itself into such a beauty. A great metaphor for life, we all have our own journey, it doesn't matter where you come from, you can flourish and become the most beautiful flower and shine your light into the world.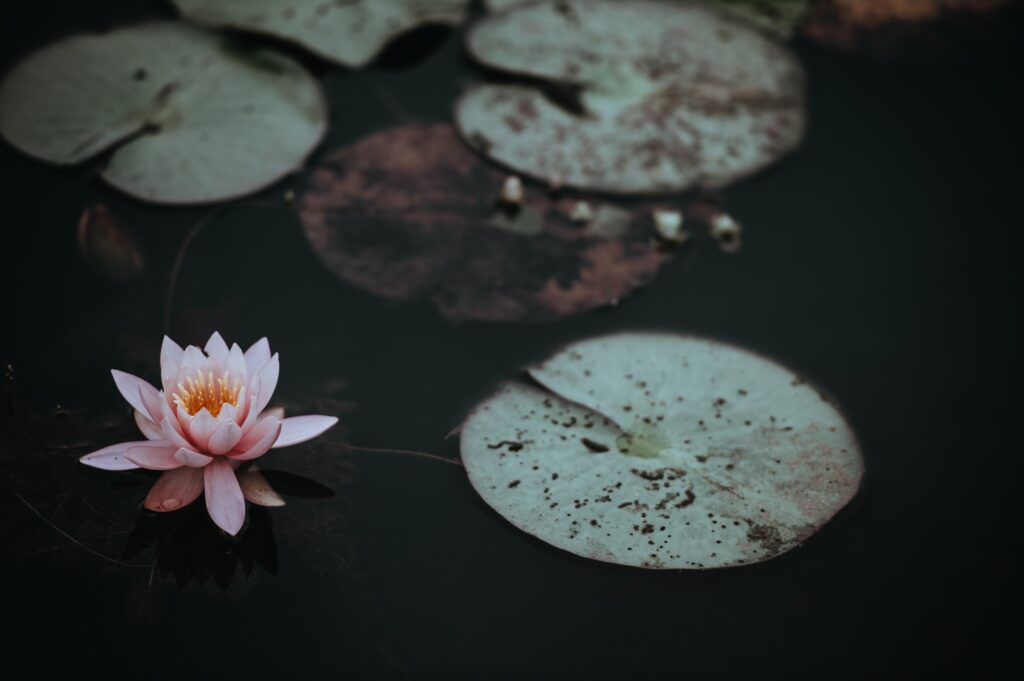 What's the best piece of advice you've ever received?
Accept life for what it is at every moment. This is something I learned during my stays in the monasteries and really everything flourishes, when you simply accept what is. It's not always easy, as we are wired to feel discomfort, unhappiness, impatience, anger, frustration, etc. when things do not go the way we planned. But really, the moment that you simply accept it, all falls into place and you can simply enjoy life.
What are 4 things you can't live without?
I have learned over the years that there is nothing I can't do without. We have a lot of attachment to people and things, or even experiences, but this is just a construction of the mind. When we let go, we are free.
As mums, finding 'me' time to connect to ourselves is incredibly important. Do you have any advice or practices that you'd recommend to mums short on time, that can easily be incorporated into their daily lives?
Absolutely agree, that's why I would really say try the Silatha meditation app. We created this especially for mums, so meditations are very short, starting from 1 minute to max 7 minutes. You can always find one minute free in your day, you can download the meditations, so you can also do it on your way somewhere, or when waiting in line. As well as the app, we created a group on Facebook, where mums can join for free and enjoy tips and tricks that are all short and tailored to busy mums.
One thing that always helps and doesn't cost any time, is this: close your eyes and feel yourself standing or seated. Take a slow and long breath in through the nose and follow the air as closely as you can while it enters your body. Notice the small pause before the exhalation. Breath out through the mouth and let go of any tension in your body. You can repeat this as many times you need.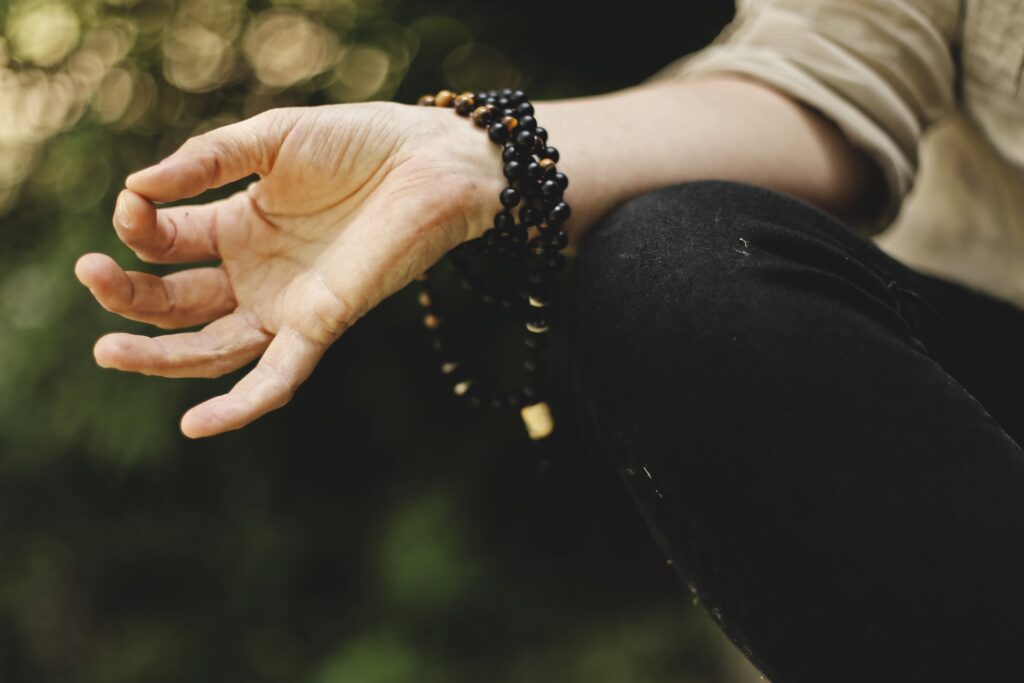 For any women, and mums in particular, looking to start their meditation journey, what steps would you recommend they take?
Join our community on Facebook, Silatha Journey closed group, and start your free trial on the Silatha meditation app.
Where can we find out more about you?
Website: https://silatha.com/
Facebook: https://www.facebook.com/SilathaJourney/
Instagram: https://www.instagram.com/silathajourney/
LinkedIn: https://ch.linkedin.com/in/veroniek-vermeulen-a88764
Silatha is offering first-timers a free trial on their beautiful app! Simply click the links below to get started:
Apple: Silatha: Self-love Meditation
Android: Silatha: Self-Love and Inner-peace Meditations