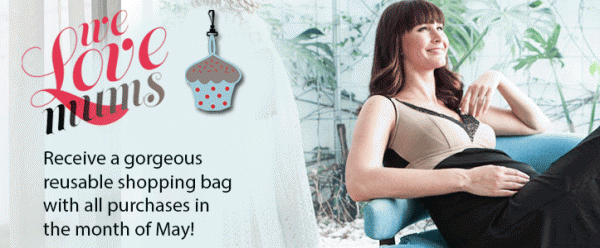 For many countries around the world, May is the month of Mother's Day; a time to celebrate motherhood, cherish our loved ones and honour the wonderful mothers around us. At Cake Lingerie, we like to think it's Mother's Day all the time, so will be recognising this special day with a month-long campaign – because we love mums!
Cute, convenient and caring for our environment – introducing the Cupcake shopper bag
From now until 31 May, we will be giving away a free Cupcake-shaped shopping bag with every order!
These cute, re-usable shopping bags fold down into a lightweight cupcake-shaped packet that conveniently clips into a handbag, keeping it on hand for whenever you need it.
Spoil yourself or a loved one in May with this delightful gift, complimentary with your next purchase of Cake Lingerie nursing bras, briefs or maternity sleepwear. Be quick – Cupcake shopper bags are only available until May 31 or while stocks last.
Tell us what you think

Do you use ecofriendly shopping bags?
Do you keep them in your handbag, car or elsewhere?