This past week has seen a favourable response worldwide about our innovative research revealing flexible wire bras provide a more comforting and supportive fit over a non-wired bra.
Launched in March, the bras made their way into the spotlight being specially developed with Cake Lingerie's MyBust™ engineering to advise women to "Personalise Your Fit".

These are our luscious Velvet Delight Nursing Bra and the delicious Turkish Delight Nursing Bra, which understand and deliver on the different needs and wants of each individual bust size, and perfects it.
Pregnancy and Lingerie website bloggers and subscribers have been jumping with excitement over this cutting-edge information that's changing the direction of the maternity lingerie industry as we speak.
No longer do mothers have to sacrifice comfort for function and ease, as our delectable flexible wire ranges assures mums and mums-to-be they can still have the full support they require during this period.
Read some of the coverage here:
Lingerie Buyer
Bra Queen
Lingerie Blog
Assiere
It was also exciting to launch our latest 'Real Mums, Real Fit' global campaign in France this month that showcased our unique flexible wire bras.
We do recommend before you purchase any maternity bra that you're professionally fitted during two crucial times; during the first trimester and also the third week onwards post birth to allow room for growth and provide supreme comfort.
It is during these times when your breasts are most vulnerable due to the body's changes and require imperative support and fit.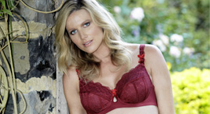 Flexible wire bras first made its entrance in Cake's 2010 'Let them Eat Cake' Collection with scrumptious rouge bra, Plum Pudding (pictured above).